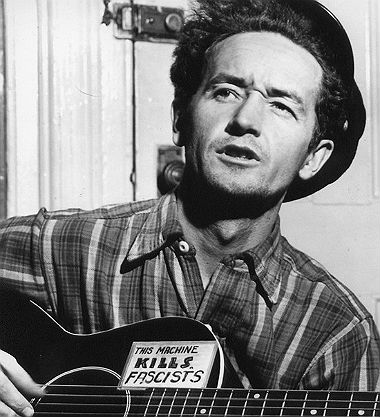 It's not all bad news for Track Palin in the wake of his domestic violence charges. The Yankees just offered him a contract.
After Sarah Palin's asinine attempt yesterday to blame President Obama for her son's recent arrest, it made me wonder if Obama was also responsible for Track's alleged legal problems from a decade ago, before he enlisted. The Palin boy must have been suffering from (PTSD) Pre-Traumatic Stress Disorder.
In the usual perplexing Palin fashion, she accused Obama of "not supporting the troops" as she was endorsing Donald Trump, the only national American politician in memory to actually demean the troops. How perfect.
More Trump news: In an excellent Gawker post by Will Kaufman, the writer dug through the Woody Guthrie Archives to find documents about the songwriter's painful period in the 1950s living in a Beach Haven building owned by the Trump paterfamilias, Fred. It speaks to a real-estate empire built, in part, on racism.
An excerpt:
'Old Man Trump's' color line

Only a year into his Beach Haven residency, Guthrie – himself a veteran – was already lamenting the bigotry that pervaded his new, lily-white neighborhood, which he'd taken to calling "Bitch Havens."

In his notebooks, he conjured up a scenario of smashing the color line to transform the Trump complex into a diverse cornucopia, with "a face of every bright color laffing and joshing in these old darkly weeperish empty shadowed windows." He imagined himself calling out in Whitman-esque free verse to the "negro girl yonder that walks along against this headwind / holding onto her purse and her fur coat":

I welcome you here to live. I welcome you and your man both here to Beach Haven to love in any ways you please and to have some kind of a decent place to get pregnant in and to have your kids raised up in. I'm yelling out my own welcome to you.

For Guthrie, Fred Trump came to personify all the viciousness of the racist codes that continued to put decent housing – both public and private – out of reach for so many of his fellow citizens:

I suppose
Old Man Trump knows
Just how much
Racial Hate
he stirred up
In the bloodpot of human hearts
When he drawed
That color line
Here at his
Eighteen hundred family project ….