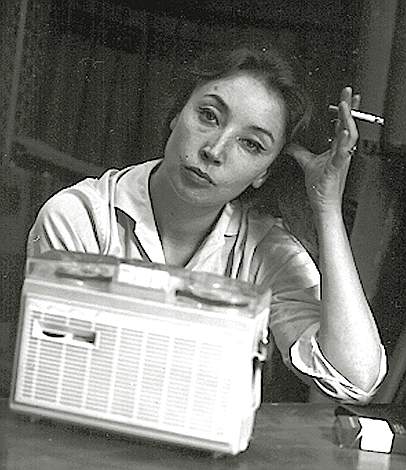 Whether squaring off with Muhammad Ali, Henry Kissinger or a head-transplant surgeon, Oriana Fallaci was just crazy enough to survive them all–to thrive, even. Here's an excerpt from a 1977 People interview by Sally Moore, which begins with a question that would never have been asked of a male journalist:
"People:
Have you ever had a sexual relationship with an interview subject?
Oriana Fallaci:
No. That's a matter of pride. They'll never catch me at that one. The most humiliating thing a woman can be is a coquette. The world thinks, if a man sleeps with a woman he interviews, he's a journalist. If a woman does it, she's a whore.
People:
Do you ask very personal questions of people you interview?
Oriana Fallaci:
No—only of those in power. With them, you must do anything. They have no rights. I asked the Shah of Iran about his women, Golda offered to speak with love about her husband. Arafat? I don't think he loves women, so there wasn't any problem. Indira spoke about the problems of being a woman leader; it was tragic for her marriage.
People:
Why do people in power fascinate you?
Oriana Fallaci:
Because, you must remember, we're not speaking of normal people but of those who rule our lives, command us, decide if we live or die, in freedom or in tyranny.
People:
Do you regret any of your interviews?
Oriana Fallaci:
Only that I've sometimes been too kind. When I fall in love with a character, as I did with Indira, I have reasons to regret. But then she wasn't a dictator yet. Then there was that American Lieutenant [Robert] Frishman of the U.S. Navy, whom I interviewed in Hanoi. He was acting so cowardly in front of the North Vietnamese. It makes me crazy to see a man in chains, humiliated, so I was very good to him. Then he came home the hero. He pretended not to recognize me, and I got furious. I was kind with Thieu [South Vietnam's ex-president], because the moment I saw him I judged him to be a victim of American policy. He was crying.
People:
Then where does your reputation for brutality come from?
Oriana Fallaci:
Americans invented a character that doesn't exist. What I am—forgive an act of pride—is courageous. Most of our colleagues don't have the guts to ask the right questions."