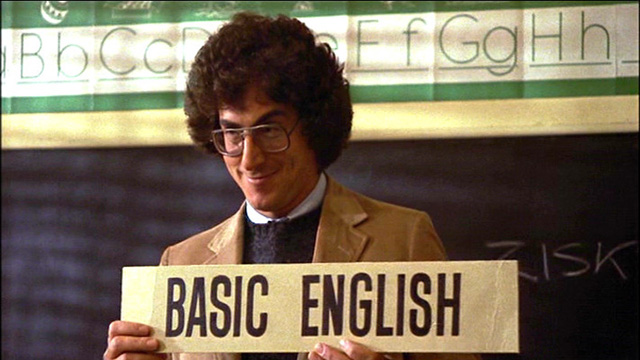 In the wake of 9/11, the military needed to know which adults could quickly learn a language (preferably an Arabic one) and be able to translate a backlog of neglected communications. That led to the development of an advanced system of evaluation for language learning which will now likely make its way into mainstream education. The opening of Michael Erard's Nautilus piece on the topic:
"Imagine a test that could tell you how good you can ultimately get in any foreign language, from Hindi to Welsh, from Igbo to Spanish, before you've even learned how to say 'hello' or "please pass the butter." Tres alléchant, no? Most adults would have to put in 10 years or more of dedicated work to find out if they have what it takes to end up with the vocabulary, accent, and grammatical sensibilities of a near-native speaker. This test could direct them from the debút.
And it may be coming your way soon.
Called the Hi-LAB (or 'High Level Language Aptitude Battery'), it was developed by University of Maryland researchers working on a government contract in order to predict a person's ability to learn a language to a very high level. Since its release in 2012, the Hi-LAB has been rolled out to government agencies and military training schools and will eventually be available for civilians as well. (Details of the Hi-LAB were only recently released to the public.) In the same way that America's space program and the Cold War created spin-off products and technologies that altered civilian life, the Hi-LAB could become one of the first civilian benefits to come out of America's war on terror.
Scientists who study second language acquisition have long been fascinated by the difficulty that adults have in becoming native-like in a language they begin learning after puberty. Most adults have no problem picking up modest amounts of vocabulary and grammar, assuming they're motivated to put in sustained effort. But to become highly skilled in a second language, simply devoting the 10,000 hours of practice that Malcolm Gladwell made famous in Outliers isn't enough. It turns out that a person needs high-performing cognitive hardware, too.
The Hi-LAB provides feedback about who has this ability from the get-go, before the armed services invest any money in them. Cathy Doughty, the director of the team that developed the Hi-LAB, says: 'Research has shown both focused motivation and personality factors to be necessary… [but they] don't guarantee success, because the outcomes are limited by aptitude.' Will education eventually follow this model too?"