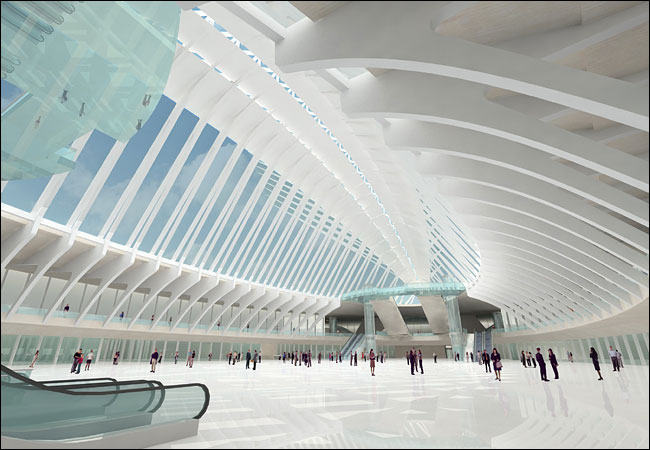 It's not easy to imagine a thing more gorgeous than Santiago Calatrava's original 2004 design for Manhattan's post 9/11 transportation hub–a cloud-like construction that could make you forget all about the rain–but it was from the start a promise that could not be completely kept, a dream demanding downsizing. Still beautiful, but more modest and twice costlier than planned. But wishing too hard can't be the only cause of enmity directed at the architect by peers, press and some clients, can it? Why does he rile so many? The following is the opening of Karrie Jacobs' Fast Company feature, "Santiago Calatrava: The World's Most Hated Architect?"
___________________________
At a recent symposium featuring the renowned architects Michael Graves and Peter Eisenman, talk turns to fellow architect Santiago Calatrava.
"Cala-fucking-trava! What a waste," says Graves, a founding father of Postmodernism and the man who brought high design to Target. Then he does his best Calatrava impression: "'I will make wings for you and this subway station will cost $4 billion dollars.'" 
Eisenman, best known for the Holocaust memorial in Berlin, chimes in: "When Calatrava came to Yale, he got up after a long introduction. He said: 'I'm going to draw.' He had a camera over a drawing board. He turned on music. And he drew for a whole hour. He turned the music off and walked off the stage."
"Such arrogance," Graves says.
It's rare to hear important figures in architecture publicly attack a colleague with such undisguised venom. But, where Calatrava is concerned, it is open season.
The Spanish architect built his reputation on a series of graceful harp-like bridges—Seville's Puente de Alamillofor instance—that transformed engineering into an art form. But now he is better known for his design of the wildly overbudget and behind schedule World Trade Center Transportation Hub (due to open by late 2015). Last year, the New York Times ran a feature-length takedown of him, enumerating every disaster—the slippery bridge in Bilbao, the flood-prone opera house in Valencia, the over-budget bridges in the Netherlands. The name of one website cited in the piece: "Calatrava bleeds you dry."
In a recent interview at Calatrava's Park Avenue townhouse in New York, I asked the architect why he thought he was getting such awful press. "Because you have to suffer," he replied. "There is so much vulgarity in the everyday, that when somebody has the pretension to do something extraordinary for the community, then you have to suffer." And suffer he does. On paper, his projects seem like worst-case scenarios, architecture as extravagance, the Versailles School of infrastructure. But then, every so often, you set foot in one of Calatrava's works.•