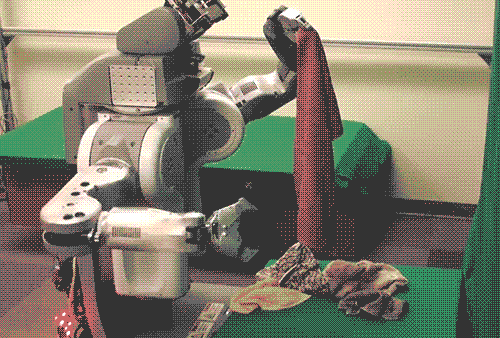 Industrial robots are built to be great (perfect, hopefully) at limited, repetitive tasks. But with Deep Learning experiments, the machines aren't programmed for chores but rather to teach themselves to learn how to master them from experience. Since every situation in life can't be anticipated and pre-coded, truly versatile AI needs to autonomously conquer obstacles that arise. In these trials, the journey has as much meaning–more, really–than the destination.
Of course, not everyone would agree that humans are operating from such a blank slate, that we don't already have some template for many behaviors woven into our neurons–a collective unconsciousness of some sort. Even if that's so, I'd think there'll soon be a way for robots to transfer such knowledge across generations.
One current Deep Learning project: Berkeley's Brett robot, designed to be like a small child, though a growing boy. The name stands for "Berkeley Robot for the Elimination of Tedious Tasks," and you might be tempted to ask how many of them it would take to screw in a light bulb, but it's already far beyond the joke stage. As usual with this tricky field, it may take longer than we'd like for the emergence of such highly functional machines, but perhaps not as long as we'd expect.
Jack Clark of Bloomberg visited the motherless "child" at Berkeley and writes of it and some of the other current bright, young things. An excerpt from his report:
What makes Brett's brain tick is a combination of two technologies that have each become fundamental to the AI field: deep learning and reinforcement learning. Deep learning helps the robot perceive the world and its mechanical limbs using a technology called a neural network. Reinforcement learning trains the robot to improve its approach to tasks through repeated attempts. Both techniques have been used for many years; the former powers Google and other companies' image and speech recognition systems, and the latter is used in many factory robots. While combinations of the two have been tried in software before, the two areas have never been fused so tightly into a single robot, according to AI researchers familiar with the Berkeley project. "That's been the holy grail of robotics," says Carlos Guestrin, the chief executive officer at AI startup Dato and a professor of machine learning at the University of Washington.

After years of AI and robotics research, Berkeley aims to devise a system with the intelligence and flexibility of Rosie from The Jetsons. The project entered a new phase in the fall of 2014 when the team introduced a unique combination of two modern AI systems&and a roomful of toys—to a robot. Since then, the team has published a series of papers that outline a software approach to let any robot learn new tasks faster than traditional industrial machines while being able to develop the sorts of broad knowhow for solving problems that we associate with people. These kinds of breakthroughs mean we're on the cusp of an explosion in robotics and artificial intelligence, as machines become able to do anything people can do, including thinking, according to Gill Pratt, program director for robotics research at the U.S. Defense Advanced Research Projects Agency.•