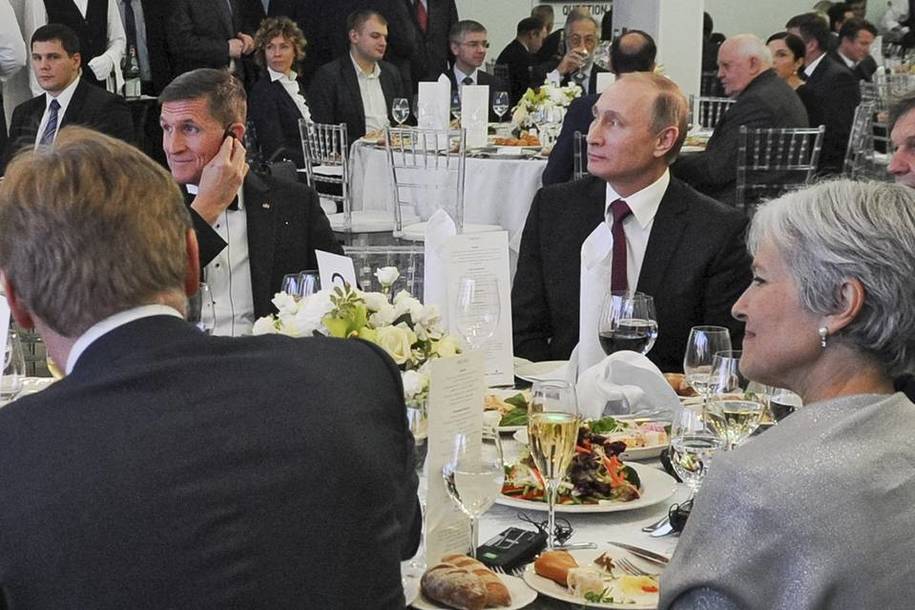 The modern Republican Party used to claim to stand for certain principles—fiscal responsibility, military might, small government—which turned out to be very negotiable. Money and power by any means were really all that mattered. It's certainly not the only party to covet such things, but the GOP has distinguished itself by securing those rewards by any means necessary—even by traitorous behavior.
Trump began working from the Kremlin playbook early in the campaign, but it was after his dubious election that he fully drew equivalence between the White House and the Kremlin. "You think our country's so innocent?" he asked during an interview Super Bowl Sunday, which makes even more ridiculous his intolerance of African-American NFL players practicing their First Amendment rights. Of course, the U.S. isn't so innocent, but until Trump the country wasn't in cahoots with Putin's murderous mafia state nor a test case for authoritarianism. That shift was the handiwork of not only Trump but numerous high-profile Republicans.
Newt Gingrich, that erstwhile commie-baiter, flipped even earlier, throwing the Statue of Liberty under the bus in a German magazine interview when asked about Russian interference in our election: "Well, as you know, Obama was even eavesdropping on your chancellor. You know, countries often do such things. I know of nothing the Russians did which had any effect on the American election."
Those are just two examples of GOP making excuses for Putin. Manafort, Sessions, Flynn, Kushner may also be complicit. The same goes for everyone at Fox News and Breitbart who suspiciously parrots RT talking points, and Mitch McConnell, who preferred squelching news about Kremlin interference during campaign season.
America, for all its flaws, is not Russia under Putin, and while making it so may not have been the goal of every Republican elected official as it was for Trump, too many were willing look the other way for a chance at money and power. The GOP is now the party of complicity.
· · ·
The opening of journalist Yulia Latynina's Moscow Times report on the escalating Russian violence that forced her from her homeland:
In July, someone released some sort of gas into our family home.

For about a week, Russian police held watch near our house. When they left I felt at ease, thinking the attackers had considered it a signal. But apparently they didn't.

In August they set alight my car, which was parked near the house. My father doused the flames so that the house wouldn't catch fire. Had the car exploded it would have cost him his life. So we left. I cannot risk my parents' lives.

I don't think the goal was to kill me or my parents, but once the ball starts rolling such attacks can have unforeseeable consequences. I left because I was horrified by people's lack of responsibility.

My departure from Russia comes as a surprise — even to me. I always laughed at those who, seven or eight years ago, said Russia was a dangerous country and that Putin was worse than Stalin. Because this was not the case.

Russia was a very violent country in the 20th century. If you compare that to Stalin, we were living in vegetarian times. Putin was never worse than Stalin and he still isn't.

When Anna Politkovskaya was murdered in 2006 we journalists understood this to be an exception — she had been investigating Chechnya. There were cases where people were poisoned, like Alexander Litvinenko, but we understood that he was a former KGB agent and Putin regarded him as a traitor.

There were highly suspicious cases too: the death of Stephen Curtis during the Yukos trial, or the death of Alexander Perepilichny. The death of Sergei Yushenkov belonged to the category of freak accidents and if it said something about Russia, it was that unbelievable things happen.

Those were deaths, killings, murders. But every time you could account for it and explain why it happened.•