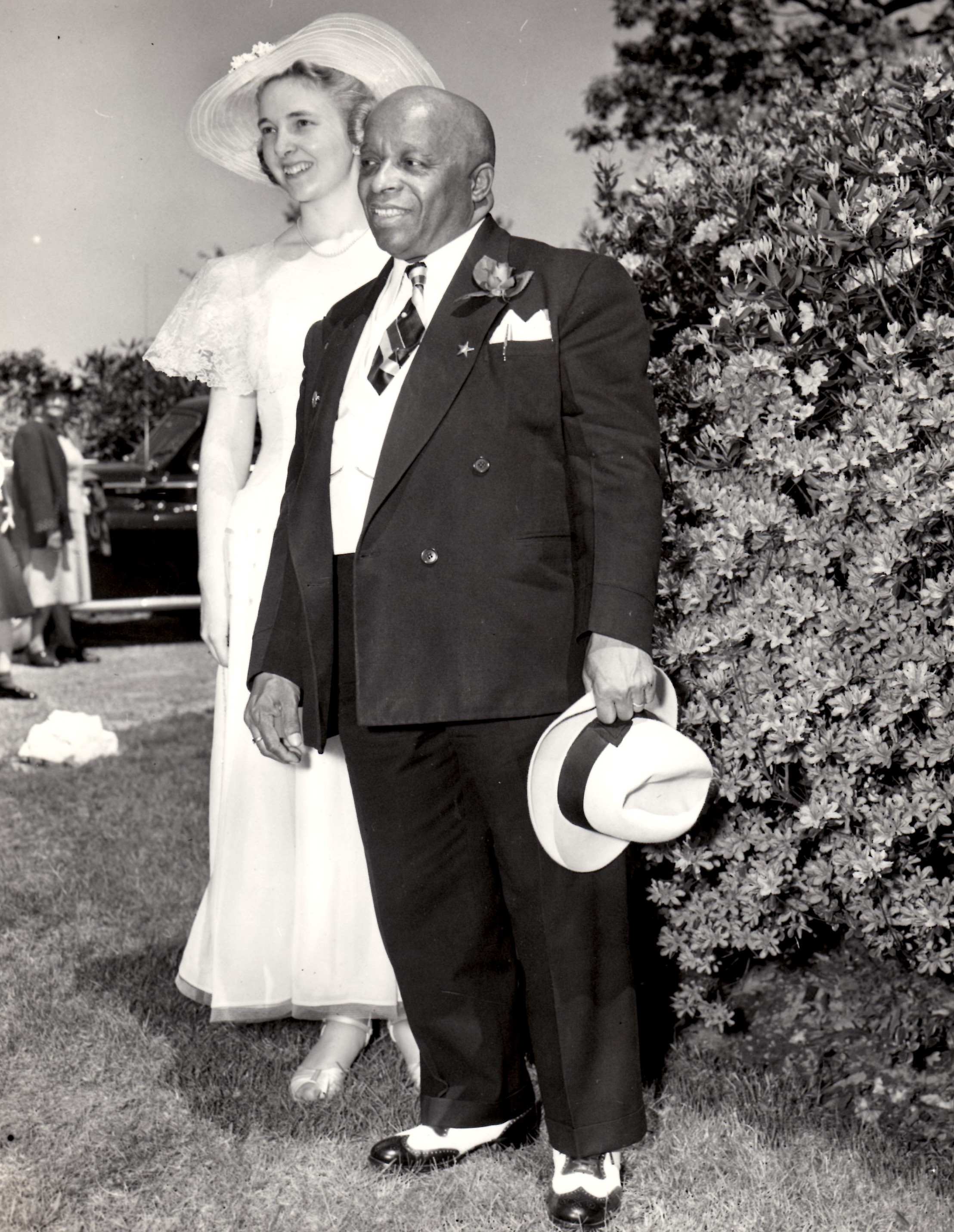 Was reading the New York Times and noticed an obituary for "Mother Divine," the name bestowed upon Edna Rose Ritchings when, in 1946, she became the second wife of Father Divine, a diminutive, charismatic African-American cult leader five decades her senior, who believed she was reincarnation of his first wife who'd died three years earlier. Many watchers of his International Peace Mission, which was known for promoting racial equality, performing charitable works and the leader's insistence that he was God, believed the marriage by the preacher to a young white woman in that era would be the ruination of the Northeastern community, but the potentate promised the union would be a platonic one, which it probably was since one of the group's beliefs was chastity, so the dust settled quickly. "God" died, however, in 1965, and it was up to his spouse to keep the faith. Her most notable moment as leader was probably the six-year gamesmanship she successfully waged against the Reverend Jim Jones, who tried unsuccessfully to steal her followers.
From the NYT obit by William Grimes:
Mother Divine was a mysterious figure. Little is known about her early life. She was born Edna Rose Ritchings on April 4, 1925, in Vancouver, where her father, Charles, ran the Strathcona Floral Company, a nursery and flower shop. Her mother was the former Mabel Farr.

At 15, she became fascinated by Father Divine and his religion, which preached a gospel of self-help, abstinence, economic independence and social equality. By providing cheap meals and social services during the Depression, he attracted a large following in Harlem, where he maintained his headquarters, and through his many missions, known as heavens, elsewhere in the United States.

The revelation came to her, she wrote in Ebony magazine in 1950, "that Father Divine is God Almighty personified in a beautiful, holy body."

According to Sara Harris, the author of Father Divine: Holy Husband (1953), Edna Rose left home for Montreal, where she moved in with a family of Father Divine's disciples, took the name Sweet Angel and found work as a stenographer at a costume jewelry business. She then made her way to Philadelphia to meet Father Divine and was hired as his personal stenographer. The marriage quickly followed.

Unknown to the faithful who had assembled on Aug. 7, the marriage had taken place on April 29 in Washington, at the house of the Rev. Albert L. Shadd, a recent convert.

For months, the news remained secret. "We could not have released it," Sister Mary, a member of Father Divine's inner circle, told Ms. Harris. "If we had, there would have been no telling what might have happened. The marriage was such a world-shaking event, it might have made followers vibrate strongly enough to destroy themselves."•
An article in the 1946 Brooklyn Daily Eagle reported on the newlyweds.