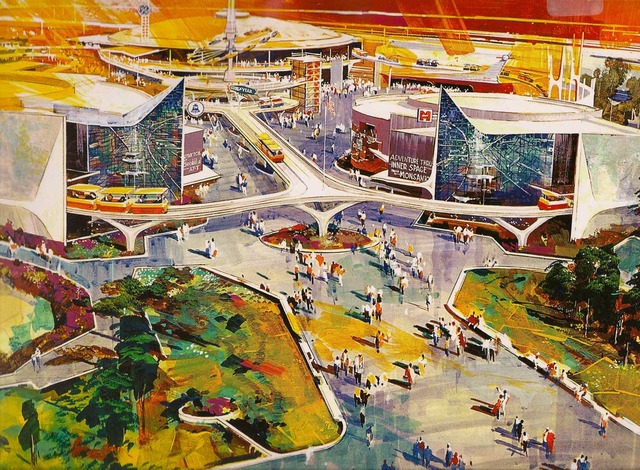 Via the wonderful Browser, I came across David Cay Johnston's Al Jazeera essay, "America Should Be More Like Disneyland," which suggests the U.S. invest in infrastructure and our future like Walt did with his walled-in world. It's not the first time a thinker has suggested we look to a corporation for tips on saner public governance. In the 1990s, Los Angeles sci-fi writer Ray Bradbury, worried by the Rodney King riots and crime against his own family members, thought American cities were becoming hyper-violent and needed to turn themselves over to corporations which would make large-scale malls of metropolises. He had, of course, missed the macro picture: Crime was actually diminishing in the U.S. at a remarkable rate. It still is. Johnston's ideas are far more reasonable. An excerpt:
"At the park's grand opening on July 17, 1955, Walt Disney said, 'This happy place' is 'dedicated to the ideals, the dreams and the hard facts that have created America.'
To raise the $17 million ($150 million in today's money) needed to turn Anaheim's orange groves into the Magic Kingdom, Disney mortgaged his home and created a Sunday night television show on ABC. Today the Disney Co. owns ABC, because Walt Disney's vision of a richer future paid off beyond even his imagination.
But as a people, we disinvest in America. Even though the country could borrow at extremely low interest rates, we refuse to take the risk. Instead, we let infrastructure deteriorate, cut school budgets, close libraries, raise college tuition and pay ever more for police and security even though crime has been declining for decades.
In an era when human knowledge is expanding at a rapidly accelerating rate, Congress cuts budgets for basic research, thereby encouraging smart young scientists to go overseas because they can get funding abroad. And of course the countries that receive them will reap the benefits of their discoveries.
Disney's brother Roy and other critics thought Disneyland was too audacious and costly an idea to succeed. Yet it not only prompted a wave of theme parks around the world, including the complete remake of Las Vegas, starting in 1989 with the Mirage, a themed casino resort on the Disneyland model.
Creating a happy place
Imagine if we applied that same vision of a better world from infrastructure to education and scientific research or even to just having public restrooms — and clean ones at that."