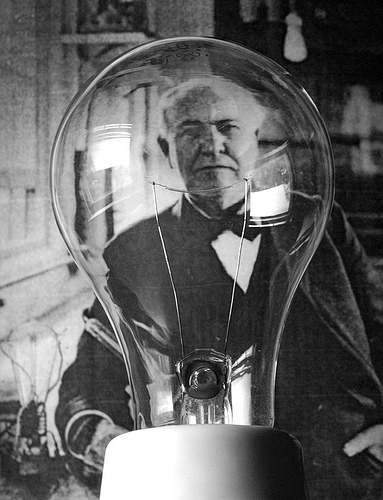 Asking if innovation is over is no less narcissistic than suggesting that evolution is done. It flatters us to think that we've already had all the good ideas, that we're the living end. More likely, we're always closer to the beginning.
Of course, when looking at relatively short periods of time, there are ebbs and flows in invention that have serious ramifications for the standard of living. In Robert Gordon's The Rise and Fall of American Growth, the economist argues that the 1870-1970 period was a golden age of productivity and development unknown previously and unmatched since.
In an excellent Foreign Affairs review, Tyler Cowen, who himself has worried that we've already picked all the low-hanging fruit, lavishly praises the volume–"likely to be the most interesting and important economics book of the year." But in addition to acknowledging a technological slowdown in the last few decades, Cowen also wisely counters the book's downbeat tone while recognizing the obstacles to forecasting, writing that "predicting future productivity rates is always difficult; at any moment, new technologies could transform the U.S. economy, upending old forecasts. Even scholars as accomplished as Gordon have limited foresight." In fact, he points out that the author, before his current pessimism, predicted earlier this century very healthy growth rates.
My best guess is that there will always be transformational opportunities, ripe and within arm's length, waiting for us to pluck them.
An excerpt:
In the first part of his new book, Gordon argues that the period from 1870 to 1970 was a "special century," when the foundations of the modern world were laid. Electricity, flush toilets, central heating, cars, planes, radio, vaccines, clean water, antibiotics, and much, much more transformed living and working conditions in the United States and much of the West. No other 100-year period in world history has brought comparable progress. A person's chance of finishing high school soared from six percent in 1900 to almost 70 percent, and many Americans left their farms and moved to increasingly comfortable cities and suburbs. Electric light illuminated dark homes. Running water eliminated water-borne diseases. Modern conveniences allowed most people in the United States to abandon hard physical labor for good.

In highlighting the specialness of these years, Gordon challenges the standard view, held by many economists, that the U.S. economy should grow by around 2.2 percent every year, at least once the ups and downs of the business cycle are taken into account. And Gordon's history also shows that not all GDP gains are created equal. Some sources of growth, such as antibiotics, vaccines, and clean water, transform society beyond the size of their share of GDP. But others do not, such as many of the luxury goods developed since the 1980s. GDP calculations do not always reflect such differences. Gordon's analysis here is mostly correct, extremely important, and at times brilliant—the book is worth buying and reading for this part alone.

Gordon goes on to argue that today's technological advances, impressive as they may be, don't really compare to the ones that transformed the U.S. economy in his "special century." Although computers and the Internet have led to some significant breakthroughs, such as allowing almost instantaneous communication over great distances, most new technologies today generate only marginal improvements in well-being. The car, for instance, represented a big advance over the horse, but recent automotive improvements have provided diminishing returns. Today's cars are safer, suffer fewer flat tires, and have better sound systems, but those are marginal, rather than fundamental, changes. That shift—from significant transformations to minor advances—is reflected in today's lower rates of productivity.•