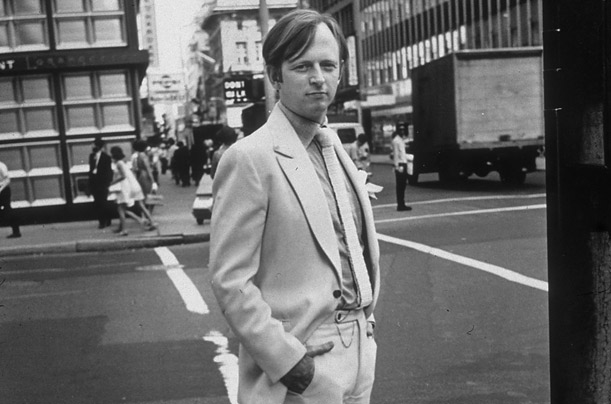 Quintessential New York writer Tom Wolfe actually has quite a history on the West Coast as well. From Michael Anton's excellent City Journal consideration of Wolfe's California experiences, the moment Wolfe recognized the richness of Left Coast subcultures:
"It started by accident. Wolfe was working for the New York Herald Tribune, which, along with eight other local papers, shut down for 114 days during the 1962–63 newspaper strike. He had recently written about a custom car show—phoned it in, by his own admission—but he knew there was more to the story. Temporarily without an income, he pitched a story about the custom car scene to Esquire. 'Really, I needed to make some money,' Wolfe tells me. 'You could draw a per diem from the newspaper writers' guild, but it was a pittance. I was in bad shape,' he chuckles. Esquire bit and sent the 32-year-old on his first visit to the West—to Southern California, epicenter of the subculture.
Wolfe saw plenty on that trip, from Santa Monica to North Hollywood to Maywood, from the gardens and suburbs of mid-'60s Southern California to its dung heaps. He saw so much that he didn't know what to make of it all. Returning to New York in despair, he told Esquire that he couldn't write the piece. Well, they said, we already have the art laid in, so we have to do something; type up your notes and send them over. 'Can you imagine anything more humiliating than being told, 'Type up your notes, we'll have a real writer do the piece'?' Wolfe asks. He stayed up all night writing a 49-page memo—which Esquire printed nearly verbatim.
It's a great tale, but, one fears, too cute to be strictly true. I ask him about it point-blank. 'Oh, yes, that's exactly what happened,' he says. 'I wrote it like a letter, to an audience of literally one person'—Esquire managing editor Byron Dobell—'with all these block phrases and asides. But at some point in the middle of the night, I started to think it might actually be pretty good.'
That piece—'The Kandy-Kolored Tangerine-Flake Streamline Baby'—represents the first time that Wolfe truly understood and was able to formulate the big idea that would transform him from an above-average feature writer into the premier cultural chronicler of our age. Those inhabiting the custom car scene were not rich, certainly not upper-class, and not prominent— indeed, they were almost invisible to society at large. Wolfe described his initial attempt to write the story as a cheap dismissal: 'Don't worry, these people are nothing.' He realized in California that he had been wrong. These people were something, and very influential within their own circles, which were far larger than anyone on the outside had hitherto noticed.
'Max Weber,' Wolfe tells me, 'was the first to argue that social classes were dying everywhere—except, in his time, in England—and being replaced by what he called 'status groups.' ' The term improves in Wolfean English: 'Southern California, I found, was a veritable paradise of statuspheres,' he wrote in 1968. Beyond the customizers and drag racers, there were surfers, cruisers, teenyboppers, beboppers, strippers, bikers, beats, heads, and, of course, hippies. Each sphere started off self-contained but increasingly encroached on, and influenced, the wider world.
'Practically every style recorded in art history is the result of the same thing—a lot of attention to form plus the money to make monuments to it,' Wolfe wrote in the introduction to his first book. 'But throughout history, everywhere this kind of thing took place, China, Egypt, France under the Bourbons, every place, it has been something the aristocracy was responsible for. What has happened in the United States since World War II, however, has broken that pattern. The war created money. It made massive infusions of money into every level of society. Suddenly classes of people whose styles of life had been practically invisible had the money to build monuments to their own styles.' If Wolfe's oeuvre has an overarching theme, this is it.'"