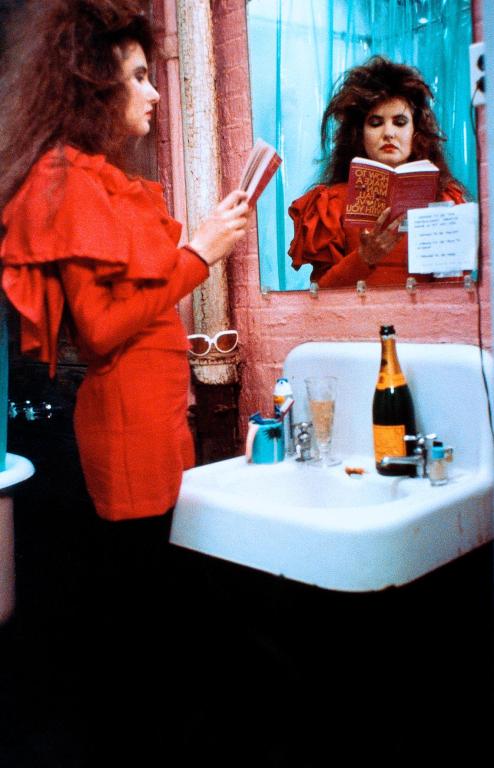 You can't be it for very long, and it's probably not so much fun when you are.
In the 1980s, when New York still had a literary scene that felt central and significant, Tama Janowitz was the It Girl, chronicling and satirizing members of the striving class as they rose and fell in an unforgiving city ever-more consumed with money. Slaves that wanted to be masters, they were hungry, and by the modern vernacular, they were thirsty.
Janowitz's own ascension to acclaimed author on the talk-show circuit whose work was adapted for the big screen was as unlikely as any, despite her talent. She was blessed. But no matter how public the success, life intervenes, the party ends. For Janowitz, it extends far beyond no longer being able to sell books that get talked about, which only a handful of serious fiction writers can still manage. In her new memoir, Scream, she details dealing with a parent's dementia and legal battles with a sibling, among other personal calamities. It's a long way from Letterman appearances–and a lot more interesting, as struggles usually are. 
Two excerpts follow, one from Janowitz's best-selling bygone era and another from a review of her memoir.
---
The opening of Dinah Prince's 1986 New York cover story on Tama Janowitz, written at a time when the city decided that money could buy it happiness but when literature still had a place in the discussion:
On the day before her party at the Milkbar, Tama Janowitz was in a panic. Lisa E. who had organized the affair to celebrate Janowitz's new book of short stories,Slaves of New York, called to say she had just bought a new dress. It was long and blue and had big sexy cutouts beneath each breast.

"I was like, 'She's got a new dress?!' Janowitz recalls. "I really wanted one."

After Janowitz hung up, the 29-year-old author tried to tell herself she would be perfectly presentable. She could wear her black velvet miniskirt and the sequined top an ex-boyfriend had got her from fashion designer Stephen Sprouse in exchange for a painting. 

"It was cute; I mean, it would have been fine," she says.

Janowitz's newest beau, a Texas oilman named Brady Oman, was in town for the party. When he heard about Lisa E.'s dress, he took Janowitz shopping in the East Village and SoHo.

"We ran all over looking for dresses," Janowitz says. "He took me into IF, and, I mean, they were really pretty. But $1,500 for some froufrou thing?"

Two hours before the party, Janowitz called Paige Powell, an advertising associate at Interview.

"Paige, I have nothing to wear!" she said.

Powell met the writer and her new boyfriend at Texarkana with an armload of dresses. In the ladies' room, Janowitz modeled a scarlet dress with one bare shoulder and a tutu that billowed from her hip.

She walked out in the dress, and it met with the approval of everyone in the restaurant,' Powell says.

After finishing her steak, Janowitz headed to the party.

"Oh God, I tried to be nervous and thought, Well, I'll just pretend it's a party for somebody else," she says. She descended the red neon-bathed staircase into the Milkbar and instantly became the center of attention. She was photographed by Newsweek, Details, and NY Talk. Patrick McMullan, a downtown paparazzo, posed her beside comedian Howie Mandel.

"I was like, I didn't know who the person was," she says. "Some geek who obviously didn't know who I was and didn't care to know who I was. But there he was, getting his picture taken with me. I said to him, 'Howie, I'm waiting for my left breast to fall out of my dress.' He was totally uninterested."

Back in her tiny Horatio Street studio apartment by 2 A.M., Janowitz and Oman folded out the couch and went to bed. A few hours later, the shower curtain collapsed in the bathroom. This set off a series of ear-piercing howls from her Yorkshire terriers, Lulu and Beep-beep. Finally, after everyone got back to sleep, the phone rang at 6 A.M.

"Some guy called looking for his boyfriend," she says, "thinking I had run off with his boyfriend."

Such is the stuff of Tama Janowitz's life.•
---
The opening of the NYT review of Scream, penned by Ada Calhoun:
"Look for the helpers" in times of tragedy, Mister Rogers advised. "If you look for the helpers, you'll know that there's hope." The calamity-prone author Tama Janowitz employs an opposite strategy, focusing on those she believes are out to get her and nurturing a gimlet-eyed loathing for her fellow man. "Try as I might," she writes, "for me, other human beings are a blend of pit vipers, chimpanzees and ants, a virtually indistinguishable mass . . . sniffing their fingers and raping."

Janowitz's 1986 story collection, Slaves of New York, described a culture of material striving. To make rent, its characters embraced prostitution, both professional and circumstantial. Her 2004 essay collection, Area Code 212, and various of her comic novels have satirized New York social climbers' ruthless pursuit of wealth and nice apartments. This memoir — which spans her childhood (partly spent in 1968 Israel, where her family was booted from a hotel for not paying), her adventuresome youth (she had a fling with a 63-year-old Lawrence Durrell when she was 19), her career struggles and successes, and her more recent life as caretaker to her dying mother — shows that she comes by her obsession with money honestly.

As a quirky lit-world "it girl" (her charming, wacky Letterman appearances hold up), Janowitz enjoyed a glamorous lifestyle. But she always positioned herself as a misfit outsider. Not for nothing did Janowitz appear in her heyday on the cover of New York magazine beside a slab of meat. Here she punctures myths of the erstwhile art-party scene. Studio 54 was indeed hip, she writes, though you had to be careful on the dance floor, lest you slip, or somebody "suddenly shove a popper up your nose."
 
Now, exiled in upstate New York, coping with her beloved mother's decline and embroiled in a series of real estate-based dramas, she enjoys little besides horseback riding and mocking the psychotic organization of her local supermarket.•