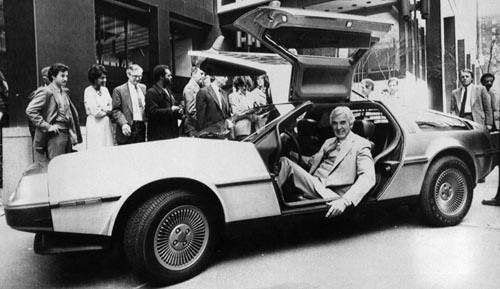 Longreads has republished Suzanne Snider's 2006 Tokion article about John Z. DeLorean, who remade the automotive industry, remade himself and eventually made a mess. The conclusion has a pretty prescient forecast from then-MPH Magazine editor Eddie Alterman, which reminds just how much the sector has changed in the eight years since this piece was printed. The following is an excerpt about the automaker's surprising departure from GM and his friendship with former Tonight Show host Johnny Carson, who seems to have done the monologue every evening with a loaded handgun and a bag of coke stashed in his underpants:
"By 1973, he had the fame. The title. The money. At which point he promptly resigned.
'They were celebrities.' That's how Eddie Alterman, a childhood friend of mine who is now an editor for car-centric MPH Magazine, remembers the Detroit-area car executives of that era. 'But they were also like the Roman army: they were tall, goyish and had to inspire confidence in their troops.' With a bit of sympathy, Alterman notes that 'they all had huge egos,' and in the case of DeLorean, his vanity drove his taste in cars, clothing and women. That last item on DeLorean's list included three wives, plus reported dalliances with Ursula Andress, Candice Bergen and Raquel Welch. But the same ego that was necessary to excel at General Motors and every other car corporation may have been the very source of his downfall once he pulled apart to form his own corporate entity.
DeLorean's departure from GM was controversial, to say the least. Where could he go from GM? Gossips floated conspiracy theories about his resignation. It might have come down to style—not fashion, strictly, but a more general personal manner. My father notes that, 'In those days, the execs at General Motors were all dressed in white shirts. But DeLorean was into more flamboyant clothing. He was tall, good-looking, wore his hair long…' And as my father discovered, 'He had his shirts hand-made, with the collars cut extra-long.'
DeLorean founded the De Lorean Motor Company in 1975, with the express goal of creating a relatively affordable $25,000 sports car. The first factory didn't open until 1981, however, and it opened in an unlikely location: Dunmurry, a suburb of Belfast in Northern Ireland. The prototype for the DMC-12 was completed somewhere between 1976 and 1978. What was DeLorean doing in the seven years in between? Ostensibly, he was raising money, tapping into a social network that included Hollywood, where he convinced Johnny Carson and Sammy Davis Jr. to invest in the De Lorean Motor Company. In fact, Johnny Carson's dedication to the De Lorean business was memorialized when Carson was arrested for a DUI while driving in—what else—a De Lorean."
_____________________________
"John Zachary DeLorean doesn't smile very much":
More DeLorean posts: