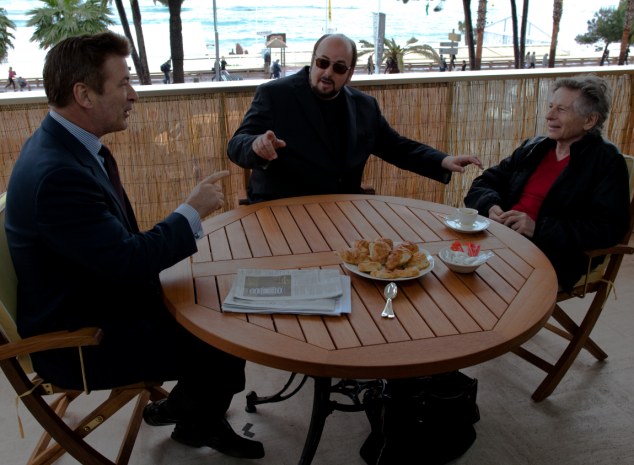 In 2016, Stephen Galloway of the Hollywood Reporter wrote the most shockingly amoral take of the Nate Parker rape controversy. It's understood that an industry trade journal addresses above all else the business of movies, but Galloway's article on the Parker ugliness from the aspect of how the director and Fox Searchlight could best do damage control and own the narrative was bizarre and offensive. For a journalist to write from inside an imaginary public relations war room about the optimum tactics that could be employed to ensure a movie "can survive a rape-trial scandal" is just jaw-dropping, especially since the woman who charged Parker and his Birth of a Nation co-writer Jean Celestin didn't survive, having committed suicide in 2012. It was the strangest set of priorities.
The title of Galloway's latest article, about the Harvey Effect, "Harassment, Scandal and the Media: Is a Hollywood Witch Hunt Brewing?" is not promising, and the piece largely lives down to it, using the child-abuse hysteria of the bizarre McMartin Preschool Case of the 1980s to worry about the accusations currently directed at show business and media figures. 
I'd love to know how many pieces Galloway has written over the years about his fears that women and children and men were being sexually exploited in Hollywood. My bold guess is the number zero. So far, not one figure accused of misconduct or more—Weinstein, Toback, Spacey, etc.—has been wrongfully blamed. In fact, such behavior is highly recidivist, making it fairly easy to confirm now that the floodgates have opened. And it's the tip of the tip of the iceberg when it comes to entertainment world abuses.
If Galloway had spent a little more time in his career addressing the very real wrongs he'd heard about—and he certainly did hear of them—instead of turning a deaf ear, perhaps we wouldn't have reached this desperate moment.
The opening:
In the early 1980s, Los Angeles was engulfed in scandal. After the mother of a young child claimed her son had been sodomized by a staff member at his school, other parents came forward with increasingly lurid allegations. Not only had one kid been violated, it was said, but so had dozens of others. And it wasn't just an isolated staffer who was responsible; rather, half a dozen teachers and administrators had perpetrated the most heinous sex acts, some involving small animals, others satanic rituals. There were tales of secret underground tunnels and witches on broomsticks. The revelations seemed endless and apocalyptic. And they were repeated ad nauseam by a too-willing press.

Dozens, if not hundreds, of reporters were assigned to cover the story, one tumbling over the other in the race to break news. Here in Southern California, in suburban Manhattan Beach — in the very place where children should have felt safest — they were in grave danger, we were told. And if these kids were in danger, how many others must be, too? We started looking around with a newfound fear. Friends became strangers, strangers became enemies, enemies became potential perverts lurking in our midst, ready to do inconceivable harm. Terror swept through middle-class families just as ferociously and devastatingly as the fires that have recently decimated Santa Rosa.

And yet none of it was true.

After years of investigations and multiple trials, not a single person connected to the McMartin preschool scandal (as the case was known) was ever found guilty, though many of the accused had their lives left in ruins. One alleged culprit, Ray Buckey, endured two separate trials, and both ended in hung juries, after he'd spent five years waiting in jail. David Shaw won a Pulitzer Prize writing about how rumor turned to revulsion for The Los Angeles Times; but even today, many of us question whether "not guilty" was the same as "innocent."

The media didn't cover itself in glory back then. Where were the reporters who stuck to that tried-and-true principle, that one is innocent until proven guilty? Where were the voices crying out that these fables of witches and warlocks, dungeons and devilish rites, didn't pass the sniff test? They remained silent, almost without exception. In my three decades as a journalist, I've never experienced anything like it.

Until now.

Since the Harvey Weinstein scandal broke three weeks ago, thanks to some stellar reporting by The New York Times and The New Yorker — bolstered by a cascade of reports from other publications, including this one — not a day has gone by without another mind-boggling story. From James Toback to Kevin Spacey, from Brett Ratner to Dustin Hoffman, from political commentator Mark Halperin to NPR news chief Michael Oreskes — there have been countless tales of horrendous behavior, the sort one had hoped to see vanish decades ago. In their zeal to ferret out the guilty, journalists are reacting to past errors, and to a time when our unwillingness to investigate allegations gave rise to the culture of secrecy in which Weinstein's band of brothers could thrive.

And these stories are just the tip of the iceberg. Even now, my colleagues here and elsewhere are on the hunt, chasing hundreds of tips about harassment in many and varied forms — male upon male, male upon female, verbal, sexual, you name it. And I'm delighted. It's wonderful to see reporters tackling a subject of real significance and society-changing potential. They're doing what journalists are meant to do: comforting the afflicted and afflicting the comfortable.

That said, may I confess that I'm scared?

I'm terrified that, in our righteous quest to do good, we're sweeping up the innocent as well as the guilty. We're accepting allegations in the place of solid proof. We're conflating those guilty of more minor crimes with perpetrators of egregious and even criminal behavior. •