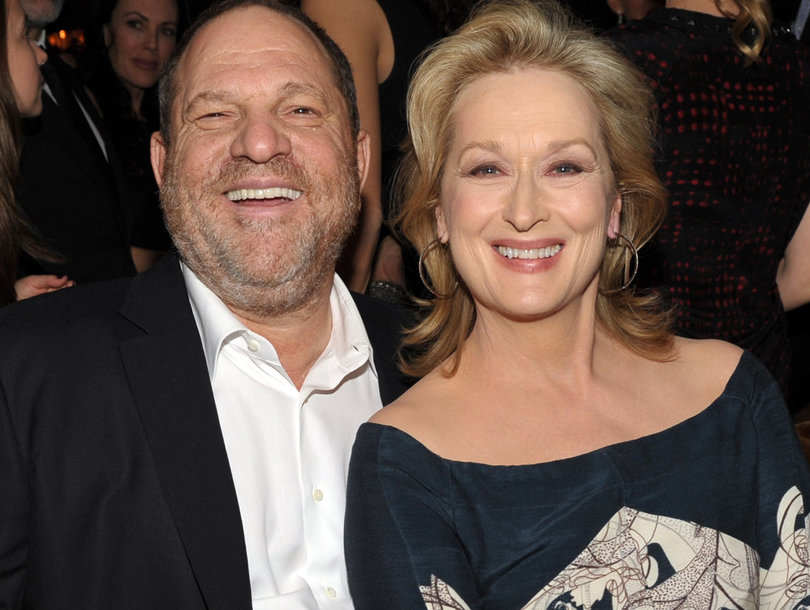 At some pt, all the women who've been afraid to speak out abt Harvey Weinstein are gonna have to hold hands and jump: http://t.co/cYRZxE7HZV

— Jennifer Senior (@JenSeniorNY) March 30, 2015
Meryl Streep may not have known Harvey Weinstein was a rapist, but she certainly had to have heard of his loutish, predatory and sometimes criminal behavior with young actresses, despite her protestations of innocence. Not that the producer was grabbing her or Judi Dench by the pussy—he liked his prey parched and powerless—but for the last decade or so, blind items, tweets and journalistic reports have on some occasions hinted at his actions and on others named his name. The same goes for other A-Listers who worked with him and are now feigning ignorance, like George Clooney, and certainly for Harvey's brother, Bob, who can go fuck himself. If we knew about it, they did, too.
From Miramax screenwriter Scott Rosenberg's post about those, including himself, who were complicit in enabling Weinstein's reign of terror:
Harvey and Bob made my first two movies.
Then they signed me to an overall deal.
Then they bought that horror script of mine about the Ten Plagues.
For a lot of money.
Also bought that werewolf-biker script.
That no one else liked but was my personal favorite.
They were going to publish my novel.
They anointed me.
Made it so other studios thought I was the real deal.
They gave me my career.

I was barely 30.
I was sure I had struck gold.
They loved me, these two brothers, who had reinvented cinema.
And who were fun and tough and didn't give an East Coast fuck about all the slick pricks out in L.A.

And those glory days in Tribeca?
The old cramped offices?
That wonderful gang of executives and assistants?
All the filmmakers who were doing repeat business?
The brothers wanted to create a "family of film".
And they did just that…
We looked forward to having meetings there.
Meetings that would turn into plans that would turn into raucous nights out on the town.
Simply put: OG Miramax was a blast.

So, yeah, I was there.
And let me tell you one thing.
Let's be perfectly clear about one thing:

Everybody-fucking-knew.

Not that he was raping.
No, that we never heard.
But we were aware of a certain pattern of overly-aggressive behavior that was rather dreadful.
We knew about the man's hunger; his fervor; his appetite.
There was nothing secret about this voracious rapacity; like a gluttonous ogre out of the Brothers Grimm.
All couched in vague promises of potential movie roles.
(and, it should be noted: there were many who actually succumbed to his bulky charms. Willingly. Which surely must have only impelled him to cast his fetid net even wider).

But like I said: everybody-fucking-knew.

And to me, if Harvey's behavior is the most reprehensible thing one can imagine, a not-so-distant second is the current flood of sanctimonious denial and condemnation that now crashes upon these shores of rectitude in gloppy tides of bullshit righteousness.

Because everybody-fucking-knew.

And do you know how I am sure this is true?
Because I was there.
And I saw you.
And I talked about it with you.
You, the big producers; you, the big directors; you, the big agents; you, the big financiers.
And you, the big rival studio chiefs; you, the big actors; you, the big actresses; you, the big models.
You, the big journalists; you, the big screenwriters; you, the big rock stars; you, the big restaurateurs; you, the big politicians.

I saw you.
All of you.
God help me, I was there with you.•