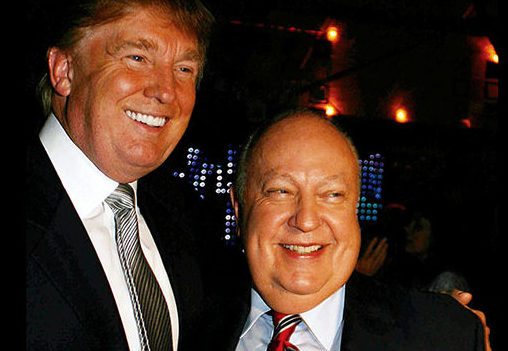 "He was a swine of a man and a jabbering dupe of a president," Hunter S. Thompson wrote in 1994 in an appropriately punishing postmortem of our disgraced 37th President. "Nixon was so crooked," he continued, "that he needed servants to help him screw his pants on every morning. Even his funeral was illegal. He was queer in the deepest way. His body should have been burned in a trash bin."
That we've found someone who's far more devious, dishonest and disloyal to occupy the Oval Office is the shame of our time, even if that chastening emotion is in short supply these days. How did we get here?
The reasons are many, but a key architect of this craven and cancerous age was Roger Ailes, a former Nixon media adviser who became Fox News capo, employing unbridled cynicism and vindictiveness to breed a virus that infected the nation, mainstreaming conspiracy theories, alternative facts and bigotry. Was Ailes truly a prejudiced gutter dweller who aimed to divide and destroy our country? Who cares. We are what we pretend to be.
Like Trump, the Worst American™, who'd have been behind bars decades ago in any just society, Ailes would have been swiftly kicked from the corporate suite were it not for the privilege of males with white skin and collars who possess big egos and few morals. That advantage, the decentralization of media and the Reagan Era demolition of the Fairness Doctrine made possible his corrosive career.
Another reason he was tolerated is that success is usually celebrated in America regardless of the means used to attain it.
@TinaBrownLM This is the worst idea you've had since Talk.

— Afflictor.com (@Afflictort) May 19, 2017
A fall and a blood clot ended Ailes' life just months after his Fox reign of terror concluded when a torrent of sexual harassment allegations finally proved too much even for the Murdochs, a ghastly family who enjoy well-appointed lives in penthouses many floors above the despair they create. In a Rolling Stone postmortem, Matt Taibbi chucks Ailes' remains into a burning Dumpster. His opening:
On the Internet today you will find thousands, perhaps even millions, of people gloating about the death of elephantine Fox News founder Roger Ailes. The happy face emojis are getting a workout on Twitter, which is also bursting with biting one-liners.When I mentioned to one of my relatives that I was writing about the death of Ailes, the response was, "Say that you hope he's reborn as a woman in Saudi Arabia."

Ailes has no one but his fast-stiffening self to blame for this treatment. He is on the short list of people most responsible for modern America's vicious and bloodthirsty character.

We are a hate-filled, paranoid, untrusting, book-dumb and bilious people whose chief source of recreation is slinging insults and threats at each other online, and we're that way in large part because of the hyper-divisive media environment he discovered.

Ailes was the Christopher Columbus of hate. When the former daytime TV executive and political strategist looked across the American continent, he saw money laying around in giant piles. He knew all that was needed to pick it up was a) the total abandonment of any sense of decency or civic duty in the news business, and b) the factory-like production of news stories that spoke to Americans' worst fantasies about each other.

Like many con artists, he reflexively targeted the elderly – "I created a TV network for people from 55 to dead," he told Joan Walsh – where he saw billions could be made mining terrifying storylines about the collapse of the simpler America such viewers remembered, correctly or (more often) incorrectly, from their childhoods.

In this sense, his Fox News broadcasts were just extended versions of the old "ring around the collar" ad – scare stories about contagion. Wisk was pitched as the cure for sweat stains creeping onto your crisp white collar; Fox was sold as the cure for atheists, feminists, terrorists and minorities crawling over your white picket fence.•