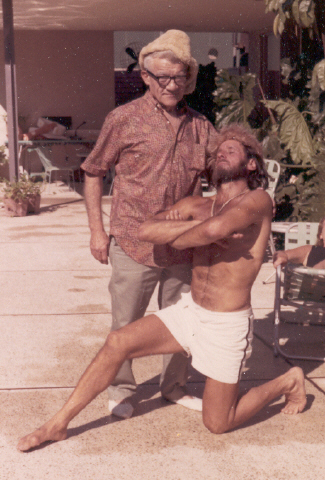 The late Robert "Gypsy Boots" Bootzin was a beatnik and a hippie and a commune member and a vegetarian and a health-food salesman and a fitness expert long before those things were part of mainstream American culture. In essence, he seemed eccentric because he was right and in the minority. Here he is in the 1955 (at the 15:35 mark) amusing Groucho Marx on You Bet Your Life.
From his 2004 obituary in the San Diego Union-Tribune: "Los Angeles – Gypsy Boots, a California fitness icon, author and health guru who paved the way for generations of beatniks, hippies and health-food junkies, has died at age 89.
Boots, born Robert Bootzin, died early Sunday at a convalescent home in Camarillo after a brief illness, said his son, Daniel Bootzin.
Born Aug. 19, 1915, in San Francisco to Jewish immigrant parents, Boots defined what it meant to live close to nature decades before the nation's current obsession with organic foods, yoga and exercise.
During his life, he tried a number of careers, from author to entertainer to hay baler to trendy restaurateur – but never shed his long hair and thick beard or his passion for natural foods and a near-Spartan existence.
'What people have a hard time understanding is that in the early 1960s, there were no hippies and nobody had long hair, nobody had a beard,' said Daniel Bootzin. 'He really was that way way before anybody had that look. As a child, I was painfully aware that he was extremely different than anybody else.'"