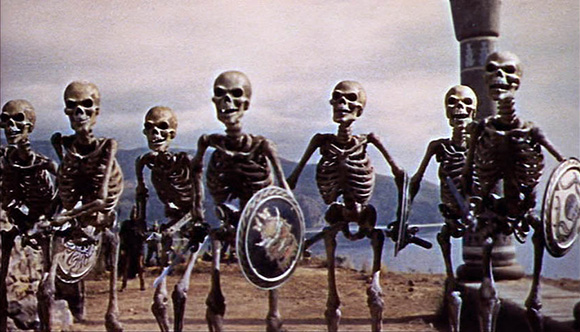 Sad to hear of the passing of special-effects legend Ray Harryhausen. I lost interest in animation and action-adventure fare when I was a small kid, but I can still recall his skeleton-fight sequence from Jason and the Argonauts and the monsters from The 7th Voyage of Sinbad.
From Harryhausen's New York Times obituary:
"With help from his parents — especially his father, a machinist and inventor — Mr. Harryhausen was soon teaching himself the basics of stop-motion animation and producing short films of dinosaurs and apes in the family garage. While still in high school, he got an appointment to meet Mr. O'Brien and showed him some early work; on Mr. O'Brien's advice, he studied anatomy and sculpture and took night classes in film production.
The two men stayed in touch through Mr. Harryhausen's early working years as a technician making stop-motion 'Puppetoon' shorts for Paramount, humorous animated training films for the Army during World War II and, after the war, his own animated short films of Mother Goose stories and some advertising work.
Then, when Merian C. Cooper, the director and producer of King Kong, set out to make another feature with Mr. O'Brien about a giant ape, Mr. O'Brien remembered Mr. Harryhausen and hired him to animate most of the film, Mighty Joe Young, released in 1949. It won an Academy Award for special effects.
Its success spurred Mr. Harryhausen to try developing feature projects of his own. After several false starts came The Beast From 20,000 Fathoms, partly based on a short story, "The Fog Horn," by Ray Bradbury, whom Mr. Harryhausen had gotten to know as a teenager through a local science fiction club. The film was a sleeper hit in 1952, establishing Mr. Harryhausen as someone who could deliver astonishing footage on a tight budget and draw big audiences."
_______________________
An example of  Harryhausen's teenage work from the garage in the late '30s, a stop-motion telling of evolution: