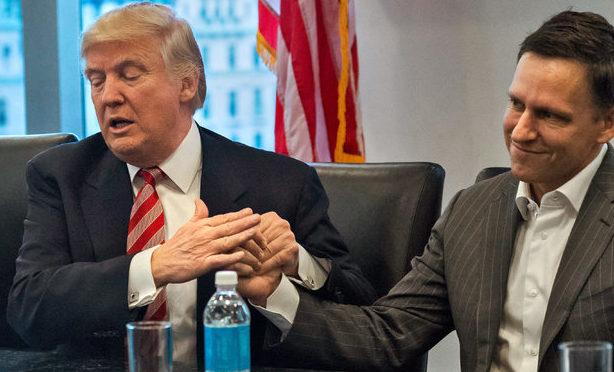 1) Peter Thiel is an emotional homunculus and an intellectual fraud with a moral blind spot reminiscent of Hitler's secretary.

— Afflictor.com (@Afflictort) November 16, 2016
2) Thiel's political ideas are hugely idiotic, but in the U.S. you can become a billionaire without a shred of decency or lick of sense.

— Afflictor.com (@Afflictort) November 16, 2016
3) Thiel is the best argument yet for a return to the draconian progressive tax rates of the Eisenhower Administration.

— Afflictor.com (@Afflictort) November 16, 2016
4) Thiel said Gawker must be driven out of business because it was a "sociopathic bully" and then supported one into the White House.

— Afflictor.com (@Afflictort) November 16, 2016
5) Somehow Thiel believes having an incompetent, unhinged bigot in the Oval Office is the pathway to American greatness.

— Afflictor.com (@Afflictort) November 16, 2016
6) The early results of Thiel's stupidity: white nationalism in ascendancy and Medicare likely to be killed.

— Afflictor.com (@Afflictort) November 16, 2016
7) Thiel's been excused by Mark Zuckerberg and others in the name of "diversity," as if this election was business as usual.

— Afflictor.com (@Afflictort) November 16, 2016
8) Those in Silicon Valley who continue to do business with Thiel or forgive him as a "contrarian" are now complicit with him.

— Afflictor.com (@Afflictort) November 16, 2016
According to a new BuzzFeed News article by Ryan Mac, Peter Thiel is now privately concerned that the Trump Administration is inept and may end in disaster. What was your first hint, Dr. IQ?
What's most worrisome about the Silicon Valley "genius" who staunchly supported both Iraq invasion and the Trump campaign, isn't that he didn't notice how incompetent his candidate was, but that he truly believed this President and Bannon and Miller would successfully carry out a deeply bigoted, sociopathic agenda. That says as much about Thiel as it does about Trump.
When, oh when, will Americans stop equating those with wealth with those with wisdom?
Mac's opening:
Donald Trump's most prominent Silicon Valley supporter has distanced himself from the president in multiple private conversations, describing at different points this year an "incompetent" administration, and one that may well end in "disaster."

Peter Thiel's unguarded remarks have surprised associates, some of whom are still reeling from his full-throated endorsement of Trump at the Republican National Convention. And while the investor stands by the president in public — "I support President Trump in his ongoing fight," he said in a statement to BuzzFeed News — his private doubts underscore the fragility of the president's backing from even his most public allies. Thiel's comments may sting in particular in the White House as they come amid a series of hasty and embarrassed departures from the Trump train, as conservative voices from the Wall Street Journal's editorial page to the floor of the US Senate have begun to distance themselves from the administration.

Thiel's views remain private — but various disparaging comments were recounted to BuzzFeed News by three separate sources, and others who subsequently confirmed those accounts. These people requested anonymity for fear of damaging personal relationships and possible retribution.

While Thiel told Trump that he is off to a "terrific start" at a White House event in June, his previous statements to friends and associates did not reflect that sentiment. In half a dozen private conversations with friends that were described to BuzzFeed News dating from spring 2016 to as recently as May, Thiel, who served on the Presidential Transition Team Executive Committee, has criticized Trump and his administration and developed increasingly pessimistic feelings about the president.

The sources who talked with BuzzFeed News spent time with Thiel in private group settings before and after the election at his homes in Los Angeles, San Francisco, and Hawaii, engaging in candid discussions on the PayPal cofounder's politics and his backing of Trump. At one event with friends in January 2017, Thiel said of Trump's presidency that "there is a 50% chance this whole thing ends in disaster," according to two people who were in attendance. In other conversations, he questioned the president's ability to be reelected.

Thiel, through a spokesperson, did not deny any of the quotes attributed to him by his friends and associates when approached by BuzzFeed News.•