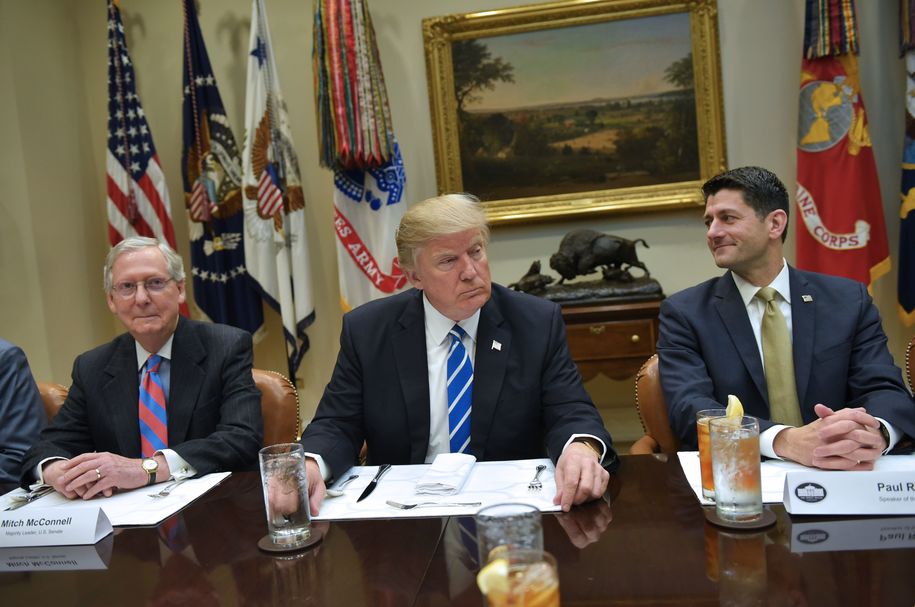 Republicans are still mostly resisting a real investigation of possible Trump collusion with Russia and his obstruction of justice in regards to the Comey firing. Some lip service, some mild gestures, that's all thus far. 
Chief among these defiant defenders is Paul Ryan, who's quoted today in Politico as saying "some people want to harm the President." His odd stance could stem from reflexive partisanship and the Speaker's long-held desire to pass at any cost his punitive tax and social welfare cuts. Perhaps he believes a Trump resignation or impeachment would put those plans in peril.
We have to at least consider that it could be something even darker. Ryan may believe Mike Pence is likely to be swept away in this same scenario, leaving him, third in line, as the new President. He might not want any part of what would be an office made untenable by such a large-scale scandal. Even worse, it's possible the Russian connection runs deeper than we know and may pull under a large number of GOP elected officials. 
Regardless of the cause, the party appears to be in a death spiral and is threatening to feed the entire nation a poison pill. What may save us is that despite any desperate machinations from the White House or Hill, the truth is likely to ultimately be exposed.
From Edward Luce's latest Financial Times column, which asserts that tax cuts is a ridiculous reason for Republican self-immolation:
Whenever the elites express outrage at his actions, his supporters take pleasure in their anguish. Mr Trump knows how to cater to his base. If that means passing secrets to the Russians the day after firing the man investigating his campaign's alleged Russia collusion, all the better. Scholars call this "negative partisanship". People no longer join a party because they believe in its agenda but because they despise the other one. By mocking his opponents, Mr Trump is literally delivering on what he promised. It is a mandate for nihilism.

This poses a terrible dilemma for Republicans. Some are hoping to bide their time until midterm elections. Mr Trump's approval ratings are so low that if the polls were held today Republicans would lose control of the House of Representatives, and possibly the Senate. At that point, Republicans would start to abandon Mr Trump's ship. Democrats may well campaign on a promise to impeach Mr Trump. But that is almost 18 months away. Other Republicans are hoping to extract what they can before the Titanic starts to sink.

Most, such as Paul Ryan, the House Speaker, are prepared to suffer the indignity of working with Mr Trump if it gives them the chance to pass a big tax cut. In Mr Ryan's view, such a cut would unleash America's animal spirits and restore freedom to individuals.

It is a coherent position. But Mr Trump keeps making it harder for Mr Ryan to build the case for it. The chances are now at least as good that the firestorm around Mr Trump will engulf his economic agenda. Even if Mr Ryan can pull off tax reform, would the bargain have been worth it? The answer is no. Taxes rise and fall. But a great party cannot erase how it acted at a critical moment in the history of the republic.•