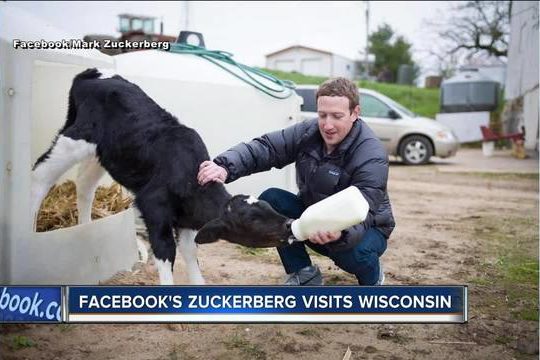 That Mark Zuckerberg's self-described religious conversion and his 50-states "listening tour" have been carefully managed, documented and publicized for public consumption is undeniable, but let's not suppose that something so staged will be unsuccessful. After all, there's never been a more obvious con man than Donald Trump, so let us never, ever again underestimate the propensity of Americans to be impressed by fabulously wealthy celebrities going through the motions. Enough of us assume they have to be brilliant and special. 
Maybe the founder of Facebook, the platform of choice for Alt-Reich enthusiasts, is really prepping for a 2020 Presidential run that will be aided by his media holdings–like Berlusconi minus all the fascinating bunga bunga?–or perhaps he's just trying on a new style like when he was killing the animals he ate or being a proud Atheist or saying idiotic pseudo-philosophical about dying Africans. Sure, it's possible he's truly changed and grown, but real personal development is not usually connected to the end of a selfie stick.
Regardless, there are many Americans who'd be far better in the Oval Office and at least one who's way worse.
From Mike Isaac of the New York Times:
CAMBRIDGE, Mass. — In March, Mark Zuckerberg visited the Emanuel African Methodist Episcopal Church in Charleston, S.C., the site of a mass murder by a white supremacist.

Last month, he went to Dayton, Ohio, to sit down with recovering opioid addicts at a rehabilitation center.

And he spent an afternoon in Blanchardville, Wis., with Jed Gant, whose family has owned a dairy and beef cattle farm for six generations.

These were all stops along a road trip by Mr. Zuckerberg, Facebook's chief executive, across the United States this year. His goal: to visit every state in the union and learn more about a sliver of the nearly two billion people who regularly use the social network.
On Thursday, in a commencement speech at Harvard, from which he dropped out in 2005, Mr. Zuckerberg discussed how his views on how people live and work with one another had broadened, partly as a result of what he has seen on the tour. He said he had come to realize that churches, civic centers and other organized meeting places are integral to building and maintaining a strong sense of community.

"As I've traveled around, I've sat with children in juvenile detention and opioid addicts, who told me their lives could have turned out differently if they just had something to do, an after-school program or somewhere to go," said Mr. Zuckerberg, who also received an honorary doctoral degree at the ceremony. "I've met factory workers who know their old jobs aren't coming back and are trying to find their place."

To his critics, Mr. Zuckerberg's road trip is a stunt and has taken on the trappings of a political campaign. His every pit stop — eating with a farming family in Ohio; feeding a baby calf at a farm in Wisconsin — has been artfully photographed and managed, and then posted to Mr. Zuckerberg's Facebook page.

"He has all of the mechanics needed for a massive, well-staged media operation," said Angelo Carusone, president of Media Matters for America, a nonprofit media watchdog group. "Photographers, handlers, its size, scope and scale — all the ingredients are there. And he's appearing in an environment where there's no sole Democratic leader or counterbalance to Trump, who's consuming all the oxygen in media."

Mr. Zuckerberg has publicly denied that he is using the visits as a platform to run for public office.•