You are currently browsing articles tagged Mary Todd Lincoln.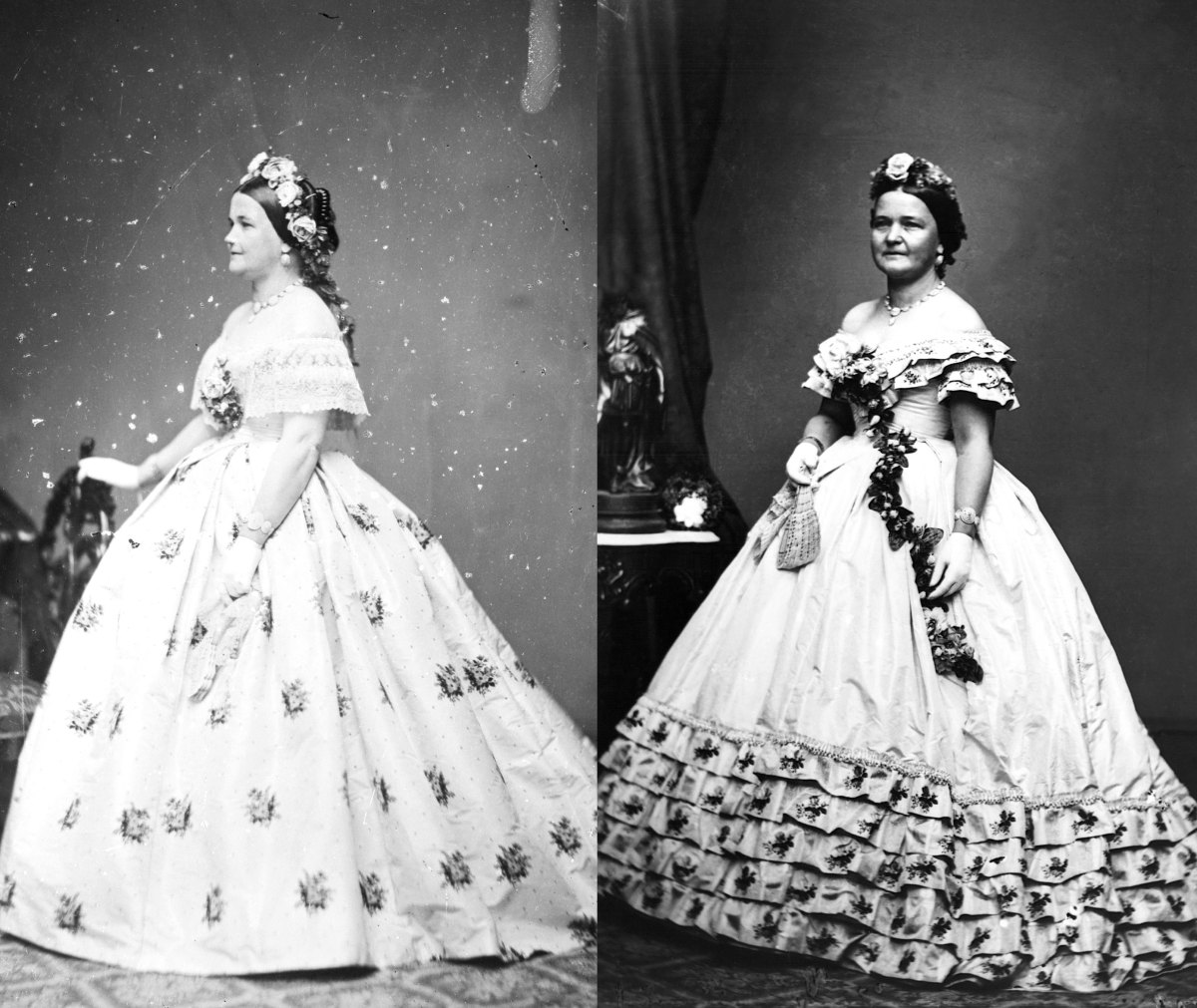 From the April 17, 1863 Brooklyn Daily Eagle: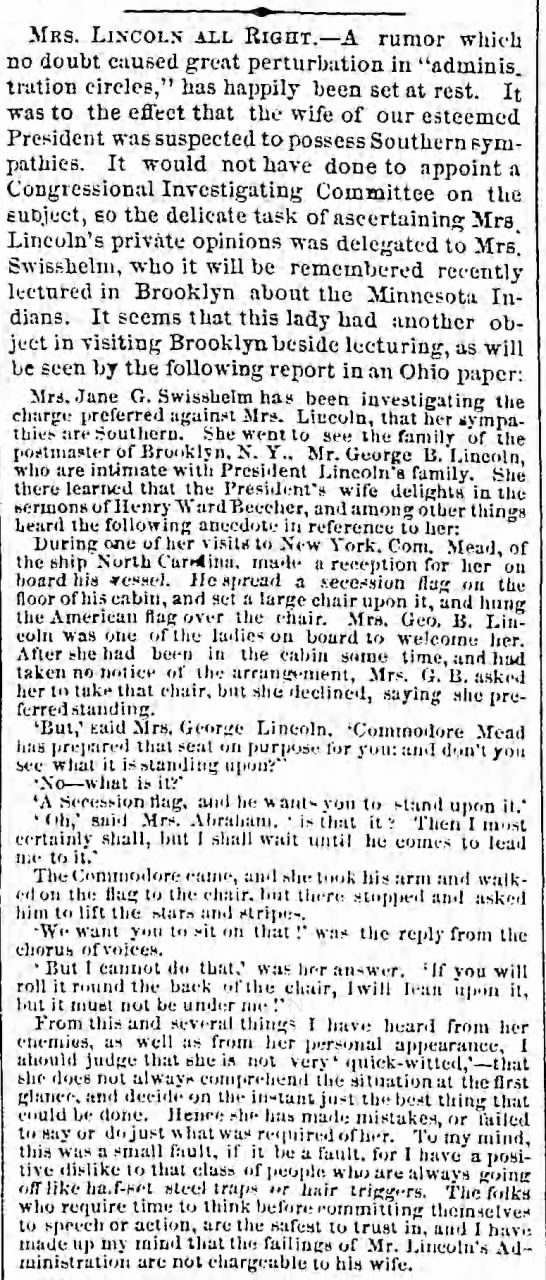 Tags: Mary Todd Lincoln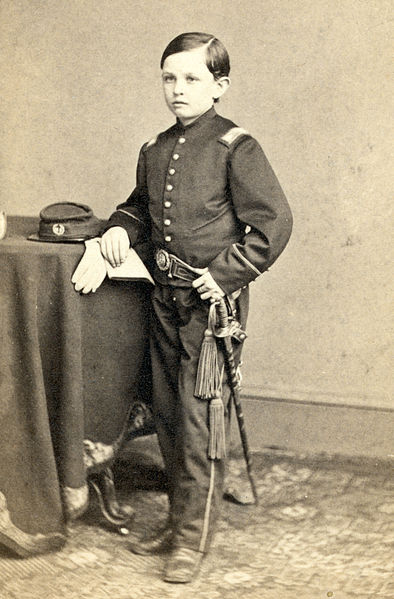 Mary Todd Lincoln suffered many losses in her life, and one of the bitterest was the 1871 death of her youngest child, Thomas,  nicknamed "Tad," when he was just 18. The cause of death was reported to be "dropsy of the heart," but it could have been TB or some other cardiac illness. To put it mildly, Tad was a free spirit, and he is responsible for the origin of a White House tradition. Long before President Obama was pardoning turkeys at Thanksgiving, the Lincoln child saved a similar bird. From Gilbert King at the Smithsonian history blog:
"However, the earliest known sparing of a holiday bird can be traced to 1863, when Abraham Lincoln was presented with a Christmas turkey destined for the dinner table and his young, precocious son Tad intervened.
Thomas 'Tad' Lincoln was just 8 years old when he arrived in Washington, D.C., to live at the White House after his father was sworn into office in March 1861. The youngest of four sons born to Abraham and Mary Todd Lincoln, Tad was born after Edward 'Eddie' Lincoln died in the winter of 1850 at the age of 11, most likely of tuberculosis. Both Tad and his brother William 'Willie' Lincoln were believed to have contracted typhoid fever in Washington, and while Tad recovered, Willie succumbed in February of 1862. He was 11.
With the eldest Lincoln son, Robert, away at Harvard College, young Tad became the only child living at in the White House, and by all accounts, the boy was indomitable—charismatic and full of life at a time when his family, and the nation, were experiencing tremendous grief. Born with a cleft palate that gave him a lisp and dental impairments that made it almost impossible for him to eat solid food, Tad was easily distracted, full of energy, highly emotional and, unlike his father and brother, none too focused on academics.
'He had a very bad opinion of books and no opinion of discipline,' wrote John Hay, Lincoln's secretary. Both Lincoln parents, Hay observed, seemed to be content to let Tad 'have a good time.' Devastated by the loss of Willie, and both proud and relieved by Robert's fastidious efforts at Harvard, the first couple gave their rambunctious young son free rein at the executive mansion. The boy was known to have sprayed dignitaries with fire hoses, burst into cabinet meetings, tried to sell some of the first couple's clothing at a 'yard sale' on the White House lawn, and marched White House servants around the grounds like infantry."
Tags: Abraham Lincoln, Gilbert King, Mary Todd Lincoln, Thomas Lincoln
A decade after President Lincoln was assassinated, his wife, Mary Todd Lincoln, who struggled emotionally from the death of not only her husband but three sons as well, was declared insane at the request of her only surviving son, Robert. A report follows from the May 20, 1875 Brooklyn Daily Eagle.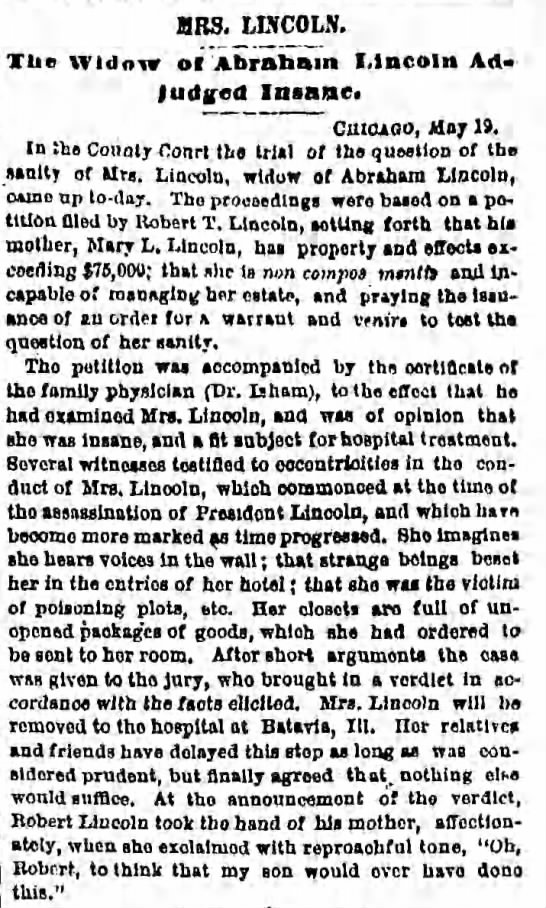 Tags: Abraham Lincoln, Dr. Isham, Mary Todd Lincoln, Robert T. Lincoln