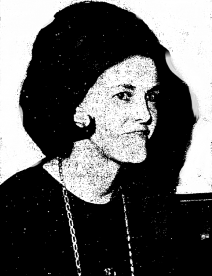 From Joan Didion's 1966 article, "Some Dreamers of the Golden Dream" (originally entitled, "How Can I Tell Them There's Nothing Left?"), which profiled Lucille Marie Maxwell Miller, a mother of three who murdered her husband in lovely San Bernardino one sun-drenched day:
Of course she came from somewhere else, came off the prairie, in search of something she had seen in a movie or heard on the radio. For this is a Southern California story. She was born on January 17, 1930, in Winnipeg, Manitoba, the only child of Gordon and Lily Maxwell, both school teachers hers and both dedicated to the  Seventh-Day Adventist Church whose members observe the Sabbath on Saturday, believe in an apocalyptic Second Coming, have a strong missionary tendency, and, if they are strict, do not smoke, drink, eat meat, use makeup, or wear jewelry, including wedding rings. By the time Lucille Maxwell enrolled at Walla Walla College in College Place, Washington, the Adventist school where her parents then taught, she was an eighteen-year-old possessed of unremarkable good looks and remarkable high spirits. "Lucille wanted to see the world,' her father would say in retrospect, 'and I guess she found out."

The high spirits did not seem to lend themselves to an extended course of study at Walla Walla College and in the spring of 1949 Licille-Maxwell met and married Gorgon ("Cork") Miller, a twenty-four-year-old graduate of Walla Walla and of the University of Oregon dental school, then stationed at Fort Lewis as a medical officer. "Maybe you could say it was love at first sight," Mr. Maxwell recalls. "Before they were ever formally introduced, he sent Lucille a dozen and a half roses with a card that said even if she didn't come outon a date with him, he hoped she'd find the roses pretty anyway." The Maxwells remember their daughter as a "radiant" bride.

Unhappy marriages so resemble one another that we do not need to know too much about the course of this one. There may or may not have been trouble on Guam, where Cork and Lucille Miller lived while he finished his Army duty. There may or may not have been problems in the small Oregon town where he first set up private practice. There appears to have been some disappointment-about their move to California: Cork Miller bad told friends that he wanted to become a doctor, that he was unhappy as a dentist and planned to enter the Seventh-Day Adventist College of Medical Evangelists at Loma Linda, a few miles south of San Bernardino. Instead he bought a dental practice in the west end of San Bernardino County, and the family settled there, In a modest house on the kind of street where there are always tricycles and revolving credit and dreams about bigger houses, better streets. That was 1957.  By the summer of 1964 they had achieved–the bigger house on the better street and the familiar accouterments of a family on its way up: the $30,000 a year, the three children for the Christmas card, the picture window, the family room, the newspaper photographs that showed "Mrs. Gordon Miller, Ontario Heart Fund Chairman." They were paying the familiar price for it. And they had reached the familiar season of divorce.•
---
Joan Didion interviewed in Los Angeles in the 1970s by NBC News.