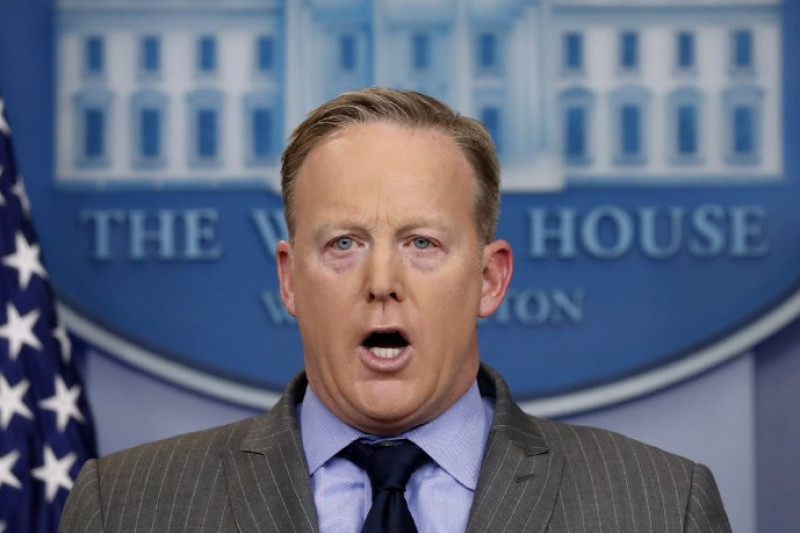 If I'm not mistaken, the economist Tyler Cowen guessed post-election that Donald Trump would initially throw some bloody red meat to his base before moderating, which certainly hasn't been the case. A 70-year-old sociopath simply isn't going to metamorphosize. The 45th President has instead, in the early days, combined the propaganda of Putin with the paranoia of McCarthy. It's likely to be the most extreme Administration of our lifetimes.
In a Bloomberg View column, Cowen wisely dissects Trump ordering Sean Spicer and other aides to speak astonishing lies directly into cameras. It's a loyalty test and also a nihilistic gambit to obscure truth, allowing a radical agenda to be jammed through as soon as possible. With a cabinet full of James G. Watts, folks decidedly unfriendly to science and environment, that will mean many shocks to the system. It would also seem to offer China an amazing opportunity to become the long-term global leader in renewables.
Another BV piece, one by Leonid Bershidsky, draws parallels between Trump and Putin, particularly in image-making, though the writer differentiates between the two personalities, believing the Russian dictator's cooler head gives him an advantage over the angst-ridden American.
Two excerpts follow.
---
From Cowen:
Trump specializes in lower-status lies, typically more of the bald-faced sort, namely stating "x" when obviously "not x" is the case. They are proclamations of power, and signals that the opinions of mainstream media and political opponents will be disregarded. The lie needs to be understood as more than just the lie. For one thing, a lot of Americans, especially many Trump supporters, are more comfortable with that style than with the "fancier" lies they believe they are hearing from the establishment. For another, joining the Trump coalition has been made costlier for marginal outsiders and ignoring the Trump coalition is now less likely for committed opponents. In other words, the Trump administration is itself sending loyalty signals to its supporters by burning its bridges with other groups.

These lower-status lies are also a short-run strategy. They represent a belief that a lot can be pushed through fairly quickly, bundled with some obfuscation of the truth, and that long-term credibility does not need to be maintained. Once we get past blaming Trump for various misdeeds, it's worth taking a moment to admit we should be scared he might be right about that.•
---
From Bershidsky:
The parallels began in earnest with Trump's pre-inauguration news conference, when Alexei Kovalev, known for debunking Russian government propaganda, compared the event to Putin's circus-like annual meetings with the press. The piece resonated with Western journalists, who are not used to being denied questions by the president and also expect that he will be nice to them. It also resonated with their Russian colleagues, who have been dealing with carefully staged press appearances and punitive access restrictions since Putin's first term in power. 

Over the weekend, Trump press secretary Sean Spicer all but invited comparisons to his Russian counterpart by offering "alternative facts" about the inauguration crowd's size. With a straight face, Putin's spokesman, Dmitri Peskov, has denied the involvement of Russian troops in Crimea and eastern Ukraine and claimed that a $620,000 watch he wore was a present from his wife, an Olympic figure skater.

Trump's preference for inviting his supporters to potentially tough rooms is shared by Putin as well. Earlier this month, Russian-language social networks throbbed with reports that several people kept reappearing in various meetings between Putin and "ordinary Russians." One of them, Larisa Sergukhina, was revealed to be a small-business owner working on government contracts. Even if, as Putin loyalists argued, the same people were legitimately invited to several meetings in a particular region, Putin's travels are carefully staged in a time-honored Russian tradition that dates back — at least — to Prince Grigory Potemkin. No group of people allowed to come close to Russia's leader is ever random, and you'll never see anyone heckling or berating Putin on television there. Everybody's always happy to see him.

The budding resemblance between Trump and Putin is, of course, unsettling to Americans. They are not used to a leader behaving like a czar. But Putin doesn't do his czar act because he likes it.•