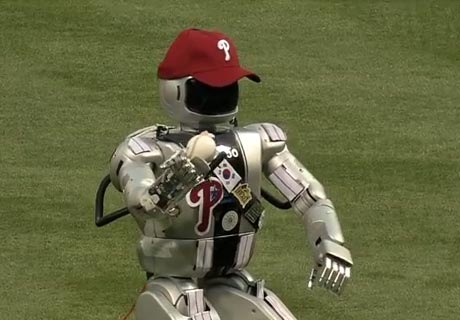 Baseball is very different than it used to be yet more or less the same. Maybe that's because it was always a strange thing, with no uniform playing field.
In 1900, it was considered America's pastime, even more popular than cricket which was still wildly successful. Two decades later, the latter sport was largely gone from the scene, and baseball survived despite the existential threat of the 1919 Black Sox scandal. The game thrived during its prolonged mythologizing epoch, when narratives reigned, and has grown even wealthier now that numbers have ascended.
There are some dark clouds on the horizon. The average fan is quite old, African-American athletes in recent decades have gravitated to other sports, those bountiful regional cable contracts may prove bad bets not repeated, etc. It's already no longer America's favorite game, but you would think that as long as it can provide giant blocks of family-friendly entertainment, it will find itself in a good place in a media-saturated society. Its chances are certainly better than two of the other team-sports leagues, the NFL and NHL, with their head-injury issues.
In a fun ESPN article, Tim Kurkjian and a panel of unnamed experts imagine what changes will come to the game in 20 years, in terms of rules, technology and training. There's plenty to argue over, and I disagree with some aspects. If baseball has contracted to just 28 teams by 2037 as Kurkjian predicts, either MLB will be doing poorly or the nation will in rough shape, perhaps locked be in Civil War 2.0 (likely!). I also don't understand why, by that point, computers calling balls and strikes won't be able to adjust to a batter's stance. Seems easier to figure out than, say, driverless cars.
Three short examples from the ESPN piece is followed by the opening of George Will's WSJ review of Smart Baseball, a book about next-level stats by Keith Law, whom the reviewer likens to baseball's "Wittgenstein," which may be the George Will-est thing ever.
---
From Kurkjian:
In 20 years, all players will be monitored to an intense degree. Heart rate and brain function will be watched in several ways, including through the bloodstream, and will detect when the stress level, among other levels, is too high. The monitors will determine when a player reaches failure capacity, which could reduce the risk of injury and alert a performance risk. It's a paradox: Players are bigger, stronger and fitter today, but they get hurt more often. There will be far more healthy players and less use for the disabled list in 2037.

There will still be four umpires on the field as opposed to sensors on player's uniforms and on each base to electronically determine out or safe calls. Instead of having a laser system at home plate to call balls and strikes because such a system can't always account for the shifting size of a player's strike zone or the element of a crouch, the home plate umpire will be standing behind the pitcher's mound. Many in the game will acknowledge that is the best vantage point to call balls and strikes, especially the horizontal strike zone — inside and outside. For the vertical ball/strike call (high or low) advanced technology will provide an augmented reality for umpires, it will help them better see what they see. The home plate umpire will touch a receiver on his belt and receive a signal, such as a buzz, to help him better call a pitch.

There will be no American League and National League, it will all be under one MLB. There will be no Oakland Athletics or Tampa Bay Rays. The game will not expand to Mexico or Japan or Las Vegas. Instead, it will contract from 30 to 28 teams. That will make scheduling easier and more equitable: All teams will play each other six times, 27 times six equals 162. The top 10 teams in the game will make the playoffs.
---
From Will:
"Philosophy," wrote Ludwig Wittgenstein, "is a battle against the bewitchment of our intelligence by means of language." Baseball has found its Wittgenstein.

Or, more precisely, another Wittgenstein. Keith Law, a senior baseball writer and analyst for ESPN, is a member of the growing cohort of exasperated baseball analysts who persuasively argue against what they consider the bewitchment of the sport's intelligence by outdated or ill-considered metrics.

The title, and especially the subtitle, of Mr. Law's book—Smart Baseball: The Story Behind the Old Stats That Are Ruining the Game, the New Ones That Are Running It, and the Right Way to Think About Baseball—indicates he did not get the memo recommending intellectual tentativeness. In today's garden of baseball journalism, the flora includes many practitioners who are not shrinking violets, and Mr. Law himself is a human cactus with a prickly impatience regarding those he considers slow learners.

Baseball is the sport with the longest season: 162 games before 10 teams play on into October, with two often finishing in early November. As a game of distinct episodes—pitch by pitch, out by out, inning by inning—it generates an ever-richer sediment of data as new technologies yield ever-more refined measurements: spin rates of pitches, "tilts" (angles of break) of sliders, launch angles of swings, exit velocities of balls coming off bats, and so on. These measurements are massaged by a new generation of mostly young and well-educated front-office "quants." All 30 teams have analytics departments; the Astros have a "director of decision sciences." Many of these savants' baseball-playing careers peaked in Little League. They work, not always harmoniously, with their teams' managers, who are expected to use the data when putting together lineups and making in-game decisions.

Mr. Law's demolition derby begins by disparaging the hitting and pitching metrics we grew up reading beneath the bubblegum residue on the backs of baseball cards—batting averages, runs batted in, wins, saves, fielding percentage. •