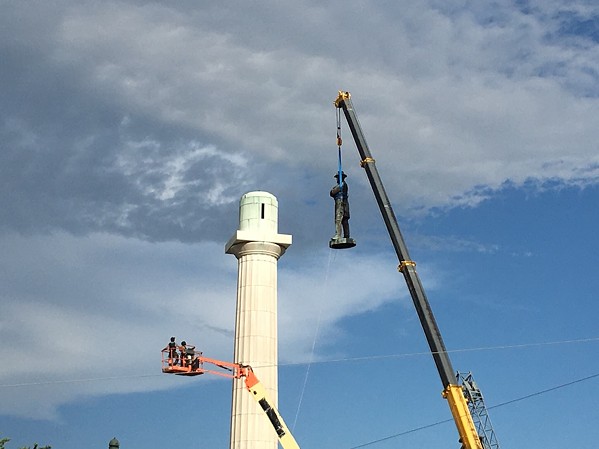 The reason Confederate statues stand in America are twofold.
Those erected in the aftermath of the Civil War were permitted, even endorsed, by Union politicians and periodicals as a means of appeasing the vanquished in a conflict that killed more Americans than any war before or since. It was, of course, bizarre reasoning, as the statuary became more than just participation trophies for traitors but also served as vestiges of slavery, states' rights and supremacy for the conquered to cling to.
The more recent Confederate monuments in the U.S. are clearly meant to communicate white dominance. It's questionable at best that they would have been allowed to exist at all were it not for the many similar tributes already dotting the nation. The original sin made possible the many even darker ones to follow.
Two excerpts follow.
· · ·
From "Some Thoughts on Public Memory" by Josh Marshall of Talking Points Memo:
What is little discussed today is that the North and the South made a tacit bargain in the years after the Civil War to valorize Southern generals as a way to salve the sting of Southern defeat and provide a cultural and political basis for uniting the country with more than military force. That meant the abandonment of free blacks in the South after the mid-1870s. It is important to see this not only as the abandonment of the ex-slaves of the South. It is difficult, but necessary, to pull away the subsequent history to realize that it was entirely possible in the aftermath of the Civil War that the US would be condemned to perpetual warfare, insurrection and foreign intervention. But if the opposite, the United States that went on to become a global superpower, is what was gained it was gained at a terrible price and a price paid more or less solely by black citizens.

However one judges that past, knowing its full history leaves no reason or rationale for continue the valorization of Lee. He was a traitor and a traitor in a terrible cause. That is his only mark on American history. Whether he was a personally gentle man, nice to his pets or a good field general hardly matters.

Even this though leaves the full squalidness of Lee's legacy not quite told. There is the Lee of the Civil War and then the mythic Lee of later decades. Today the battle over Lee's legacy is mainly played out over the various statues depicting Lee which still stand across the South. The notional focus of this weekend's tragic events in Charlottesville was a protest over plans to remove a Lee statue. But those statues don't date to the Civil War or the years just after the Civil War. In most cases, they date to decades later.•
· · ·
A 1909 Brooklyn Daily Eagle letter to the editor from a Union veteran: