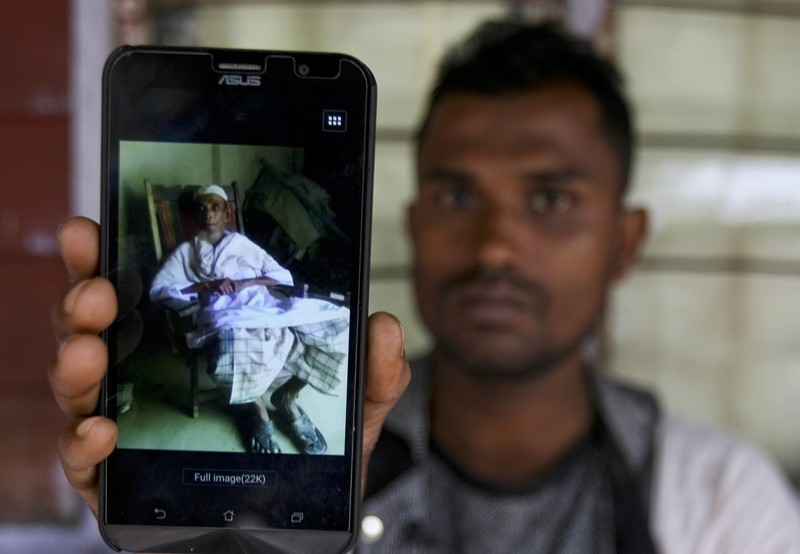 A lack of information can get you killed but so can the wrong information. Consider North Korea and Myanmar.
The former is infamously unplugged from all worldviews but the delusional one of Great Leader. It's unclear how benighted the totality of the North Korean population has been made to be, but Suki Kim's 2014 book, Without You, There Is No Us, reveals "educated" elites to be all but automatons in the service of the fratricidal provocateur Kim Jong-un. It's all a dream and very much a nightmare. The only hope is that those who are less privileged and not so directly indoctrinated aren't as enamored with the state-wide cult, though that's probably wishful thinking.
Like most of the world, the latter nation is connected to the Internet, which has become an airstrip for weaponized information drones. Facebook seems to be the particular social-media vehicle that's helped foment the current ethnic-cleansing furor which has exploded the relatively tiny and diverse Asian nation onto the world-news page and the obituaries. Anyone who doubted social media aided the Arab Spring was incorrect. Those who now believe its effect in regards to Brexit, Trump and Myanmar has been overstated, are similarly naive. 
Two excerpts follow.
__________________________
From Hannah Beech's NYT article "Across Myanmar, Denial of Ethnic Cleansing and Loathing of Rohingya":
Mr. Aye Swe admitted he had never met a Muslim before, adding, "I have to thank Facebook because it is giving me the true information in Myanmar."

Social media messaging has driven much of the rage in Myanmar. Though widespread access to cellphones only started a few years ago, mobile penetration is now about 90 percent. For many people, Facebook is their only source of news, and they have little experience in sifting fake news from credible reporting.

One widely shared message on Facebook, from a spokesman for Ms. Aung San Suu Kyi's office, emphasized that biscuits from the World Food Program, a United Nations agency, had been found at a Rohingya militant training camp. The United Nations called the post "irresponsible."

The Myanmar government, however, insists the public needs to be guided.

"We do something that we call educating the people," said U Pe Myint, the nation's information minister. He acknowledged, "It looks rather like indoctrination, like in an authoritarian or totalitarian state."•

_____________________________
From Jon Schwarz's Intercept Q&A with Kim:
Question:

I've always believed that North Korea would never engage in a nuclear first strike just out of self-preservation. But your description of your students did honestly give me pause. It made me think the risk of miscalculation on their part is higher than I realized.

Suki Kim: 

It was paradoxical. They could be very smart, yet could be completely deluded about everything. I don't see why that would be different in the people who run the country. The ones that foreigners get to meet, like diplomats, are sophisticated and can talk to you on your level. But at the same time they also have this other side where they have really been raised to think differently, their reality is skewed. North Korea is the center of the universe, the rest of the world kind of doesn't exist. They've been living this way for 70 years, in a complete cult.

My students did not know what the internet was, in 2011. Computer majors, from the best schools in Pyongyang. The system really is that brutal, for everyone.

Question:

I was also struck by your description of the degeneration of language in North Korea. [Kim writes that "Each time I visited the DPRK, I was shocked anew by their bastardization of the Korean language. Curses had taken root not only in their conversation and speeches but in their written language. They were everywhere – in poems, newspapers, in official Workers' Party speeches, even in the lyrics of songs. … It was like finding the words fuck and shit in a presidential speech or on the front page of the New York Times."]

Suki Kim: 

Yes, I think the language does reflect the society. Of course, the whole system is built around the risk of an impending war. So that violence has changed the Korean language. Plus these guys are thugs, Kim Jong-un and all the rest of them, that's their taste and it's become the taste of the country.

Question: 

Authoritarians universally seem to have terrible taste.

Suki Kim: 

It's interesting to be analyzing North Korea in this period of time in America because there are a lot of similarities. Look at Trump's nonstop tweeting about "fake news" and how great he is. That's very familiar, that's what North Korea does. It's just endless propaganda. All these buildings with all these slogans shouting at you all the time, constantly talking about how the enemies are lying all the time.

Those catchy one-liners, how many words are there in a tweet? It's very similar to those [North Korean] slogans.

This country right now, where you're no longer able to tell what's true or what's a lie, starting from the top, that's North Korea's biggest problem. America should really look at that, there's a lesson.•