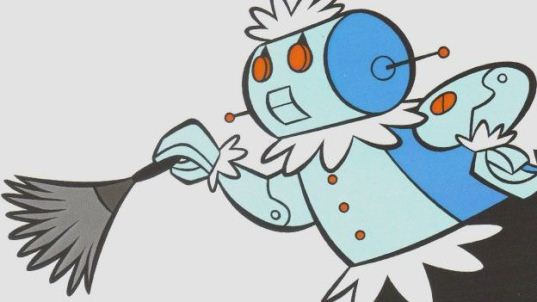 From "Housework in Utopia," a post about domestic drudgery by economist John Quiggin, a passage about how we struggle to keep up appearances that were established under a long-abandoned societal model:
"The household appliances that first came into widespread use in the 1950s  (washing machines, vacuum cleaners, dishwashers and so on), eliminated a huge amount of drudgery, but technological progress for the next forty years or so was pretty limited. The only truly significant innovation I can date to this period is the microwave oven.
At the same time, the great decline in inequality freed lots of working class women from doing the chores of others, as well as maintaining their own homes. Those same tasks, eased by technology but still burdensome, were shifted onto middle-class women who would previously have employed servants.
How likely is it that new appliances will resolve the remaining problems of household labor? We just acquired a vacuum cleaning robot which is a real boon, and there are versions that are supposed to clean tiled floors as well.
In other cases, there are less direct solutions. Technological progress in the clothing industry means that it no longer makes economic sense to sew your own clothes, or even to mend them. So, these are now jobs that fit into category (2) – to the extent that we do them it's because we enjoy them. Similarly, while the bugs still need to be ironed out of online shopping, particularly for groceries, it won't be long before no one needs to visit a physical shop unless they enjoy the experience (once every three months is about optimal for me!).
That still leaves a number of inescapably physical and essentially crappy jobs, for which technology has yet to offer a solution. The obvious examples for me are cleaning (surfaces, baths, toilets etc) and ironing (not such a problem if, unlike me, you can do it while watching a video/TV). Something these tasks share, and which is true of a lot of crappy jobs, is that we do a lot more than is actually necessary.  Social standards inherited from the days of cheap servant labour dictate much more cleanliness than is required for hygiene, and practices like ironing for which there is no need at all.
So, a final part of my idea of utopia would be the institution of social norms that frown on unnecessary crap-work. In my utopia, a freshly ironed shirt would attract the same kind of response that is now elicited by a fur coat or an ivory brooch – a mixture of anachronistic admiration with disapproval of the process by which it was produced, with the latter element predominating over time.
I haven't done the numbers yet, but it seems to me that with a bit of technological progress and a sensible attitude, we could get the requirement for household crapwork below an hour a day, which even utopians should be willing to live with."