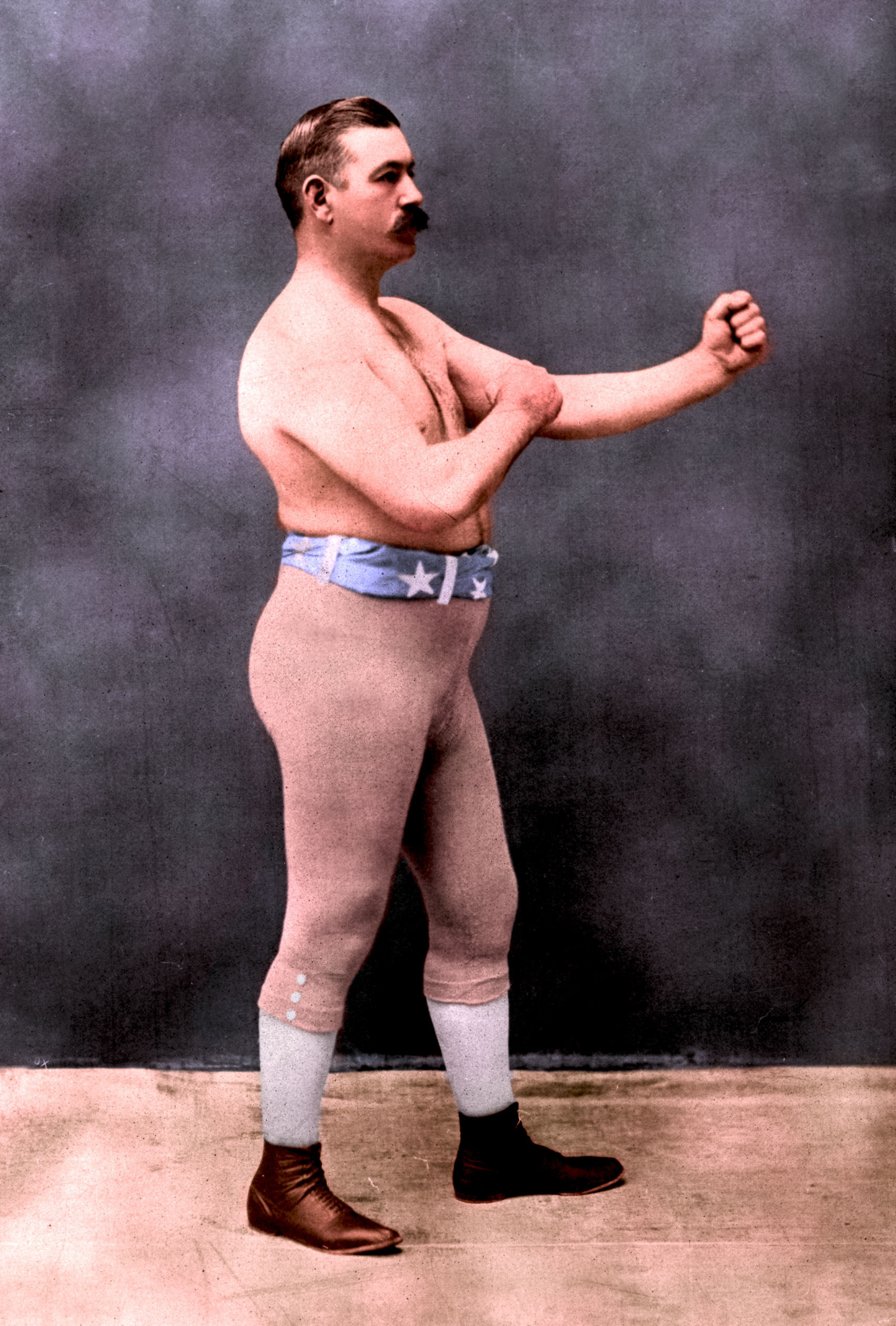 John L. Sullivan wanted to fight John Q. Public and vice versa. The boxing icon couldn't get his mustache trimmed without some galoot taking a swing at him, so in the early 1880s the pugilist toured the country on an ass-kicking expedition. From Christopher Klein at the Public Domain Review:
"After imbibing the adulation inside his saloon on the evening of September 26, 1883, the hard-hitting, hard-drinking Sullivan waded through the throng of fawning fans outside and stepped into a waiting carriage that sprinted him away to a waiting train. The man who had captured the heavyweight championship nineteen months prior had departed on many journeys before, but no man had ever set out on such an ambitious adventure as the one he was about to undertake.
For the next eight months, Sullivan would circle the United States with a troupe of the world's top professional fighters. In nearly 150 locales, John L. would spar with his fellow pugilists but also present a sensational novelty act worthy of his contemporary, the showman P.T. Barnum. The reigning heavyweight champion would offer as much as $1,000 ($24,000 in today's dollars when chained to the Consumer Price Index) to any man who could enter the ring with him and simply remain standing after four three-minute rounds.
The 'Great John L.' was challenging America to a fight.
Sullivan's transcontinental 'knocking out' tour was gloriously American in its audacity and concept. Its democratic appeal was undeniable: Any amateur could take a shot at glory by taking a punch from the best fighter in the world. Furthermore, the challenge, given its implicit braggadocio that defeating John L. in four rounds was a universal improbability, was an extraordinary statement of supreme self-confidence from a twenty-four-year-old who supposedly bellowed his own declaration of independence: 'My name is John L. Sullivan, and I can lick any son-of-a-bitch alive!'"