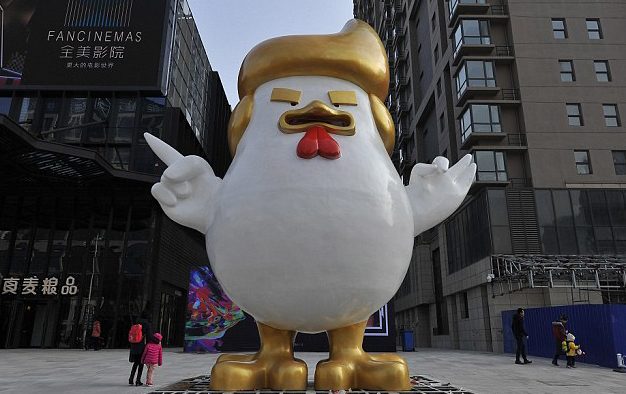 John Cassidy of the New Yorker, who's been stellar during this dark period in America, just conducted an Ask Me Anything at Reddit. In one exchange, he asserts that "some of the Trump voters have legitimate grievances," which is certainly true, though it doesn't nearly add up to 63 million voters. Early in 2016, the Economist debunked the received wisdom of the Trump supporter as the struggling worker ignored by the "elites." His voters, in the aggregate, had a higher household income than average. Those disrupted by manufacturing's decline, positioned just so, may have put the GOP candidate over the top, but it was other factors that carried him to the tipping point. 
Cassidy also looks at the tinderbox that is U.S.-China relations, which could be the most dangerous international development since the Cuban Missile Crisis. The Chinese people are far more nationalistic than most Americans probably realize, and the White House Chief Strategist guaranteeing war in the near future in the South China Sea couldn't have gone down smoothly. Both sides have a tremendous amount to lose, but that doesn't ensure restraint. Wars aren't always rational decisions about money.
A few excerpts follow.
---
Question:

The obvious ludicrousness aside, just how different is this administration from earlier administrations? In what way has the paradigm for administration and governance truly changed?

John Cassidy:

That's an excellent question, which I haven't thought about the way you formulated it. I've thought quite a bit about how different Trump is from previous presidents, and I don't there is any doubt that he represents something new. In terms of experience, outlook, and temperament, there has never been a president like him before. In terms of the administration as a whole, it's a bit different. If you take away Trump and some of the people immediately surrounding him, such as Steve Bannon and Stephen Miller, this administration could pass for a normal Republican administration. A very conservative one, certainly–Pence, Price, Pruitt, and DeVos are all right wing even by the standards of today's GOP. But you also have generals and business leaders playing a big role, which we've seen in the past. The question is how the two parallel administrations gets along–or, equivalently, how Trump deals with his cabinet. I don't think we know the answer to that yet.
---
Question:

Does the threat of being called "fake news" ever run through your head while writing an article, or affect the style of writing? And in your opinion, how should the media be handling the President's war on these, so-called, fake news organizations (like CNN)?

John Cassidy:

Being a columnist, I don't worry much about fake news. I just write what I think, read it through, and put it out there. If there is a fact I am not sure of, I do try to check it, or, at least, point out its source. Obviously, news organizations have to take the whole fake news thing more seriously, but the main thing is not to let Trump intimidate them. So far, I don't think they have. To the contrary, probably. Which explains why he seems to be getting more and more irate.
---
Question:

What is the biggest short term risk to global stability? What holds the best chance to improve people's lives in the short term?

John Cassidy:

I think the two biggest short term risks are China and Trump–or, make that three risks: China, Trump, and China and Trump. The China risk is the same one that has been out there for years: a debt-driven financial blow-up that spills over into other markets. The Trump risk is that he does something that really spooks people and investors. So far, the markets have reacted favorably to his election, because they like tax cuts and deregulation. But I think there's quite a bit of political risk that isn't priced in, especially when it comes to the survival of an open trading system. And of course, there's a danger he could do something nutty, such as spark a military confrontation in the South China Sea. In the interests of maintaining global stability and getting past Trump to another president, the Chinese government might be willing to give a bit of ground. But if Trump backs them into a corner, and brings Chinese nationalism into play, there could be a disaster.
---
Question:

Do you have any thoughts on how to explain to certain groups of voters that Trump, his administration, his policies and executive orders, etc. are opposite of their interests? How do you reach people who have their fingers in their ears?

John Cassidy:

I'm not sure there are many Trump voters reading the New Yorker, but your question is a serious one, especially for the Democratic Party. I think the first thing to do is to acknowledge that although many of Trump's policies–tax cuts for the rich, rollback of financial regulations etc–will hurt working class and middle class people, he did, during the campaign, tap into some legitimate concerns about globalization and trade. I keep going back to the fact that the average hourly wage of non-supervisory workers is lower today, in real terms, than it was in 1973. On top of that, there is now a good deal of empirical evidence that trade with China has taken a pretty heavy toll on manufacturing jobs. So, Trump knew what he was doing when he played the nationalist/protectionist card. The problem, of course, is explaining why his cures won't work, and may well end up harming the victims. If I could do that, I'd give up journalism and run for office! Just joking. But I think the first step is acknowledging that some of the Trump voters have legitimate grievances and trying to speak to them in their language: they aren't all just racist deplorables.
---
Question:

What would you recommend for individuals to do to improve their knowledge of economics – even for people with degrees in economics? Any advice for people wanting to make a living studying economics/policy?

John Cassidy:

Ah, a bit of respite from Trump and politics! Thanks. When I was a student, I studied history and economics, and as a graduate I specialized in economics, so I read a lot of pretty technical stuff. I do have some interest in economic theory, but the books and articles that really stayed with me were the ones that went beyond individual theories and looked at the big picture. An obvious one is Keynes's General Theory. On the left, Paul Sweezey's Theory of Capitalist Development, which was an effort to combine Keynesian short run theory with Marx's long run analysis, is a tour de force that I still go back to. On the right, Milton's Friedman's Capitalism and Freedom, is seminal and still central. All of these books are pretty old. If you want something newer and more up to date, the best textbook I've seen is by my old tutor, David Soskice and his longtime collaborator Wendy Carlin. It's called Macroeconomics, I think. And if you want a history that covers a lot of ground and also includes the financial crisis and its aftermath, I would immodestly recommend my own book, How Markets Fail. Hope that's helpful. As for advice, I would just plunge in and take some courses. There are some good online ones now, which are a good way of testing whether you really have a taste for a subject.•