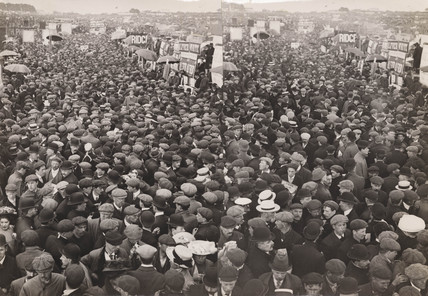 Walter Isaacson is thought, with some validity, as a proponent of the Great Man Theory, which is why Steve Jobs, with no shortage of hubris, asked him to be his biographer. Albert Einstein and Ben Franklin and me, he thought. Jobs, who deserves massive recognition for the cleverness of his creations, was also known as a guy who sometimes took credit for the work of others, and he sold his author some lines. Bright guy that he is, though, Isaacson knows the new technologies and their applications have many parents, and he's cast his net wider in The Innovators. An excerpt from his just-published book, via The Daily Beast, in which he describes the evolution of Wikipedia's hive mind:
"One month after Wikipedia's launch, it had a thousand articles, approximately seventy times the number that Nupedia had after a full year. By September 2001, after eight months in existence, it had ten thousand articles. That month, when the September 11 attacks occurred, Wikipedia showed its nimbleness and usefulness; contribu­tors scrambled to create new pieces on such topics as the World Trade Center and its architect. A year after that, the article total reached forty thousand, more than were in the World Book that [Jimmy] Wales's mother had bought. By March 2003 the number of articles in the English-language edition had reached 100,000, with close to five hundred ac­tive editors working almost every day. At that point, Wales decided to shut Nupedia down.
By then [Larry] Sanger had been gone for a year. Wales had let him go. They had increasingly clashed on fundamental issues, such as Sanger's desire to give more deference to experts and scholars. In Wales's view, 'people who expect deference because they have a Ph.D. and don't want to deal with ordinary people tend to be annoying.' Sanger felt, to the contrary, that it was the nonacademic masses who tended to be annoying. 'As a community, Wikipedia lacks the habit or tra­dition of respect for expertise,' he wrote in a New Year's Eve 2004 manifesto that was one of many attacks he leveled after he left. 'A policy that I attempted to institute in Wikipedia's first year, but for which I did not muster adequate support, was the policy of respect­ing and deferring politely to experts.' Sanger's elitism was rejected not only by Wales but by the Wikipedia community. 'Consequently, nearly everyone with much expertise but little patience will avoid ed­iting Wikipedia,' Sanger lamented.
Sanger turned out to be wrong. The uncredentialed crowd did not run off the experts. Instead the crowd itself became the expert, and the experts became part of the crowd. Early in Wikipedia's devel­opment, I was researching a book about Albert Einstein and I noticed that the Wikipedia entry on him claimed that he had traveled to Al­bania in 1935 so that King Zog could help him escape the Nazis by getting him a visa to the United States. This was completely untrue, even though the passage included citations to obscure Albanian websites where this was proudly proclaimed, usually based on some third-hand series of recollections about what someone's uncle once said a friend had told him. Using both my real name and a Wikipedia han­dle, I deleted the assertion from the article, only to watch it reappear. On the discussion page, I provided sources for where Einstein actu­ally was during the time in question (Princeton) and what passport he was using (Swiss). But tenacious Albanian partisans kept reinserting the claim. The Einstein-in-Albania tug-of-war lasted weeks. I became worried that the obstinacy of a few passionate advocates could under­mine Wikipedia's reliance on the wisdom of crowds. But after a while, the edit wars ended, and the article no longer had Einstein going to Albania. At first I didn't credit that success to the wisdom of crowds, since the push for a fix had come from me and not from the crowd. Then I realized that I, like thousands of others, was in fact a part of the crowd, occasionally adding a tiny bit to its wisdom."