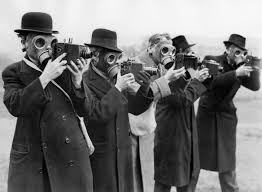 As an outsider, I've never understood UK privacy laws, which are supposed to be more stringent than America's free-market melee, yet seem to have absolutely no impact on how tabloids can tarnish the reputation of whomever they please. These rules seem to have done little good in protecting "memory."
Of course, in a globalized world, when information can travel across borders instantly, there's little practicality in attempting to be "forgotten," even though the exposure sometimes pains us. As a very private person, I wish it were different. It's not.
Maybe I feel that way because I'm from the U.S., or maybe it's because I'm pragmatic about privacy in the wake of the tools we've developed–and the ones that will come soon enough.
Julia Powles of the Guardian has a very different take. The opening of her article:
"Jimmy Wales, co-founder of Wikipedia, has a particular cultural and economic perspective on free speech – reflected in comments made both by him and by the Wikimedia Foundation.
Free speech is undoubtedly a cornerstone of freedom, but it cannot always be fought or guarded in the court of public opinion; the free market of ideas.
To Wales, bad speech is defeated by more speech. Such a solution does not guarantee a defence to the weak and the marginalised. Here, in particular, the human rights that benefit all of us serve a fundamental purpose.
In the UK – where a serious legal commitment to human rights is wavering – we cannot afford to be loose with terminology. Wales refers, inaccurately, to 'history as a human right,' to 'the right to remember,' to 'the right to truth.'
Of course, memory is at the foundation of humanity. Memory builds truth, truth brings justice, and justice brings peace. These are the fundamental pillars of human society.
Within these pillars, the right to privacy and, in Europe, the right to personal data, are embedded, harmonised, legally-recognised human rights.
And so we come to the hard sociopolitical problem at the heart of the so-called 'right to be forgotten.' It is not about the search engines, online services, Google, or Wikipedia. It is about the value humanity ascribes to them as purveyors of 'truth,' of 'history,' and of 'memory.'
It is about confronting what they really are."