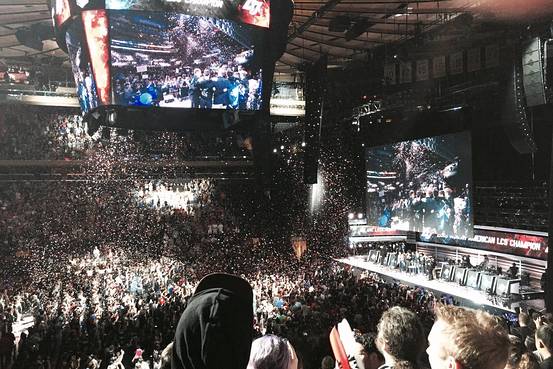 E-sports aren't nearly the weirdest event to have graced the several iterations of Madison Square Garden, which hosted poultry shows during a more agrarian age and week-long walking races that thrilled a pre-automobile audience. The question is whether the action, mostly virtual, at the League of Legends World Championship, which held its semifinals recently at MSG, announces a new and lasting arena-friendly competition or if someday these gatherings will be looked back on as are handsome chickens and panting pedestrians.
After attending the LLWC gathering, Jason Gay of the Wall Street Journal was transformed from skeptic to (sort of a) true believer, despite his Frogger Era upbringing. "If you are a serious e-sports fan, I apologize that this column probably reads as if the Journal sent a dog to cover the World Series," he says, in one of his typically witty articles.
Without necessarily understanding the game, Gay explains the culture and the seemingly mysterious allure of people watching a screen showing other people playing a game on another screen. God knows if such a spectacle will truly sustain, but the NFL in 2016 probably wishes its athletes were comprised of pixels, unblemished by domestic-violence charges and undiminished by brain injuries.
An excerpt:
We arrived Friday night to a cascade of thousands walking into the Garden. E-sports owns a rap for being a predominantly male audience—unlike, say, a Jets game, which is a richly cosmopolitan crowd—but there were a good number of women. I'd say the average age was somewhere in the early to mid-20s. Josh and I stuck out like Regis Philbin and Larry King.

Inside, the arena was packed, loud, happy. This really threw Josh. He is a lifelong Knicks fan whose family had season tickets to the team for years. He's not used to seeing enthusiasm at Madison Square Garden.

If you're wondering if e-sports really is people sitting in an arena watching other people play videogames, I'm going to give it to you straight: It really is people sitting in an arena watching other people play videogames.

But the drama was fascinating! Underneath an enormous four-sized jumbo screen, two five-person teams were positioned at the Garden's center, like Ali vs. Frazier: SK Telecom T1 and the Rox Tigers, both of South Korea. (South Korea is to e-sports what Brazil is to soccer.) They had nicknames like Peanut, Joker, Bang, Wolf and Faker. (Yes: e-sports names are about 900 times cooler than golf nicknames.) The 20-year-old Faker (real name: Lee Sang-hyeok) is considered the Michael Jordan of e-sports, a revolutionary player who has transformed the game.

"Faker right now is the greatest of all time," said a fan behind me, Elias Vargas, 17, who'd driven to the Garden from Lancaster, Pa with two friends. "He does things, like his rotations and his mechanical skills, that nobody has reached."

I'm not going to pretend any of this made sense to me.•