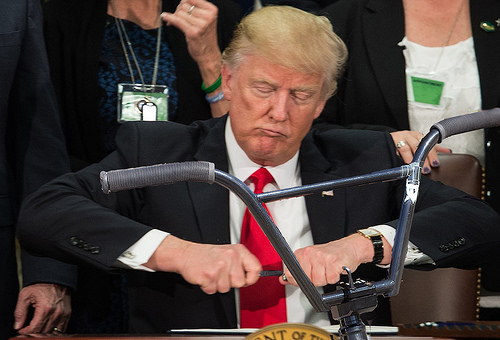 Maybe it's time for James Baker to get his "panties in a wedge."
It takes a village to build a tyrant, and the veteran Bushie was one of the educated fools who thought Trump's demagoguery wouldn't be a problem once he was ensconced in the Oval Office. A painfully naive exchange from a June 2016 interview in the Financial Times:
Are America and its institutions strong enough to survive any shock, even one as seismic as Donald Trump in the White House?

"Yes," declares Baker, emphatically.

"I won't get my panties in a wedge because of what I am hearing from the political candidates. What they say in the campaign and what they do once they are in the White House are not the same thing."•
The former Chief of Staff, who voted for Trump, is concerned by what he's seen so far of the new Administration, but he still believes the sociopath he supported is "pragmatic" and the early machinations of the Simon Cowell-ish strongman are merely "kinks," a sentiment that would make more sense if he was referring to the President's alleged Russian pee video. 
From Susan B. Glasser in Politico:
When he reigned in the Washington of the 1980s as its premier backstage power broker, Baker took as his personal motto the saying, "prior preparation prevents poor performance." Clearly, the Trump White House is not yet delivering on the prior preparation part, a problem that Baker says may well be because Trump comes from decades of running his own company exactly as he wished. "Running a business and running the government are two entirely different functions, quite frankly, and process matters," says Baker, who tells me he has also given his advice directly to Trump, Tillerson and Trump's new chief of staff, Reince Priebus. And presumably also Vice President Mike Pence, who was seated next to Baker at last night's Super Bowl in Houston. "Process matters a lot in order to avoid mistakes, controversy."

Already, he is struck by a White House that he worries is set up for internal conflict, division and miscommunication. "The White House that they have constructed has a lot of chiefs," he says. "In this White House, it seems to me, you've got at least four, maybe five, different power centers, so we are just going to have to wait and see how it works in practice."

But it would be a mistake to say Baker sees Trump as doomed to fail. As befits a congenital dealmaker, he's an optimist at heart, one who can often discern an opening where others see a closed door. And so Baker is careful to say he believes—well, maybe hopes is a better word—that Trump will turn out to be a pragmatic president who cares enough about succeeding in the job to change course after screwing up. "Pragmatic" is a great compliment when wielded by Baker, and he is not one to choose the public bullhorn of opposition to a president of his own party. "It's not unexpected you have these kind of kinks. The important thing is you learn from 'em," he says.•