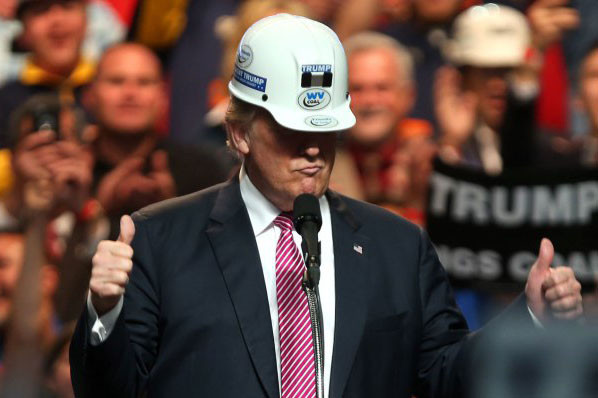 Trump poses many existential threats but let's focus on two in particular that are linked: His autocratic impulses are a threat to liberal governance and America's ethos of an immigrant nation, and his cultivation of a culture of complaint is a bankrupt brand of populism, a nauseating nostalgia for yesterday which places us in risk today and tomorrow.
The upshot is a federal government contemptible of the Constitution, one that's willfully trying to block the steady flow of genius into the country and one that's more enthusiastic for steel and coal than semiconductors. The Trump promise to America is that we can live like the 1950s and win the 21st century, that we don't have to compete with the whole world because we can build a wall to keep out the future. He's a new manner of aspiring autocrat concerned not with ideology by with its destruction. In Holly Case's Aeon essay about contemporary strongmen who are divorced from governing principles beyond promising to make difficult challenges vanish, she concluded this way:
The new authoritarian does not pretend to make you better, only to make you feel better about not wanting to change. In this respect, he has tapped a gusher in the Zeitgeist that reaches well beyond the domain of state socialism, an attitude that the writer Marilynne Robinson disparages as 'nonfailure', and that the writer Walter Mosley elevates to a virtue: 'We need to raise our imperfections to a political platform that says: "My flaws need attention too." This is what I call the "untopia".' Welcome to the not-so-brave new world.
In 2017, China is a notable exception to this definition, an autocracy aiming to win the race in supercomputers, semiconductors and solar, which is particularly perilous when paired with America's retreat. We picked an awful time to stop looking forward, and the ramifications will be felt long after Trump is gone.
From Michael Schuman in Bloomberg View:
China is marshaling massive resources to march into high-tech industries, from robotics to medical devices. In the case of semiconductors alone, the state has amassed $150 billion to build a homegrown industry. In a report in March, the European Union Chamber of Commerce in China pressed the point that the Chinese government is employing a wide range of tools to pursue these ambitions, from lavishing subsidies on favored sectors to squeezing technology out of foreign firms.

The only way for the U.S. to compete with those efforts is to "run faster." Yet Trump's ideas to boost competitiveness mainly amount to cutting taxes and regulation. Although reduced taxes might leave companies with more money to spend on research and development, that's not enough. The U.S. needs to do much more to help businesses achieve bigger and better breakthroughs.

Trump is doing the opposite. One reason U.S. companies are so innovative is that they attract talented workers from everywhere else. But Trump's recent suspension of fast-track H-1B visas could curtail this infusion of scientists and researchers. If his intention is to ensure jobs go to Americans first, he need not bother. The unemployment rate for Americans with a bachelor's degree or higher — the skilled workers that H-1B holders would compete with — is a mere 2.5 percent. 

This policy isn't just a threat to Silicon Valley, but across industries. Michael McGarry, the chief executive officer of PPG Industries Inc., worries about the effect visa restrictions would have on his paint-making business. "We create a lot of innovation because of the diversity that we have," he recently told CNBC. "We think people with PhDs that are educated here should stay here and work for us and not work for the competition."

China will likely try to capitalize on this mistake. Robin Li, CEO of the internet giant Baidu Inc., recently advocated that China ease its visa requirements to attract talented workers to help develop new technologies for Chinese industry, just the opposite of Trump's approach.

Trump's budget proposals are similarly a setback. He wants to boost defense spending by slashing funding for just about everything else, notably education. By one estimate, some $20 billion would have to get cut from the departments of education, labor, and health and human services to accommodate his plan. If Trump wants to contend with Chinese power, he'd be better off reversing those priorities — to create more graduates and fewer guns. He could offer proposals to make higher education more affordable for the poor, for instance, or to bolster vocational training. So far, there's little evidence he's making such spending a priority.

China, by contrast, is expanding access to education on a huge scale.•