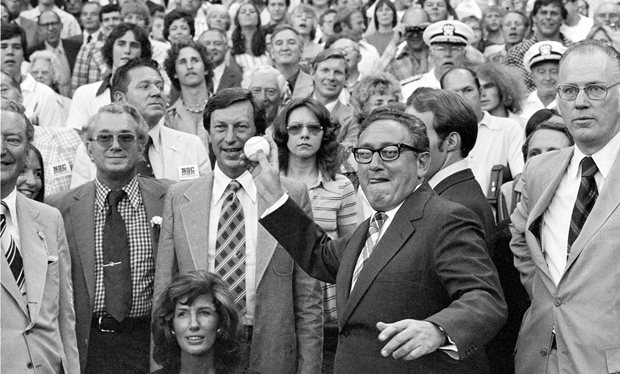 In any fair world, Henry Kissinger would have spent the greater part of his adult life in leg irons or perhaps met with the business end of a meat hook, his thoughts and actions responsible for the needless death of so many. Alas, the universe does not dispense justice in a suitable manner. 
"It's a big complicated world," Hillary Clinton said when attacked during the primary for her regard for the former Nixon and Ford Secretary of State, and that's certainly true. The problems of three little people–or three million–don't amount to a hill of beans when the wrong people are in power, and a wronger group than the incoming cabal of monsters could not be birthed in Victor Frankenstein's laboratory.
Just prior to the election, Jeffrey Goldberg of the Atlantic published excerpts from interviews with Kissinger about what might result from a Clinton or Trump triumph. It surprises me that at that late stage, the publication's new Editor-in-Chief still believed Trump might govern as a "pragmatic liberal democrat." By then, that hope had long vanished from my mind. Neither suggests what's long seemed obvious about the President-Elect: He may be a dangerously mentally ill person whose words and actions defy rational analysis. The two men spoke again right after Trump's alarming Electoral College victory.
An excerpt from the pre-election conversations:
Jeffrey Goldberg:

Since we last spoke, he's said various things that must have made you go pale.

Henry Kissinger:

I disagree with several of Trump's statements, but I do not historically participate in presidential campaigns. My view of my role is that together with like-minded men and women, I could help contribute to a bipartisan view of American engagement in the world for another period; I could do my part to overcome this really, in a way, awful period in which we are turning history into personal recriminations, depriving our political system of a serious debate. That's what I think my best role is.

Jeffrey Goldberg:

Donald Trump does not rise in your mind to the level of a person who is so clearly unqualified for the presidency that you should preemptively say, "this person cannot function in this job?" More and more Republicans are saying that, especially national security professionals.

Henry Kissinger:

I've decided I'm not going into the name-calling aspect of the campaign. I'm approaching 94; I will not play a role in the execution of day-to-day policy, but I can still aid our thinking about purposeful strategy compatible with our role in shaping the postwar world. Before the campaign, I said over the years friendly things about Hillary. They are on the record. I stand by them. In fact, my views have been on the record for decades, including a friendly attitude towards Hillary as a person.

Jeffrey Goldberg:

Let me ask again: Is Donald Trump teachable?

Henry Kissinger:

Every first-term president has to learn something after he comes into office. Nobody can be completely ready for the inevitable crises. If Trump is elected, it is in the national interest to hope that he is teachable.

Jeffrey Goldberg:

You know, there's a chance he would govern as a pragmatic liberal Democrat.

Henry Kissinger:

He has said things that sound like it. He has also said many much more contrary things. I simply do not want to get into this sort of speculation. I don't know Trump well. I intend to make my contribution to the national debate on substance. There is no point in trying to get me into the personal aspects of the campaign.•
---
Like the first President he served, Kissinger became quite a baseball junkie, especially in his post-Washington career. At the 15:40 mark of this episode of The Baseball of World of Joe Garagiola, we see Kissinger, who could only seem competent when standing alongside that block of wood Bowie Kuhn, being honored at Fenway Park before the second game of the sensational 1975 World Series. During the raucous run by the raffish New York Mets in the second half of 1980s, both Nixon and Kissinger became fixtures at Shea Stadium. Nixon was known to send congratulatory personal notes to the players, including Darryl Strawberry. It was criminals rooting for criminals.