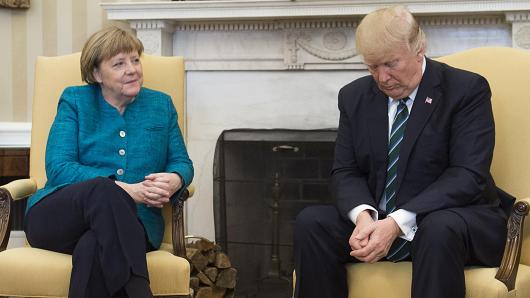 During the odious Presidential election season, I quipped that Trump's campaign might land him in the Oval Office or a prison cell or perhaps both. Everything is still on the table.
Terrible things are happening in the country, but they're nothing compared to what's coming. Francis Fukuyama may be cheered that our checks and balances are neutralizing the autocratic aims of a Commander-in-Chief who wants to run NATO the way Gotti ran Queens–a debatable point–but that doesn't mean the orange supremacist and his Rasputin of Seinfeld residuals, Steve Bannon, won't leave in their wake a shocking death toll. Utter incompetence, incomparable ignorance, disastrous diplomacy, putrid policy and rampant kleptocracy will leave us vulnerable on many fronts. The results will be felt across decades though sometimes they'll just suddenly go boom. 
We're a joke now, but it's no laughing matter.
In a wonderfully worded Vanity Fair "Hive" piece, Graydon Carter dissects this Madoff-magnitude Presidency, while Roger Cohen of the New York Times analyzes how the dysfunction and dishonesty are playing out on the world stage.
---
From Carter:
It can reasonably be said that our dear leader is now the most ridiculed man on the planet. In fact, he may well be the most ridiculed man in history. For a preening narcissist who takes himself terribly seriously, being the butt of the joke heard round the world has got to hurt. The handpicked assortment of craven nitwits and supplicants that he has surrounded himself with have valiantly tried to insulate him from the derision. But they're only human. Your heart has to go out to the ones doing the heavy lifting: banty Sean Spicer, the M. C. Escher of the English language, and Kellyanne Conway, the president's temperament fluffer. (Look away from CNN, Mr. President. There's something shiny and bright over there!) Engaging as it is to watch these overworked mouthpieces, I fear their days must be numbered. Comments about microwaves that turn into spy cameras and what should be understood when the president puts words in quotation marks are having minimal effect in reducing the scorn heaped upon their boss. Hats off to them for their tenacity, but no amount of spin is going to change the fact that the Trump White House, like the company its inhabitant has run for the past four decades, continues to be a shambolic mess.

Trump's one brief moment of acting presidential—when he read off a teleprompter for 60 minutes and 10 seconds during his address to Congress—served only to show just how low the bar for presidential behavior has plummeted since January. Watching TV commentators applaud him for containing himself for a little over an hour was like hearing a parent praise a difficult child for not pooping in his pants during a pre-school interview. Besides, vintage Trump is not going anywhere anytime soon. A couple of weeks earlier, during a visit by the Japanese prime minister, Shinzō Abe, the president told an acquaintance that he was obsessed with the translator's breasts—although he expressed this in his own, fragrant fashion.

Trump may be a joke, but the chaos and destructive forces around him are not.•
---
From Cohen:
When Donald Trump met Chancellor Angela Merkel of Germany earlier this month, he put on one of his most truculent and ignorant performances. He wanted money — piles of it — for Germany's defense, raged about the financial killing China was making from last year's Paris climate accord and kept "frequently and brutally changing the subject when not interested, which was the case with the European Union."

This was the summation provided to me by a senior European diplomat briefed on the meeting. Trump's preparedness was roughly that of a fourth grader. He began the conversation by telling Merkel that Germany owes the United States hundreds of billions of dollars for defending it through NATO, and concluded by saying, "You are terrific" but still owe all that dough. Little else concerned him.

Trump knew nothing of the proposed European-American deal known as the Trans-Atlantic Trade and Investment Partnership, little about Russian aggression in Ukraine or the Minsk agreements, and was so scatterbrained that German officials concluded that the president's daughter Ivanka, who had no formal reason to be there, was the more prepared and helpful. (Invited by Merkel, Ivanka will attend a summit on women's empowerment in Berlin next month.)

Merkel is not one to fuss. But Trump's behavior appalled her entourage and reinforced a conclusion already reached about this presidency in several European capitals: It is possible to do business with Trump's national security adviser, Lt. Gen. H. R. McMaster, with Secretary of Defense Jim Mattis, and with Secretary of State Rex Tillerson, but these officials are flying blind because above them at the White House rages a whirlwind of incompetence and ignorance. 
Trump's United States of America has become an unserious country, the offender of the free world.•