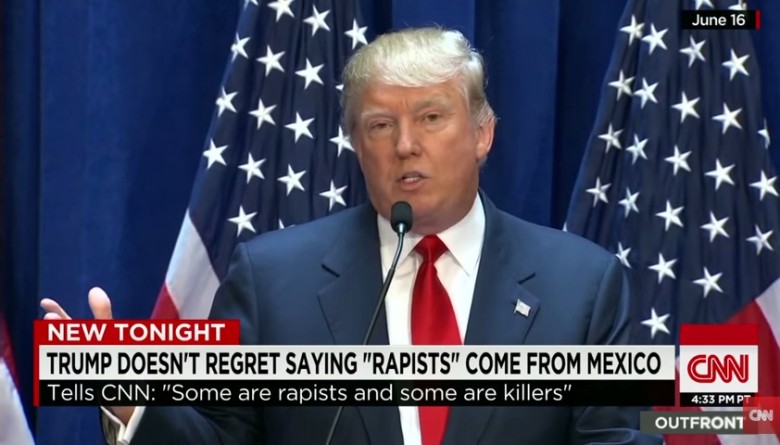 In an excellent Spiegel Q&A conducted by Christoph Scheuermann and Gordon Repinski, American historian Anne Applebaum analyzes the uncertainty in the West after Brexit and Trump, assigning the latter's political ascent more to cultural issues than economic ones. That would certainly seem to be the case, as struggling folks in the Rust Belt certainly don't account for the nearly 63 million votes the new President received. The "Make America Great White Again" message resonated with a surprising number of our citizens clinging to privilege based on race and gender.
While she holds out some hope for democracy, currently under siege by authoritarian-leaning nationalists in the West and China's rise in the East, Applebaum offers this chilling and appropriate comment: "Steve Bannon, the White House chief strategist, appears to imagine an alliance between Trump, Le Pen, Geert Wilders and Nigel Farage." The idea of an American President in bed with Putin is bizarre enough, but for Le Pen to be considered part of an inner circle with the U.S. is an affront to all things decent.
An excerpt:
Spiegel:

What are you most afraid of?

Anne Applebaum:

I don't want to predict calamity. But I am afraid of a new Russian occupation of parts of Eastern Europe. Also of a new Russian campaign to exert influence in Germany or other parts Europe, aimed at making continental politics less democratic. I am afraid of a US trade war and even a shooting war with China.
Spiegel:
Do you think these are things that can happen in the short term?

Anne Applebaum:

Much depends on who wins the arguments inside the administration. James Mattis, the new defense secretary, said he stands behind NATO, 100 percent. If Obama had said this six months ago, we would have considered this a boring statement. That's how times have changed.

Spiegel:

Trump distrusts traditional media and has created a new kind of public sphere on Twitter. Does this undermine democracy?

Anne Applebaum:

The problem is broader than that. Trump has learned how to function in a world in which people now live in very separate realities, where they get their news from Facebook recommendations and believe in a particular set of facts. Others, who live in a different reality, know quite a different set of facts. He has never tried to reach out to all the American people, he never uses the language of unity, he doesn't try to charm or persuade. He just says, thanks to the people who voted for me and the rest of you are losers.

Spiegel:

Do you think there is any common ground left between the Trump voters and his opponents?

Anne Applebaum:

Take one relatively trivial issue, the incident when he mocked the disabled reporter on a campaign rally. He keeps saying: "I did not do that," and there seem to be people who believe that he did not do it. And yet there is a video clip of him doing it. Although that video clip is available, not everybody has seen it or wants to see it.

Spiegel:

Trump especially convinced working class people to vote for him…

Anne Applebaum:

Yes, though the poorest Americans voted for Clinton, many relatively wealthy people voted for Trump and generally it's a mistake to think that economics explains Trump. The US is doing relatively well, the economy has significantly recovered since 2008, unemployment rates are low. I would say rather that his appeal to the working class was cultural: "I'll bring back the kinds of jobs your fathers had," and, by implication, the whiter, simpler post-war world when America had no real economic competition.•