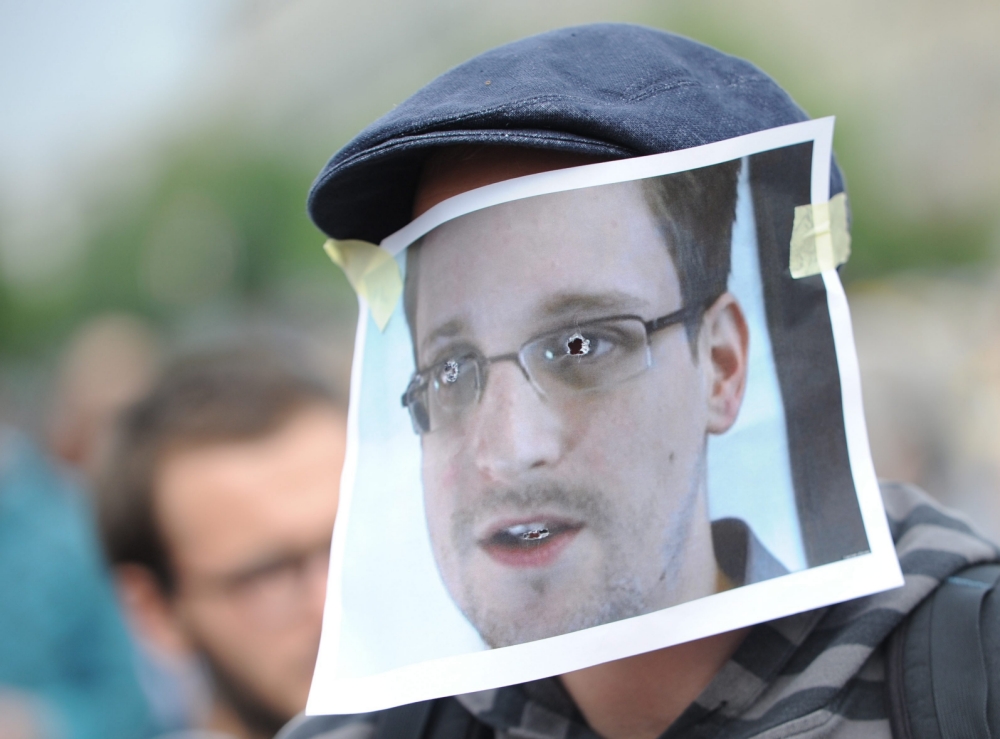 I seriously doubt Edward Snowden will be used as a pawn in the current gamesmanship between Russia and much of the rest of the world. He's really not that valuable in any practical sense. He proved something–that the U.S. became a surveillance state in the wake of 9/11–which was already pretty obvious to everyone, and apparently approved of by most Americans. And I don't see how his revelations will change much (except superficially) since technology isn't going to move sideways or backwards. Regardless of laws, there will be more spying and more leaks proving it. At the same time, I believe in strong protections for whistleblowers who are not gathering information for their own spying purposes.
Snowden, Glenn Greenwald and Oscar-winning Citizenfour director Laura Poitras just did an AMA at Reddit. Some Snowden exchanges follow.
_________________________________
Question:
Can you explain what your life in Moscow is like?
Edward Snowden:
Moscow is the biggest city in Europe. A lot of people forget that. Shy of Tokyo, it's the biggest city I've ever lived in. I'd rather be home, but it's a lot like any other major city.
Question:
Russian journalist Andrei Soldatov has described your daily life as circumscribed by Russian state security services, which he said control the circumstances of your life there. Is this accurate? What are your interactions with Russian state security like? With Russian government representatives generally?
Edward Snowden:
Good question, thanks for asking.
The answer is "of course not." You'll notice in all of these articles, the assertions ultimately come down to speculation and suspicion. None of them claim to have any actual proof, they're just so damned sure I'm a Russian spy that it must be true.
And I get that. I really do. I mean come on – I used to teach "cyber counterintelligence" (their term) at DIA.
But when you look at in aggregate, what sense does that make? If I were a russian spy, why go to Hong Kong? It's would have been an unacceptable risk. And further – why give any information to journalists at all, for that matter, much less so much and of such importance? Any intelligence value it would have to the russians would be immediately compromised.
If I were a spy for the russians, why the hell was I trapped in any airport for a month? I would have gotten a parade and a medal instead.
The reality is I spent so long in that damn airport because I wouldn't play ball and nobody knew what to do with me. I refused to cooperate with Russian intelligence in any way (see my testimony to EU Parliament on this one if you're interested), and that hasn't changed.
At this point, I think the reason I get away with it is because of my public profile. What can they really do to me? If I show up with broken fingers, everybody will know what happened.
Question:
Don't you fear that at some point you will be used as leverage in a negotiation? eg; "if you drop the sanctions we give you Snowden"
Edward Snowden:
It is very realistic that in the realpolitik of great powers, this kind of thing could happen. I don't like to think that it would happen, but it certainly could.
At the same time, I'm so incredibly blessed to have had an opportunity to give so much back to the people and internet that I love. I acted in accordance with my conscience and in so doing have enjoyed far more luck than any one person can ask for. If that luck should run out sooner rather than later, on balance I will still – and always – be satisfied.
_________________________________
Question:
How can we make sure that people still want to leak important information when everyone who does so puts the rest of their lives at stake?
Edward Snowden:
Whistleblower protection laws, a strong defense of the right for someone charged with political crimes to make any defense they want (currently in the US, someone charged with revealing classified information is entirely prohibited from arguing before the jury that the programs were unlawful, immoral, or otherwise wrongful), and support for the development of technically and legally protected means of communications between sources and journalists.
The sad truth is that societies that demand whistleblowers be martyrs often find themselves without either, and always when it matters the most.
_________________________________
Question:
Mr. Snowden, if you had a chance to do things over again, would you do anything differently? If so, what?
Edward Snowden:
I would have come forward sooner. I talked to Daniel Ellsberg about this at length, who has explained why more eloquently than I can.
Had I come forward a little sooner, these programs would have been a little less entrenched, and those abusing them would have felt a little less familiar with and accustomed to the exercise of those powers. This is something we see in almost every sector of government, not just in the national security space, but it's very important:
Once you grant the government some new power or authority, it becomes exponentially more difficult to roll it back. Regardless of how little value a program or power has been shown to have (such as the Section 215 dragnet interception of call records in the United States, which the government's own investigation found never stopped a single imminent terrorist attack despite a decade of operation), once it's a sunk cost, once dollars and reputations have been invested in it, it's hard to peel that back.
Don't let it happen in your country.•