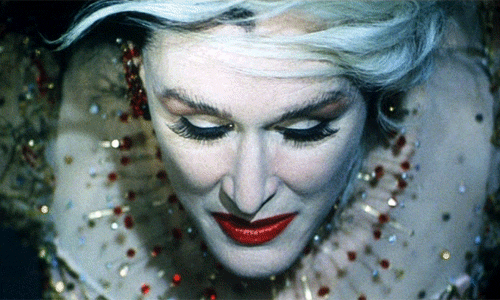 Many great actors seem to me like they grew up in a cult, so oddly unique they are. Vanessa Redgrave, Tilda Swinton, F. Murray Abraham, Daniel Day-Lewis and Ben Kingsley? Had to be a cult, right? But Glenn Close actually was raised in a cult, a right-wing, anti-intellectual one to boot. It caused some trust issues, as you might expect, even within herself. An excerpt from Stephen Galloway's new Hollywood Reporter profile:
"Close was 7 years old when her dad, a Harvard-educated doctor from a long line of New England blue bloods, joined the religious group known as the Moral Re-Armament.
Founded during the late 1930s, the MRA held firmly to what it called 'the four absolutes': honesty, purity, unselfishness and love. But these benevolent principles masked the all-consuming, all-controlling traits of any other cult — this particular one led by Rev. Frank Buchman, a violently anti-intellectual and possibly homophobic evangelical fundamentalist from Pennsylvania, who argued that only those with special guidance from God were without sin, and that they had a duty to change others. What began as an anti-war movement gradually turned into a possessive and exclusionary force.
It is unclear how many adherents the MRA had, though about 30,000 people gathered to hear Buchman speak at the Hollywood Bowl in the late 1930s, and the group was widely discussed in the press during and after World War II. Its post-war conferences were attended by several high-level diplomats and politicians — despite allegations that Buchman had been a Hitler supporter — and its cultlike nature appears to have emerged only slowly.
'I haven't made a study of groups like these,' says Close, 'but in order to have something like this coalesce, you have to have a leader. You have to have a leader who has some sort of ability to bring people together, and that's interesting to me because my memory of the man who founded it was this wizened old man with little glasses and a hooked nose, in a wheelchair.'
When her family joined the cult, Close was removed from everything she held most dear — above all, life in the ivy-covered, stone cottage on her grandfather's Connecticut estate, where she ran wild over the rugged land with her Shetland pony, Brownie. While Dr. Close went to Congo as a surgeon, she lived with her brother and two sisters at the group's headquarters in Caux, Switzerland."