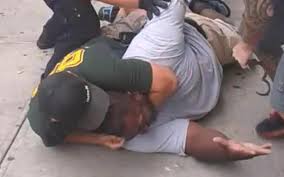 Something significant happened between the mind-boggling grand jury decisions in the Michael Brown and Eric Garner cases, and that was President Obama determining that police-officer body cameras needed to be dispersed across the country. After the brutal Garner homicide, which was captured fully on tape, brought back no indictment, there were pundits who said this was proof that Obama's initiative wouldn't help in any meaningful way.
Perhaps. But Eric Garner's contorted face and cries for mercy are not going to go away thanks to that footage, and those images and sounds have convinced a large number of conservative politicians and editorialists to take an unusual stand, calling on Eric Holder and Congress to further investigate the murder of a victim who will remind us of injustice on an infinite loop. From Ed O'Keefe at the Washington Post:
"House Speaker John A. Boehner (R-Ohio) said Thursday that he still has 'unanswered questions' about the recent deaths of Michael Brown and Eric Garner, two African Americans killed during confrontations with police officers.
'Clearly both of these are serious tragedies that we've seen in our society,' he said in response to a question at his weekly press conference. 'I think the American people want to understand more of what the facts were. There are a lot of unanswered questions that Americans have, and frankly I have.'
Boehner said he wouldn't rule out having House committees hold hearings into the matter. 'I do think that the American people deserve more answers about what really happened here and was our system of justice handled properly,' he said.
Boehner's comments a few hours after Rep. Cathy McMorris Rodgers (R-Wash.), the fourth-ranking House Republican, said she 'absolutely' thinks the House should hold hearings into the matter."