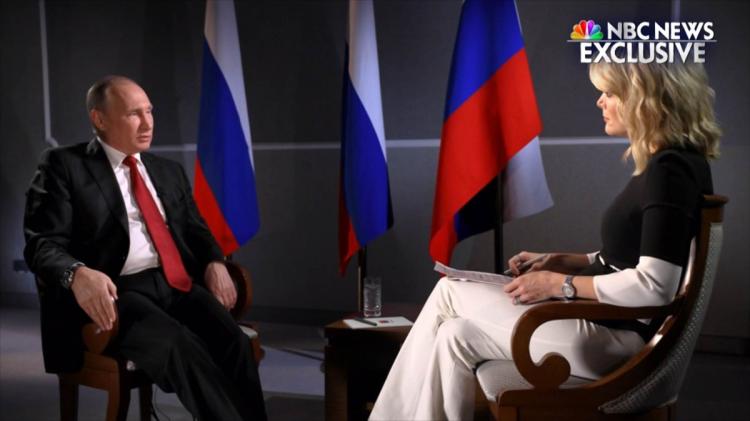 Terrorists act as they do, irrationally and violently, because they're weak, and under Vladimir Putin's leadership, Russia has become something of a de facto terrorist state (in addition to an autocratic one), even if many of its "imported" attacks are virtual. The Kremlin capo is a dumb thug leading his country into disaster, economic and otherwise, and only an utter buffoon could be impressed by his macho, swaggering incompetence.
Enter Donald Trump. The current American President has long been entranced by Putin's "strength," in part because he wanted to get his tiny fingers on lots of rubles and also because he's a simpleton who can only comprehend blunt, overt behavior absent any subtlety. Only when compared to someone as gormless as Trump can Putin seem the mastermind. They are both worst-case scenarios for their countries.
"We imagine the villains of history as cunning strategists," Masha Gessen writes in her New York Times op-ed, asserting that yesterday's Fascist "geniuses" were actually figures who used enormous personalities, media savvy and fortunate timing to compensate for their many flaws. A close study of Trump's most obvious twentieth-century predecessor, Benito Mussolini, reveals that Il Duce was a vulgar, murderous clown who couldn't even make the trains run on time, despite the popular historical narrative. Gessen believes Trump's ineptitude won't ultimately be what prevents U.S. autocracy, should such an outcome be thwarted. It may even aid his attempt at authoritarianism, she writes.
As Jesse Ventura, another unlikely politician who ascended on persona and media know-how, used to say: "The scum always rises to the top of the water." Well, maybe not always, but it's often not the best and brightest who find themselves in possession of tremendous power. 
An excerpt:
A careful reading of contemporary accounts will show that both Hitler and Stalin struck many of their countrymen as men of limited ability, education and imagination — and, indeed, as being incompetent in government and military leadership. Contrary to popular wisdom, they are not political savants, possessed of one extraordinary talent that brings them to power. It is the blunt instrument of reassuring ignorance that propels their rise in a frighteningly complex world.

Modern strongmen are more obviously human. We have witnessed the greed and vanity of Silvio Berlusconi, who ran Italy's economy into the ground. We recognize the desperate desire of President Vladimir V. Putin of Russia to be admired or at least feared — usually literally at his country's expense. Still, physical distance makes villains seem bigger than they are in real life. Many Americans imagine that Mr. Putin is a brilliant strategist, a skilled secret agent turned popular leader. 
As someone who has spent years studying Mr. Putin — and as one of a handful of journalists who have had an unscripted conversation with him — I can vouch for the fact that he is a poorly educated, under-informed, incurious man whose ambition is vastly out of proportion to his understanding of the world. To the extent that he has any interest in the business of governing, it is his role — on the world stage or on Russian television — that concerns him. Whether he is attending a summit, piloting a plane or hang-gliding with Siberian cranes, it is the spectacle of power that interests him.

In the past few months, Americans too have grown familiar with the sight of a president who seems to think that politics consists of demonstrating that he is in charge. This similarity is not an accident (nor is it a result of Russian influence). The rejection of the complexity of modern politics — as well as modern business and modern life in general — lies at the core of populism's appeal. The first American president with no record of political or military service, Donald Trump ran on a platform of denigrating expertise. His message was that anyone with experience in politics was a corrupt insider and, indeed, that a lack of experience was the best qualification.•