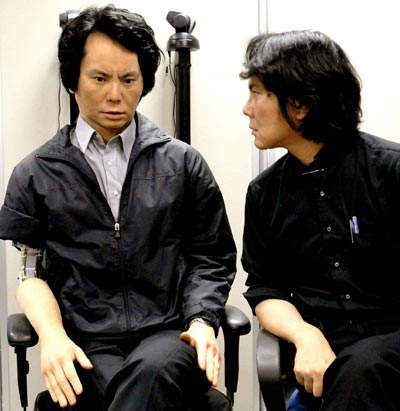 Another post which concerns the work of Dmitry Itskov and other immortality enthusiasts. This one presents the opening of a smart report about transhumanism from Andrew Couts at Digital Trends:
"Behind me, a Florida-orange senior citizen, in her orange blazer, wearing orange earrings, an orange bead necklace, and a white summer fedora, stands on the tip-toes of her orange leather loafers to get a better look at the weird scene unfolding in front of the crowd in the lobby of Lincoln Center's Alice Tully Hall in midtown Manhattan.
'Yes,' I tell Orange Woman. 'The one sitting down is a robot. The one standing up is the guy who made him … er … it.'
'Oh!' she says. 'I couldn't tell the difference.'
'Gemanoid HI-2,' as it's called, is an exact replica of its eccentric creator, Dr. Hiroshi Ishiguro. Same hair. Same all-black shirt and pants. Same little necklace. The only discernable difference between the two is that, while Dr. Ishiguro tells jokes, Mr. Gemanoid sits silently, slightly cross-eyed, blinking and jerking its head, with the eternally confused look of someone who suffered a paralyzing stroke while contemplating the ethics of Westboro Baptist Church.
In a tripod contraption next to Gemanoid hangs another of Ishiguro's creations – a demented Casper the Ghost with all the charm of an aborted fetus. Its legs are a fused-together chunk. It has no hands, holes in place of ears, and the Mona Lisa smile of something undead. Ishiguro calls it Telenoid, an android designed with human-like features, but without all the pesky details that save onlookers from missing out on cold-sweat nightmares.
'Well, that's just wonderful,' says Orange Woman. 'It's so lifelike!'"