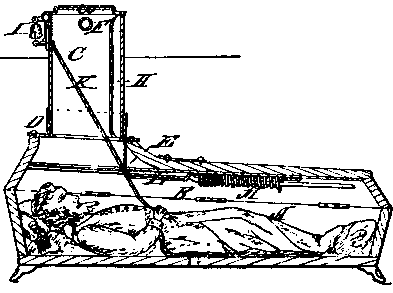 Being buried alive is a primordial fear, but it may not be a baseless one. It's not as easy to tell if someone's dead as you might think. There have been different rules through the ages and new technologies cause a continued reassessment of those rules. Dick Teresi has written a book on the subject and now Peter Rothman has a smart piece at h+ on the ever-changing nature of life's terminus. The opening:
"Black or white. Alive or dead. Right?
In reality death is not well defined and the definition of death has changed substantially over time.
H.P Lovecraft famously wrote, 'That is not dead which can eternal lie. Yet with strange aeons even death may die.' This amounts to a pretty good summary of our current philosophical understanding of death. Death is simply the condition wherein you can not be brought back to life. If you can be brought back, then you weren't really dead.
The Stanford Encyclopedia of Philosophy provides us a few examples of more nuanced definitions, for example one might suggest that death is 'the irreversible cessation of organismic functioning' or the 'irreversible loss of personhood.' These amount to circular definitions that really don't tell us anything specific about how to decide when someone is dead. What is 'organismic functioning' and how do we know when it is happening? Personhood is of course mostly a legal definition pertaining to rights which are terminated upon death. But if you are brought back to life, you weren't really dead.
And we've been burying people alive for a long time." (Thanks Browser.)