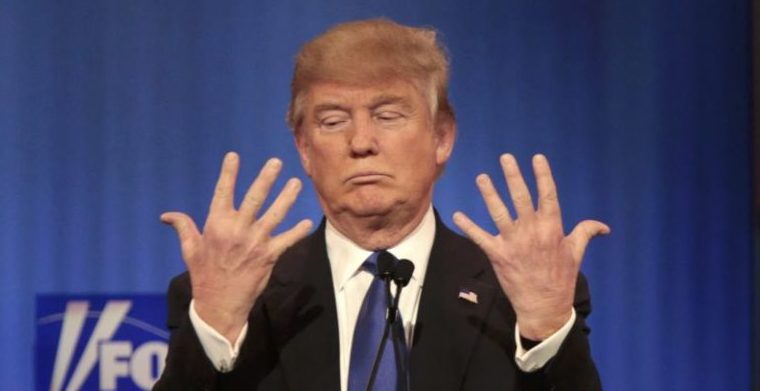 Donald Trump may have been denied a North Korean military-style parade down Pennsylvania Avenue for his inauguration, but Kim Jong-un, even more than Vladimir Putin, remains the current world leader who most matches him in temperament. Vainglorious, vapid and vicious, he'll purposely (and sometimes accidentally) harm millions of Americans and send the nation ass-backwards into the dark, bankrupting us both financially and spiritually. He'll project onto the nation all that is awful inside him, an endless pool of bile. Perhaps U.S. democracy will survive the onslaught of Trump and his cabinet of kleptocrats and bigots or perhaps not, but we we'll be left, at the very least, with blood coming out of our wherever.
The worst unforced error in our modern history was a long time coming, the product of an education system that failed to produce critical thinkers, the Balkanization of news, our need to turn everything into entertainment, unexplored prejudices and many other factors.
All those who aided Trump's rise are culpable for what comes next, from the opportunistic Chris Christie to the political hacks Newt Gingrich and Rudy Giuliani to a "genius" like Peter Thiel, who was certain there were WMDs in Iraq and is now totally confident that a singularly sociopathic bully is the best person to lead America. 
Several excerpts follow.
---
The opening of Mehdi Hasan's blistering New Statesmen piece:
What fills me with doubt and dismay is the degradation of the moral tone," wrote the American poet James Russell Lowell in 1876, in a letter to his fellow poet Joel Benton. "Is it or is it not a result of democracy? Is ours a 'government of the people by the people for the people', or a kakistocracy rather, for the benefit of knaves at the cost of fools?"

Is there a better, more apt description of the incoming Trump administration than "kakistocracy", which translates from the Greek literally as government by the worst people? The new US president, as Barack Obama remarked on the campaign trail, is "uniquely unqualified" to be commander-in-chief. There is no historical analogy for a President Trump. He combines in a single person some of the worst qualities of some of the worst US presidents: the Donald makes Nixon look honest, Clinton look chaste, Bush look smart.

Trump began his tenure as president-elect in November by agreeing to pay out $25m to settle fraud claims brought against the now defunct Trump University by dozens of former students; he began the new year being deposed as part of his lawsuit against a celebrity chef. On 10 January, the Federal Election Commission sent the Trump campaign a 250-page letter outlining a series of potentially illegal campaign contributions. A day later, the head of the non-partisan US Office of Government Ethics slammed Trump's plan to step back from running his businesses as "meaningless from a conflict-of-interest perspective."
 
It cannot be repeated often enough: none of this is normal. There is no precedent for such behaviour, and while kakistocracy may be a term unfamiliar to most of us, this is what it looks like. Forget 1876: be prepared for four years of epic misgovernance and brazen corruption. Despite claiming in his convention speech, "I alone can fix it," the former reality TV star won't be governing on his own. He will be in charge of the richest, whitest, most male cabinet in living memory; a bizarre melange of the unqualified and the unhinged.•
---
From Chauncey DeVega's Salon article "The Butcher Bill Has Come Due":
There are many explanations for why a voter would might choose a candidate who is likely to do that person harm. The American electorate, to put it kindly, is not particularly sophisticated. The country's schools are broken: a high percentage of graduates of either high school and college lack critical thinking and reading skills. They also cannot read and properly evaluate an editorial in a newspaper, ordiscern whether a story is from a reputable source or is "fake news." Voters also privilege different issues in their calculations. For committed conservatives, winning the "culture war" may be more important than basic pocketbook or bread-and-butter issues.

Social scientists have repeatedly shown the ways that American voters reason backward from their conclusions and ignore inconvenient information. The vast majority of Trump voters received their information from Fox News: Disinformation and lies are taken as truth; the phenomenon of circular and self-limiting knowledge that social scientists call "epistemic closure" creates right-wing political zombies. Racism, authoritarianism, bigotry and ethnocentrism are a toxic (and politically intoxicating) mix. And perhaps the most basic truth is that Trump's voters simply wanted to elect a human grenade as president. They pulled the pin and then forgot to run away from the explosion, likely because they were fascinated by the spectacle and eager to witness the harm they believed Trump would do to their enemies.

The butcher's bill is due.

Donald Trump's proposed policies will not make America great again.

Rural Americans will suffer because of Trump's environment, trade and agricultural policies. Wealth and income inequality will become more extreme, thus punishing and constricting the life opportunities of the vast majority of Americans of all races and backgrounds. Efforts to roll back and destroy Obamacare will deprive millions of health insurance, and may lead to the hundreds of thousands of deaths. Potential deportations of undocumented immigrants will further damage the economy by raising the cost of food and services while also requiring large expenditures of federal money. The expansion of the "stop and frisk" Terrordome against black and brown communitieswill likely increase the number of people killed and brutalized by police while also draining the public coffers to pay for the prison-industrial complex as well as to settle innumerable lawsuits against police.•
---
From David Randall at Reuters:
When U.S. President-elect Donald Trump criticized United Technologies Corp's (UTX.N) Carrier unit in November for its plan to move some 800 jobs to Mexico, the parent-company made a swift decision to keep the factory in Indiana.

Yet, the move did not translate into saving jobs. Instead, the company decided it would move toward automation as a way to cut costs.

"We're going to make up [the] $16 million investment in that factory in Indianapolis to automate, to drive the cost down so that we can continue to be competitive," chief executive Greg Hayes said on CNBC last month. "What that ultimately means is there will be fewer jobs." 

Swapping robots and software for human labor has underpinned much of the productivity gains in the United States over the last 25 years. Now, with a greater political push to keep factories at home, investors are betting that automation will gain speed in industries ranging from auto manufacturing to chicken processing to craft beer breweries. …

Republicans are likely to push tax policies that provide incentives to manufacture goods in the United States, regardless how the work is done, analysts say.

The result could be that there are more goods made at home, without a significant reduction in the unemployment rate.•