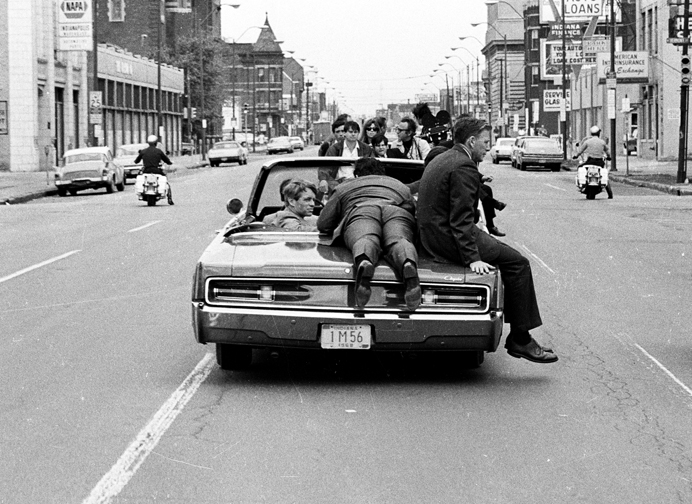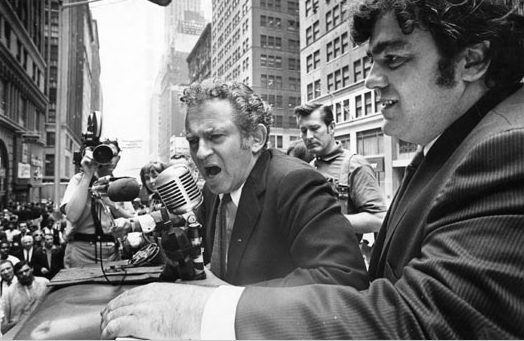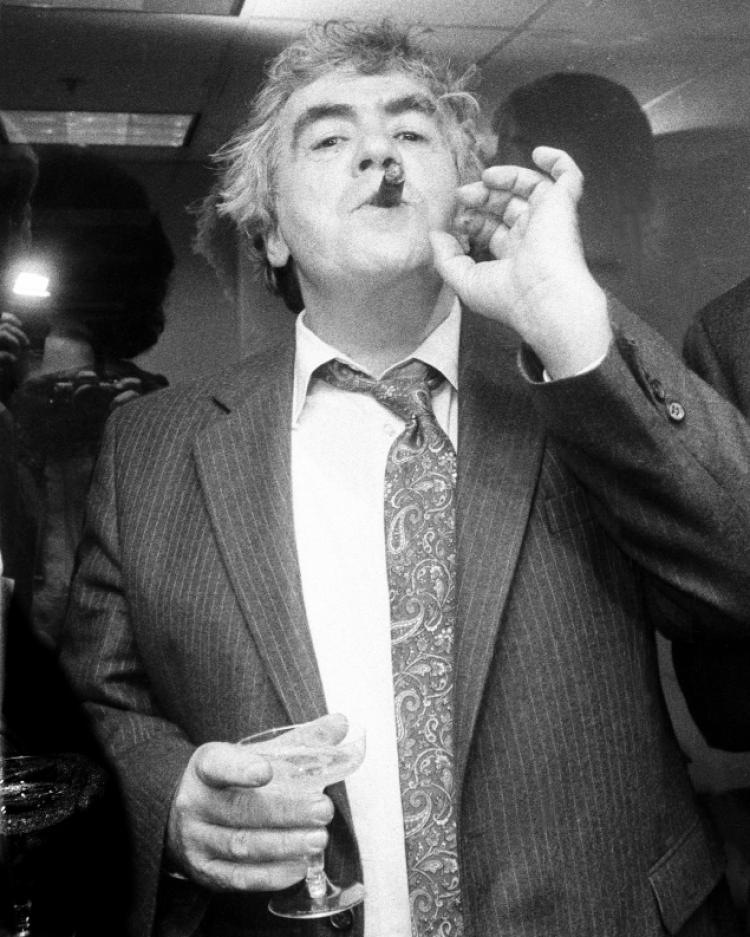 Jimmy Breslin was far from perfect, but he was awfully close to great.
The longtime NYC tabloid writer kept an unforgiving pace back in the age of multiple daily print editions, a hard drinker whose columns always made a soft landing, a working-class hero who fought the power, offering up a consistently poetic proletarian prose.
He was a tabloid titan, loud and a braggart, but he could back it up. A larger-than-life character with a big body and a giant ego, his abilities as a tireless journalist provided him with other opportunities that he was almost always ill-suited for: politician, Saturday Night Live host, talk-show host, etc. Well, in addition to his excellent reporting, he was also awfully good as a beer-commercial pitchman. 
Along with Hunter S. Thompson, Breslin was perhaps the most widely imitated journalist in America in the latter half of the twentieth century, often to horrendous results, though he can't be blamed for that. You could fault him for sometimes talking himself into trouble, making racist remarks to an editor who questioned his work, the David becoming a Goliath when he believed it suited him. In the big picture, he was right most of the time, and he would never let you hear the end of it.
An excerpt from the wonderful New York Times writer Dan Barry's Breslin obituary is followed by a few related clips.
---
From Barry:
Poetic and profane, softhearted and unforgiving, Mr. Breslin inspired every emotion but indifference; letters from outraged readers gladdened his heart. He often went after his own, from Irish-Americans with "shopping-center faces" who had forgotten their hardscrabble roots to the Roman Catholic Church, whose sex scandals prompted him to write an angry book called "The Church That Forgot Christ," published in 2004. It ends with a cheeky vow to start a new church that would demand more low-income housing and better posture.

Love or loathe him, none could deny Mr. Breslin's enduring impact on the craft of narrative nonfiction. He often explained that he merely applied a sportswriter's visual sensibility to the news columns. Avoid the scrum of journalists gathered around the winner, he would advise, and go directly to the loser's locker. This is how you find your gravedigger.

"So you go to a big thing like this presidential assassination," he said in an extended interview with The New York Times in 2006. "Well, you're looking for the dressing room, that's all. And I did. I went there automatic."

Early on, Mr. Breslin developed the persona of the hard-drinking, dark-humored Everyman from Queens, so consumed by life's injustices and his six children that he barely had time to comb his wild black mane. While this persona shared a beer with the truth, Mr. Breslin also admired Dostoyevsky; swam every day; hadn't had a drink in more than 30 years; wrote a shelf-full of books; and adhered to a demanding work ethic that required his presence in the moment, from a civil rights march in Alabama to a "perp walk" in Brooklyn — no matter that he never learned to drive.

The real Jimmy Breslin was so elusive that even Mr. Breslin could not find him. "There have been many Jimmy Breslins because of all the people I identified with so much, turning me into them, or them into me, that I can't explain one Jimmy Breslin," he once wrote.

Sometimes he presented himself as a regular guy who churned out words for pay; other times he became the megalomaniacal stylist — "J. B. Number One," he called himself — who was dogged by pale imitators with Irish surnames. On occasion he would wake up other reporters with telephone calls to say, simply, "I'm big."•
---
In 1969, Breslin ran for City Council in NYC on a ticket that aimed to deliver Norman Mailer to Gracie Mansion. It was a secessionist platform that sought to make New York City the nation's 51st state; only 5% approved in the Democratic Primary. Here's an excerpt from "I Run to Win," Breslin's May 5, 1969 cover article for New York magazine, written the month before the people voted nay:
The first phone call on Monday morning was at seven o'clock.

"He's asleep," I heard my wife mumble.

"Wake him up?" she mumbled.

She kicked me and I reached over for the phone.

"Somebody named Joe Ferris," she said. "He needs your correct voting registration for the petitions., What petitions?"

I sat up in bed, with the phone in one hand and my head against the wall and my eyes closed.

"What petitions?" my wife said again.

I knew what petitions Joe Ferris was talking about. I knew about them, but I never thought it would come to the point of an early morning phone call about them. You see, when it started, I was only in this thing for pleasant conversation with nice people. "Hello," I said to Joe Ferris. I was afraid he would send cold waves through the phone.

"I've got to be at the printer with the petitions this morning," Joe Ferris said. "So what I need is the exact way your name and address appears on the voting rolls. We don't want to have any petitions thrown out on a technicality. Because they're going to be looking for mistakes. Particularly when they see how much support you and Norman are going to get. That's all I've been hearing around town. You and Norman. I think you've got a tremendous chance."

"I'll get the information and call you back," I said to Joe Ferris. He gave me his phone number and I told him I was writing it down, but I wasn't. Maybe if I forgot his number and never called him back, he wouldn't bother to call me anymore.

"What petitions?" my wife said when I hung up.•
---
The opening of what's arguably Jimmy Breslin's most famous column, his 1963 profile of the quiet, sober work of the gravedigger at Arlington National Cemetery who attended to President Kennedy's burial plot:
Washington — Clifton Pollard was pretty sure he was going to be working on Sunday, so when he woke up at 9 a.m., in his three-room apartment on Corcoran Street, he put on khaki overalls before going into the kitchen for breakfast. His wife, Hettie, made bacon and eggs for him. Pollard was in the middle of eating them when he received the phone call he had been expecting. It was from Mazo Kawalchik, who is the foreman of the gravediggers at Arlington National Cemetery, which is where Pollard works for a living. "Polly, could you please be here by eleven o'clock this morning?" Kawalchik asked. "I guess you know what it's for." Pollard did. He hung up the phone, finished breakfast, and left his apartment so he could spend Sunday digging a grave for John Fitzgerald Kennedy.

When Pollard got to the row of yellow wooden garages where the cemetery equipment is stored, Kawalchik and John Metzler, the cemetery superintendent, were waiting for him. "Sorry to pull you out like this on a Sunday," Metzler said. "Oh, don't say that," Pollard said. "Why, it's an honor for me to be here." Pollard got behind the wheel of a machine called a reverse hoe. Gravedigging is not done with men and shovels at Arlington. The reverse hoe is a green machine with a yellow bucket that scoops the earth toward the operator, not away from it as a crane does. At the bottom of the hill in front of the Tomb of the Unknown Soldier, Pollard started the digging (Editor Note: At the bottom of the hill in front of the Custis-Lee Mansion).

Leaves covered the grass. When the yellow teeth of the reverse hoe first bit into the ground, the leaves made a threshing sound which could be heard above the motor of the machine. When the bucket came up with its first scoop of dirt, Metzler, the cemetery superintendent, walked over and looked at it. "That's nice soil," Metzler said. "I'd like to save a little of it," Pollard said. "The machine made some tracks in the grass over here and I'd like to sort of fill them in and get some good grass growing there, I'd like to have everything, you know, nice."•
---
"It's a good drinkin' beer."
"It's the solid cereal."