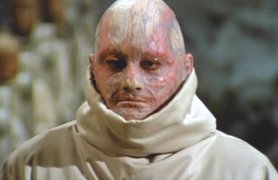 From Hugh Schofield of the BBC, more about Planet of the Apes novelist Pierre Boulle, who was always mystified by the success of his story about a simian civilization:
"In Boulle's original book the story is told by two honeymooners holidaying in space, who find a bottle containing a manuscript. It is by a French journalist who tells of his adventures on a planet run by monkeys, where the humans are the dumb animals.
At the end of the account, the journalist arrives back at Orly airport in Paris where he finds the staff… are apes. And there is a kicker when we discover the two honeymooners are themselves chimpanzees.
The one moment the book does not contain is possibly the most memorable point of the film – the discovery at the end of the half-buried Statue of Liberty.
In the film, this communicates the astounding fact that the travellers have fast-forwarded in time, and that they are back on Earth – an Earth devastated by nuclear war, in which the apes have emerged as the new dominant species.
In Boulle's book, the events take place not on Earth but on a distant planet. (In fact the 2001 film remake by Tim Burton was closer to the book's plot.)
'It is a big difference. In the film there is this sense of human responsibility. It is man that has led to the destruction of the planet,' says Clement Pieyre, who catalogued Boulle's manuscripts at the French National Library.
'But the book is more a reflection on how all civilisations are doomed to die. There has been no human fault. It is just that the return to savagery will come about anyway. Everything perishes,' he says"