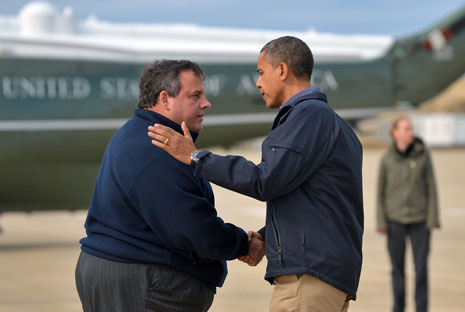 Governor Chris Christie of New Jersey, not exactly a favorite of mine because of his economic politics and lapses into rudeness, acted correctly, bravely and resolutely in the face of Hurricane Sandy, putting the interests of Americans before politics. And that's something Mitt Romney did not do once during the election season. 
Doesn't Christie realize what party he's in? For four years, even before his inauguration was complete, President Obama has dealt with an obstructionist opposition that didn't want to moderate his policies but desired to bring him down. If Obama adopted a conservative idea (e.g., individual mandates), it became a "socialist" policy. And the American people are the ones who've paid.
Christie, who has been labeled cynical and egomaniacal by Republicans for his righteous embrace of the President during the crisis, has actually won wide respect from most average Americans. It wasn't his goal, but he may have earned some votes and certainly earned much respect. About Christie's calm during the storm, by Benjamin Wallace-Wells in New York:
"Which brings us to the defining gesture of Christie's political career so far: His embrace, after the storm, of President Obama—a man whom two weeks earlier the governor had called arrogant, wondering, 'What the hell is he doing asking for another four years?' Suddenly, they were together, two politicians who double as literary archetypes—the rector and the brawler—looking down over battered amusement parks and swallowed towns, each borrowing the other's authority and reputation for empathy to enhance his own. The president's response was 'outstanding,' Christie said; Obama ' deserves great credit.' When he was asked on Fox News whether he'd also tour the state with Mitt Romney, the governor dismissed the question as absurd: 'I've got a job to do in New Jersey, and it's much bigger than presidential politics.' The reaction was divided between those (mainly Democrats) who viewed his gesture as heroic and those (Republicans and cynics) who detected some tactical play for the White House in 2016 and argued that Christie was nothing but a megalomaniac.
As if heroism and megalomania are not very often the same exact thing. One of the few things that Christie and Obama share is a palpable sense that their political opponents are lesser men, though in Obama this exhibits itself as an airy idealism and in Christie as an all-encompassing disgust. What the president's embrace gave Christie was a grand identity—a national leader, bigger than politics—that for once matched his own self-image. And so here he was, Chris Christie, guardian of the boardwalk, canceler of Halloween, bard of the sausage-and-pepper stand, raging against the storm, ministering to sorrow, a man in full."