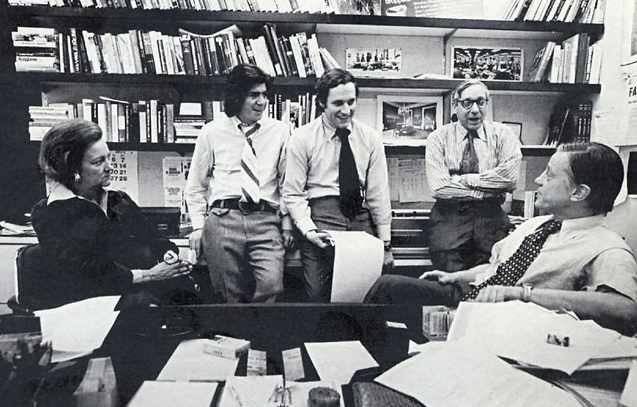 David Grann was asked to name a quintet of great "True Crime" titles for a Five Books interview, and among the volumes about brutal and strange murders, he made a non-obvious and timely choice with All the President's Men. 
Woodward's been a perplexing figure for decades and Bernstein has since the 1970s had to wrestle personal demons that sometimes sidetracked his brilliant career, but there's no denying their book's greatness or their impact on American liberty.
Of course, dogged journalism alone can't protect democracy. If enough citizens and congresspeople don't care that the President is a crook–a traitor, even–any ink spilled will merely document a society in steep decline.
Grann also explained why he didn't include on his list Truman Capote's In Cold Blood, which is written as immaculately as any work can be. He's most troubled by the issue of veracity, which is certainly valid, though I'm also bothered by how the author suspensefully builds to the Clutter family murders, as if he were penning a thriller about fictional characters.
I wonder if Grann considered Hiroshima by John Hersey.
An excerpt:
Question:

Your fourth book—All The President's Men by Carl Bernstein and Bob Woodward—comes as something of a relief after all maniacal murdering. But it's still a pretty frightening tale, and no less so for being so well-known. Talk us through it.

David Grann:

It's probably the most iconic book of reporting in the United States to this day. It's written by Woodward and Bernstein, and about their investigation, when they were young reporters at the Washington Post, into the shocking crimes committed by President Richard Nixon. When I first read that book, it gave me a sense that reporting could have a nobility and a moral purpose behind it. Of course, much reporting is not quite like that but…

Question:

And, to be clear, the crimes here are moral and political ones. It was articles of the US Constitution that were being butchered, rather than individuals.

David Grann:

Yes. The crimes include everything from breaking into the Democratic National Committee's offices to bugging political opponents to covering up evidence. I think the book is particularly relevant today which is partly why I picked it. In a day and age when public officials are trying to subvert and muddy the truth, the need for deep reporting to hold these people accountable is as important as ever. This book is a seminal case of that—a case where investigative reporting was essential to revealing the corruption at the highest levels of the United States and to preserving our democracy.

Too often when we think of crime stories, we think of them in one dimensional ways—we think of a bank robbery, or a holdup, or someone breaking into a house—but some of the crimes that are just as important, in some ways maybe even more important, are those that are political in nature. They don't need to involve murders. This one almost provoked a constitutional crisis.

Question:

And the victim count is much higher. It's a whole nation.

David Grann:

Precisely, and this was a case where the system was driven to the brink but ultimately functioned: Nixon eventually stepped down. Woodward and Bernstein's reporting played an essential role in protecting the country. This book, and all the books on this list, have left a mark on me, often in different ways, and what I remember most about this one is the doggedness of the reporting. All the President's Men is a book where there is no fanciful writing—Bernstein and Woodward are not Mailer or Capote. They are journalists writing perfectly clean, decent prose and they have a story to tell, and they tell it in such a way that it has enormous power.

Question:

It's certainly a case in which the symbiosis of the writer and the detective is as clear as can be. The writer in this sense is like a vigilante—he has charged himself with finding the truth that no one else, through lack of will or ability, has.

David Grann:

Yes. I think what makes important true crimes books is not simply the stories they relate but the authors that investigate them. You can have investigative historians like Larson. Or you can have investigative reporters like Woodward and Bernstein. In both cases they are trying to unearth some deeper truth. In many true crime books, the author-investigator is not unlike the detectives he or she is writing about. The skills are very similar, I think, in terms of unearthing evidence and trying to create some kind of structure, plot, or narrative that helps to make sense of the chaos, and piece things back together.•