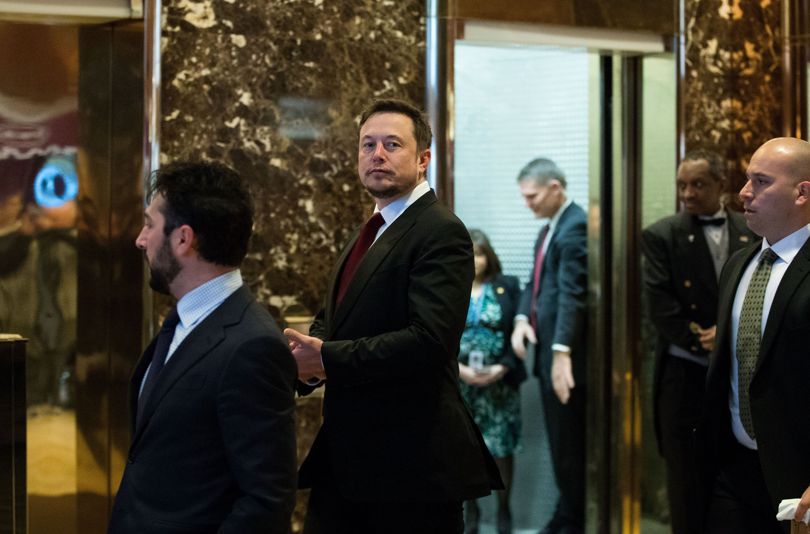 Someone as smart as Elon Musk has to realize he's being used as a public-relations prize by the Trump Administration, that band of wall-builders, xenophobes and climate-change deniers. It would have been far more meaningful for an immigrant like himself to stand loudly in opposition to a campaign that was proudly demagogic and a forming Administration that's as bonkers as it is bigoted.
Musk has said that "attacking Trump will achieve nothing," but it actually might prevent some really bad things. Even if the President if close-minded, there are folks far more concerned about self-preservation in the Senate and Congress. Protest and rebuke can preclude the worst from happening. Lending his renown to Trump has helped normalize him and some terrible things he will do that may not hurt Musk or other Silicon Valley billionaires but will have a real effect on the lives of more vulnerable Americans.
The Tesla founder can have only two reasons for allowing himself to be used as he has, and they both probably played into his decision. One is that he's taking a utilitarian approach to try to neutralize the worst impulses of a President who could absolutely wreck us in a short period of time. Musk would do better trying to manage far less combustible things–like rockets, for instance–than a sociopath. The other, and likely more pressing concern, is that his businesses, especially the burgeoning electric-car one, require at this delicate moment a non-adversarial relationship with the federal government.
Musk can promise to never build internment camps on Mars, but he's already made odious, un-American things like Muslim registries and immigration bans more credible. That's part of who he is now, even if he thinks he can compartmentalize such things.
A question about Musk's support of Rex Tillerson for Secretary of State from a Q&A by Bryan Menegus at Gizmodo:
Question:

Many see the appointment of a tycoon as emblematic of crony capitalism. What makes you feel he's competent? Tillerson also told Bloomberg last year that he's not exactly sold on electric cars, which of course is the whole point of Tesla. Have you reached an accord on that matter? Are your opinions on Tillerson influenced at all by your position on Trump's Strategic and Policy Forum?

Elon Musk:

My tweets speak for themselves. Please read them exactly as they are written. Tillerson obviously did a competent job running Exxon, one of the largest companies in the world. In that role, he was obligated to advance the cause of Exxon and did. In the Sec of State role, he is obligated to advance the cause of the US and I suspect he probably will. Also, he has publicly acknowledged for years that a carbon tax could make sense. There is no better person to push for that to become a reality than Tillerson. This is what matters far more than pipelines or opening oil reserves. The unpriced externality must be priced.

Tillerson does indeed have a history of supporting a carbon tax as far back as 2007, signaling his preference for such a regulation over "cap-and-trade" initiatives that became popular among environmentalists and free market conservatives alike in the 1980s, but whose real-world efficacy has long been subject to debate. Many expertsagree that a national carbon tax is needed, but take it coming from Tillerson with a grain of salt.

Rather than pushing for policies to reduce carbon emissions, ExxonMobil, under the tutelage of Tillerson and his predecessors, gave over $3.6 million to the American Enterprise Institute from 1998 to 2012, an organization that has helped distort facts about climate change and undermine public confidence in the impact of carbon pollution. This is despite the fact that Exxon's own scientists have known since 1977 that fossil fuels were leading to climate change.•