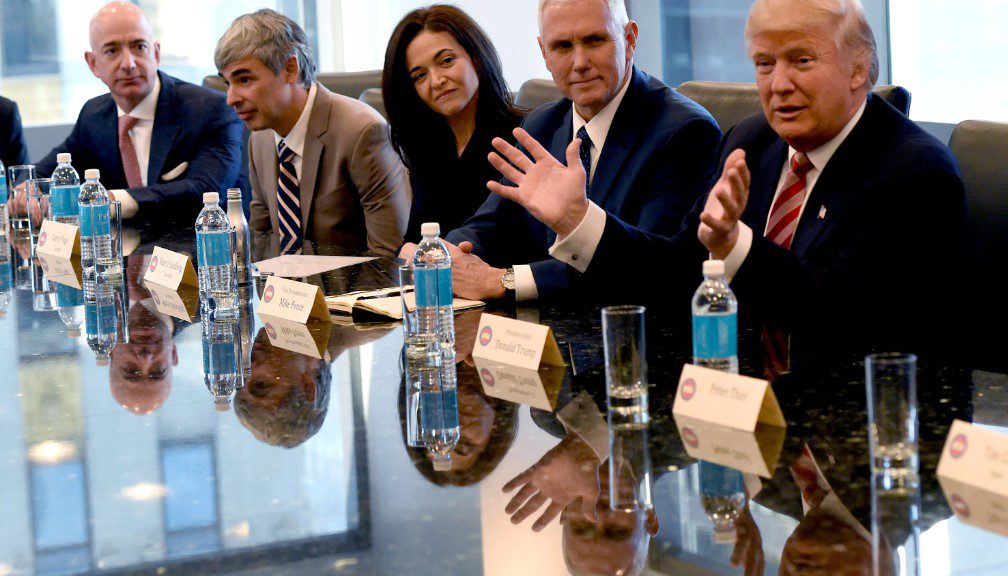 "You're far better off affecting policy if you're in the room" is a true statement in U.S. politics if we're talking about your average conservative, liberal or moderate elected official, but it doesn't extend to this moment in our history, with a reckless, dangerous, kleptocratic and, perhaps, traitorous sociopath in the White House.
In this case, it's better to be outside the room, refusing to lend your reputation to an aspiring autocrat and raising your voice in protest, especially if you have a giant megaphone like Travis Kalanick or Elon Musk. The former did the morally correct thing in resigning from Trump's economic advisory council, while the latter still sees this un-American Administration as a game he can officiate.
In a jaw-dropping BuzzFeed article, William Alden reports on political consultant Bradley Tusk's work advising Silicon Valley titans on how to deal with a deeply irregular White House, encouraging them to ignore their consciences at all costs and do what's best for the bottom line. It's not shocking there are people so amoral they can't see beyond business as usual even in these desperate times, but it is surprising to hear someone so publicly announce such a dicey position.
An excerpt:
Last week, he sent a memo to clients outlining a strategy for dealing with Trump, advising them to take a deep breath and think before engaging in political protest. Taking a stand against Trump might be the right choice, Tusk said, but only if it makes business sense.

"If the business demands immediate action, that's one thing. If it's your conscience, that's another," he wrote in the memo. Pressure from the media or even from employees, he added, wouldn't necessarily be a sufficient reason to speak out, especially if it would create other problems.

The memo came just days after Tusk's flagship client, Uber CEO Travis Kalanick, resigned from President Trump's economic advisory council. More than 200,000 Uber customers had deleted their accounts, according to The New York Times, after the ride-hailing company was accused of trying to undermine a taxi strike over Trump's immigration order. Uber also came under pressure from employees and drivers, many of whom are immigrants. Kalanick's resignation from the advisory council contrasted with the decision of another tech titan, Elon Musk, to stay there.

"This is one of those cases where the symbolism and the emotion on both sides of it took everything in such an incredible direction that people like Travis, like Elon, who are pretty well intentioned, and are saying, 'O.K., let's see if we can help things,' got put in a really, really impossible position," Tusk told BuzzFeed News. "And they're handling it in different ways. But that's kind of why I wrote this memo."

Tusk said Kalanick made the right decision in this case, but he expressed regret that it had to be that way. "I think Travis joined the council for the right reasons," Tusk said. "You're far better off affecting policy if you're in the room."•