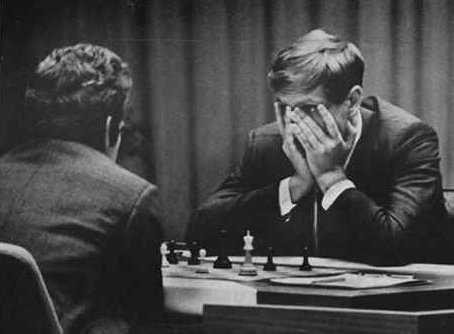 I'm of two minds about Stephen L. Carter's arguments in his new Bloomberg essay, "How Bobby Fischer (Briefly) Changed America." Carter recalls the Fischer-Spassky chess matches of 1972, which became a national sensation, as the last time Americans were interested in complex ideas. There are by far more U.S. citizens right now than ever before who are interested in and capable of complicated thinking, though there are probably many more focused on the basic function of tools rather than challenging content they can deliver. The piece's opening:
"This summer marks the anniversary of an extraordinary moment in U.S. history: the 1972 match in which the American genius Bobby Fischer defeated the Soviet wizard Boris Spassky for the chess championship of the world.
The battle probably should have been just one more headline in an eventful three months that saw the Watergate burglary, the expulsion of the Soviet military from Egypt and the humiliating dismissal of vice presidential nominee Thomas Eagleton from the Democratic ticket. Somehow the story of Fischer and Spassky and their epic match, which ended 40 years ago this month, captured our attention in a way that no struggle of intellect has since.
The two best players in the world were playing 24 games in Iceland, and everyone paid attention. Strangers who had never picked up a chess piece discussed the match on subway trains. Newspapers put out special editions announcing the results of the games, and vendors hawked them from the corners, shouting out the name of the winner. Book publishers were signing up chess writers by the dozens.
Chess is a very hard game, and what is most remarkable about that summer is that people wanted to play anyway. They wanted their minds stretched, and were willing to work for that reward. The brief period of Fischer's ascendancy — he quit chess three years later — was perhaps the last era in our nation's history when this could be said."
••••••••••
Mike Wallace's excellent profile of Fischer in 1972, just prior to the showdown with Spassky. Lewis Cohen, the 12-year-old prodigy who loses a game of speed chess to Fischer, may be this guy.