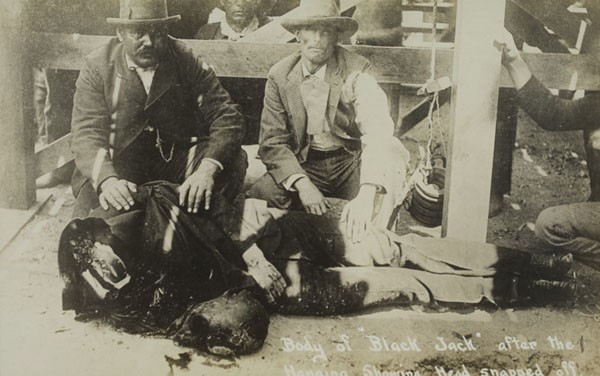 This grisly classic photograph shows the aftermath of the hanging of murderer and train robber Thomas "Black Jack" Ketchum, a botched operation that left him headless and spectators stained with blood. According to the Brooklyn Daily Eagle, Ketchum had, in 1899, single-handedly robbed a train of the Colorado and Southern Railway in Folsom, New Mexico. During the holdup he was wounded by a bullet fired by a crew member and had to have his right arm amputated as a result. He was subsequently captured and marched, shackled, to the gallows. A report in the April 27, 1901 San Francisco Chronicle in the wake of the execution in Clayton, New Mexico:
"Thomas E. Ketchum, alias 'Black Jack,' the notorious outlaw, who terrorized the people of the Southwest for the past fifteen years, was hanged here this afternoon for the last of his many crimes. His head was severed from the body by the rope as if by a guillotine. The headless trunk pitched forward toward the spectators and blood spurted upon those nearest the scaffold. The execution took place inside a stockade built for the occasion. The inclosure was crowded, 150 spectators having been admitted.
When Ketchum mounted the platform at 1:17 o'clock his face was very pale, but his eyes swept over the crowd coldly and boldly. A priest stood at his side as the rope was put around his neck. The condemned man had consented to this at the last moment. Ketchum declined to make a speech before the noose was put around his neck. He merely muttered 'Good-by,' then said 'Please dig my grave very deep,' and finally 'All right; hurry up.' His legs trembled, but he kept his nerve.
When the body dropped through the trap the half-inch rope severed the head as cleanly as if a knife had cut it. The body pitched forward, with blood spurting from the headless trunk. The head remained in the black sack and flew down into the pit. Some men groaned and others turned away, unable to endure the sight. For a few seconds the body was allowed to lie there, half doubled up on its right side, with the blood issuing in an intermittent stream from the severed neck as the heart kept on with its mechanical beating. Then, with cries of consternation, the officers rushed down from the scaffold and lifted the body from the ground."