You are currently browsing articles tagged Benito Mussolini.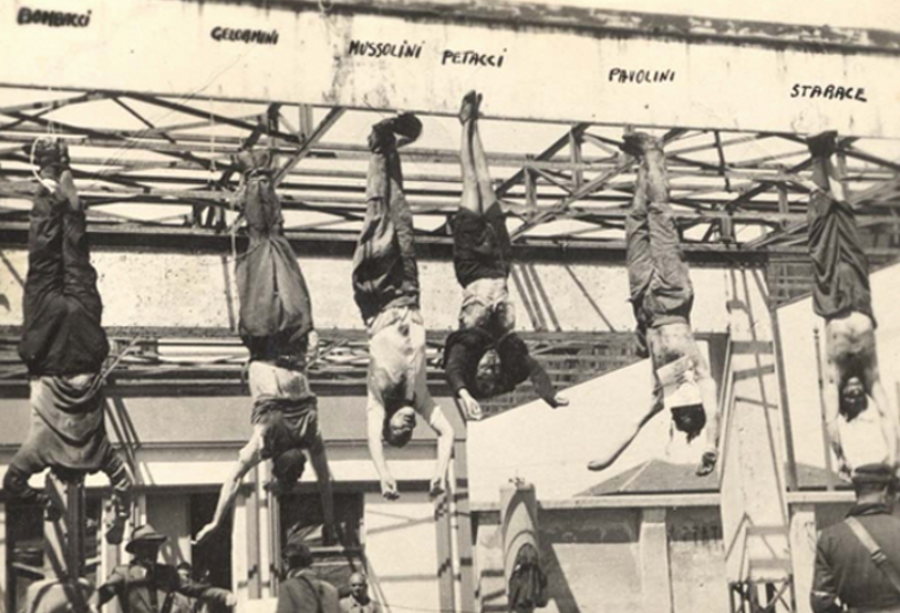 From the September 7, 1949 Brooklyn Daily Eagle: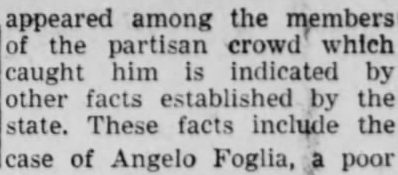 Tags: Angelo Foglia, Benito Mussolini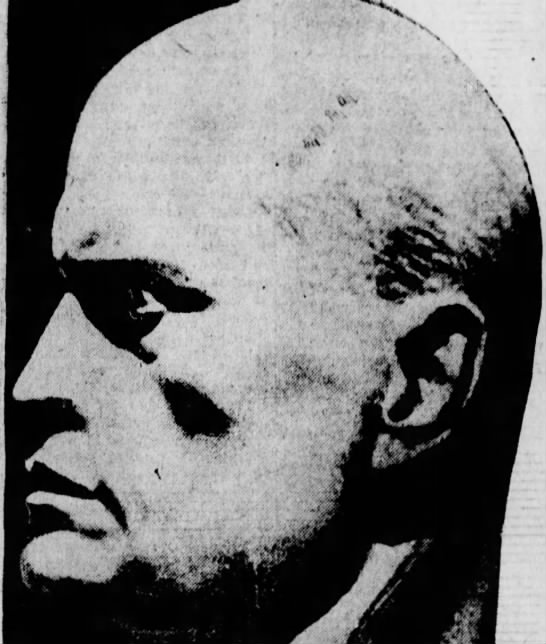 From the May 1, 1945 Brooklyn Daily Eagle: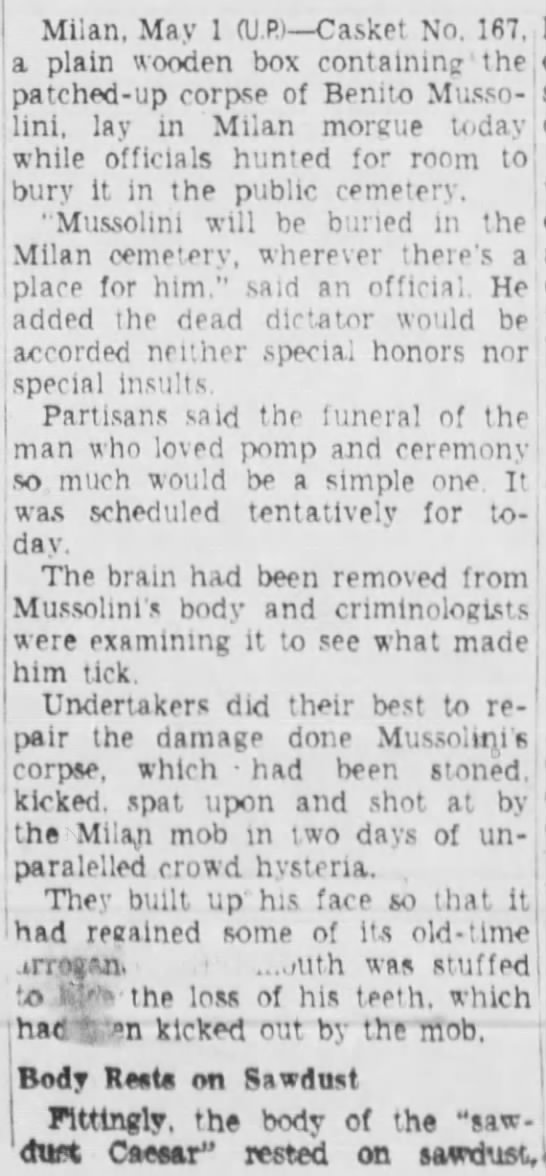 Tags: Benito Mussolini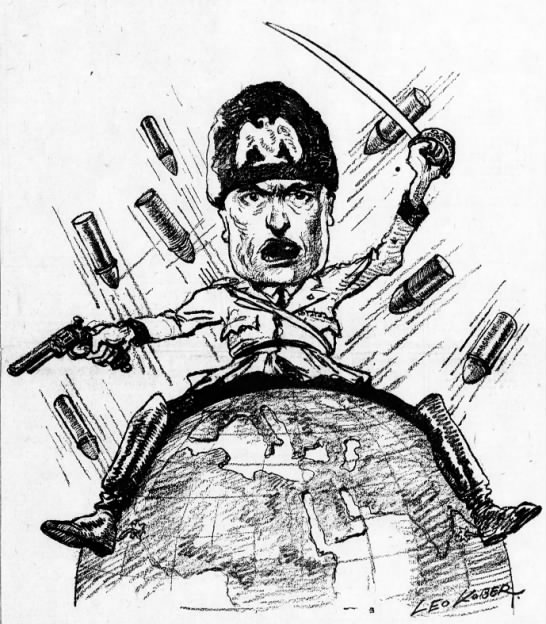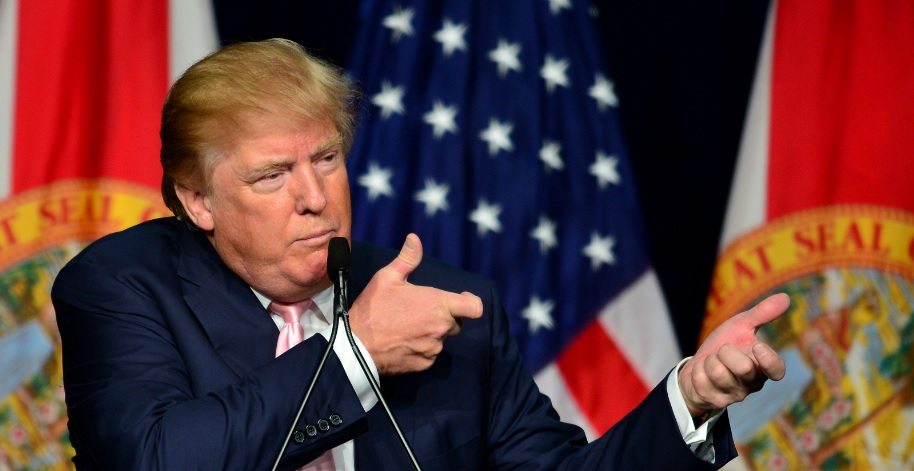 As I've noted many times, Benito Mussolini is the truest historical analog for Donald Trump, each of them a vulgar, unhinged clown not taken seriously until too late. Of course, that doesn't mean they're precisely the same nor are their milieus. We can't prepare for the future by expecting it to be identical to the past, though it can teach plenty  
In "An American Authoritarian," Ruth Ben-Ghiat's smart Atlantic essay, the writer explores the similarities and differences between the two buffoonish, dangerous figures. Early in the piece, she writes that "Trump is not a Fascist. He does not aim to establish a one-party state." That may be true in form but perhaps not in function. I wonder if he intends to use the office of the President and the loyalists he appoints to create a de facto one-party system even if the ornaments of the traditional arrangement remain. Also: Believing an aspiring autocrat's more soothing words is usually a mistake. Mussolini boasted in the early 1920s that Italy's free press was the envy of the world, and a decade later he was dictating front-page stories to newspapers at the point of a Carcano. When it comes to tyrants (and ones with those aspirations), believe the threats and doubt the rest.
An excerpt:
A century before Trump, Benito Mussolini burst onto the Italian political scene, confounding the country's political establishment with his unorthodox doctrine and tactics and his outsized personality. Mussolini's rise offers lessons for understanding the Trump phenomenon—and why he was able to disarm much of the American political class.

Many Italians did not know what to make of Mussolini when the former Socialist founded Fascism as an "anti-party" on the heels of World War I. His was an outsider movement, born from the conviction that the establishment parties—along with the political systems they represented, liberalism and socialism—were broken or posed a grave threat to Italy.

A mercurial hothead, Mussolini reveled in his role as a political disrupter. His crisis-mongering platforms contained a confusing blend of socialist and nationalist tenets, trafficking in contradiction and paradox, the better to challenge traditional ideas about politics. "Does Fascism aim at restoring the State, or subverting it? Is it order or disorder?" he taunted Italians in print six months before he took over as prime minister.

His grassroots followers spoke more directly, terrorizing Italy's hinterland as a prelude to claiming control. Taking Mussolini's incendiary rhetoric to heart, his blackshirts beat and executed thousands of political opponents—including priests—at rallies and on trains, in shops, schools, and taverns. Everyday violence primed the country for an exceptional outcome: In 1922, Mussolini staged a march on Rome and demanded the post of prime minister from the terrified king.

Italians learned in the 1920s what Americans are learning in 2016: Charismatic authoritarians seeking political office cannot be understood through the framework of traditional politics. They lack interest in, and patience for, established protocols. They often trust few outside of their own families, or those they already control, making collaboration and relationship building difficult. They work from a different playbook, and so must those who intend to confront them.•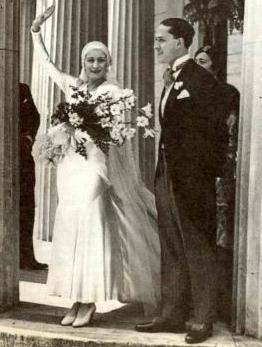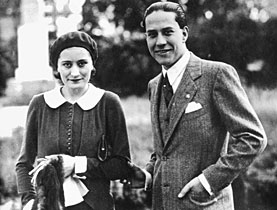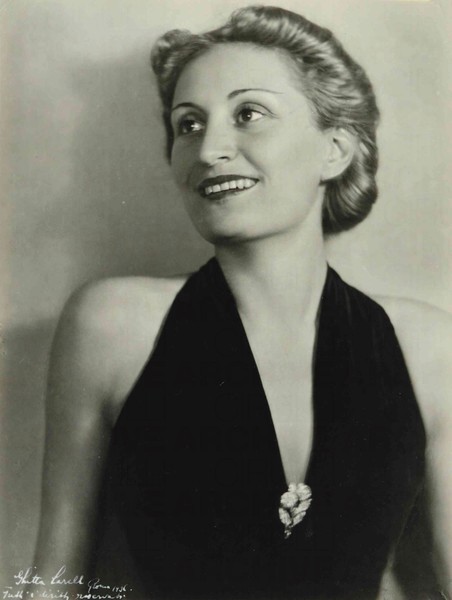 Fran Lebowitz once quipped that "genocides are like snowflakes, each one unique, no two alike." The same can be said of the genocidal.
Benito Mussolini is the autocrat who most reminds of the political ascent of Donald Trump, though there's no telling how the latter's governance will play out, whether it will lead to the type of needless, but familiar, suffering that attends kleptocracy and ineptitude or whether something more cruel and unusual will develop.
Il Duce, like his spiritual descendant, was a vulgar cartoon of a man who survived saying outrageous things that would have made other men a feast for crows. His rise to power stunned onlookers who couldn't believe the people would rally toward a murderous clown, but Mussolini's mad lunge at the so-called elite resonated with the people. 
Even the marriage of his eldest daughter, Edda, was an assault on the crown, as she wedded a non-royal Blackshirt to the delight of rank-and-file members of the Fascist Party. He was Galeazzo Ciano, not exactly a commoner but the son of a WWI military hero. The son-in-law was warmly embraced by Mussolini and became his Foreign Minister in 1936.
Romances, however, don't always end well. In 1943, Ciano, who'd lost faith in his father-in-law's governance long before, voted along with other members of the Fascist Grand Council to oust him from leadership. This unfavorable tally led to Mussolini's dismissal, arrest and imprisonment. With the aid of Hitler, he was freed and restored to at least a semblance of power, though his spell was broken and fate all but sealed.
Before Mussolini was given his just deserts in 1945 and made to hang like bloody meat from the roof of an Esso gas station, he had his once beloved son-in-law executed by firing squad. Edda, who sided with her spouse, broke permanently from her infamous family, no reconciliation ever attempted during her long life.
Below is the 1930 Brooklyn Daily Eagle article about the nuptials and Edda's 1995 New York Times obituary.
---



---
April 10, 1995

Edda Ciano, 84; Daughter Disavowed Mussolini for Count
ROME, April 9— Countess Edda Mussolini Ciano, the eldest daughter and a close adviser of Italy's Fascist dictator, whose husband was executed after he opposed her father's rule, died Saturday in a Rome hospital, doctors said today. She was 84.

Countess Ciano had been ill for some time. The cause of death was cardiac arrest related to lung and kidney failure, the doctors said.

She was a close adviser to Mussolini during the 1930's and was known for her independence at a time when Italian women had few rights.

Her husband, Count Galeazzo Ciano, was Mussolini's Foreign Minister from 1936 to 1943. In July 1943, however, he voted against Mussolini at a Cabinet meeting that led to the dictator's arrest and the fall of Fascism.

Under orders from Hitler, occupying German troops freed Mussolini and installed him as head of a puppet government. It found Count Ciano guilty of treason and ordered him executed. Countess Ciano's pleas to her father and to Hitler were ignored, and her husband was executed by a firing squad in 1944.

After the execution, she disavowed her father and the family name.

"You are no longer my father for me," she wrote to him. "I renounce the name Mussolini." After the war, she lived in Rome, then broke her public silence about wartime events in 1975 with a book, "My Testimony."

She is said never to have reached a reconciliation with her mother, Rachele, who died 15 years ago. Her mother was said to have blamed Count Ciano for Mussolini's downfall.

The Cianos had three children — Fabrizio, Raimonda and Marzio. She is survived by Fabrizio and Raimonda.•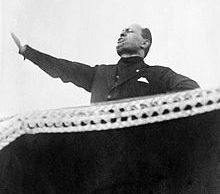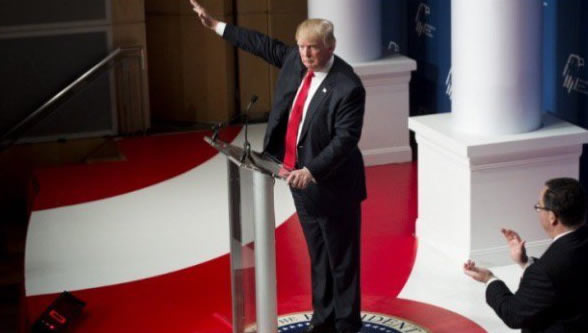 It almost never ends well for a demagogue nor for the demagogue's people. Fascists are merely vulgar clowns until they're in a position to do grave damage.
Was reading a passage from a 1925 article that ran in the Brooklyn Daily Eagle which begins this way: "Benito Mussolini is a fascinating character." The writer wonders why Il Duce's insane utterings demand rapt attention when others making similar statements would be jeered from the stage. That thought, of course, brings to mind the odious campaign of Donald Trump, a deeply wounded man who works a room like Torquemada as a Reality TV host.
James Baker has asserted he's unafraid of a Trump Presidency, our checks and balances there to restrain his worst impulses. But a sick, authoritarian mind even scribbling in the margins of the Constitution could wreak havoc. The scariest part of the report below is that it argued the Italian dictator was already in steep decline, but just think how much suffering he caused before ultimately meeting the business end of a meat hook.



Tags: Benito Mussolini, Donald Trump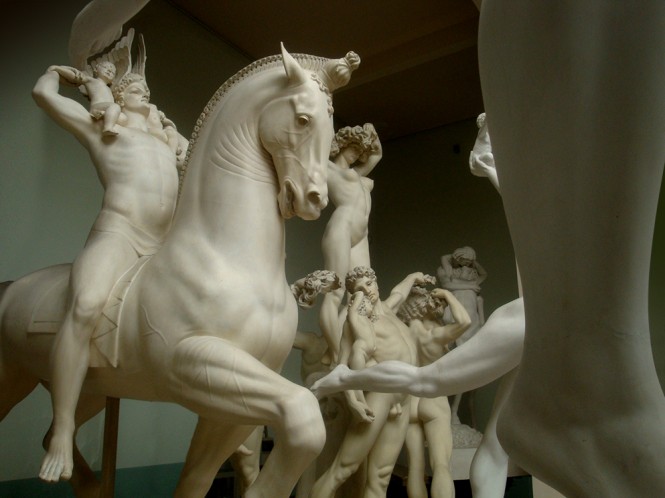 Like most who entertain top-heavy fantasies for reimagining the world, the sculptor and urban planner Hendrik Christian Andersen was a bit of a buffoon.
The Norwegian-American artist truly believed that if he could build a flawless city of beauty and learning that knew no nationalist bounds, the entire world would be inspired to perfection. Not only was it an asinine political fantasy, but it somehow led Andersen into the arms of the vulgar, murderous clown Benito Mussolini, a former drifter and agitator who had horrified the world in the 1920s by coming to absolute power in Italy. Il Duce, no doubt enamored with the pomposity of the project, promised the visionary the land and resources to realize his dream. The Shangri-La was ultimately never built, but the "soft-voiced idealist," as the artist was described, was still speaking fondly of Mussolini into the middle of the 1930s. Andersen died in Rome in 1940, not living long enough to see his patron deservedly face the business end of a meat hook. An article in the June 19, 1927 Brooklyn Daily Eagle recalls the proposed series of stately pleasure-domes.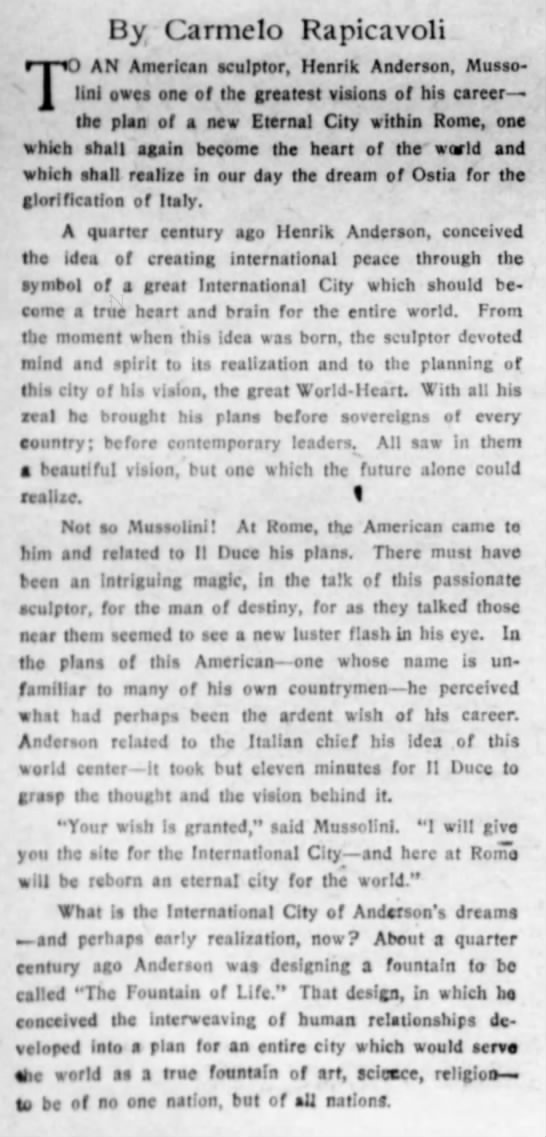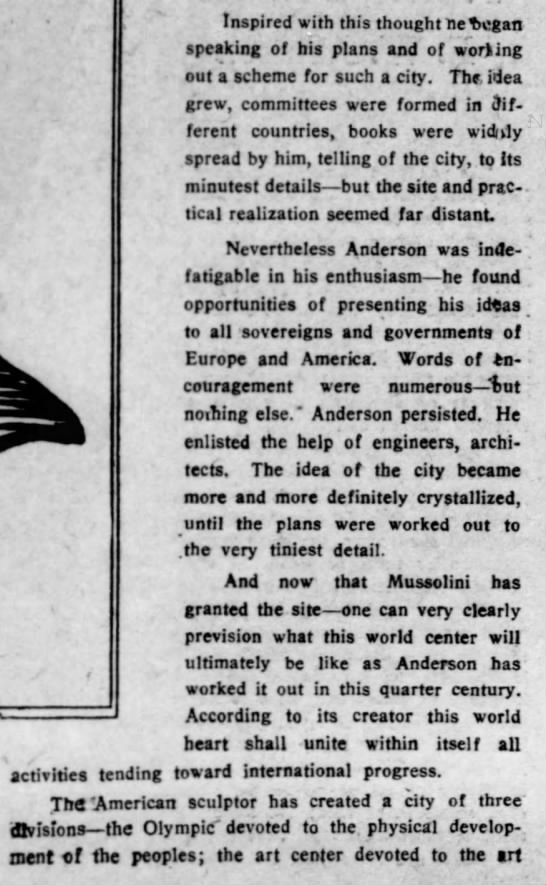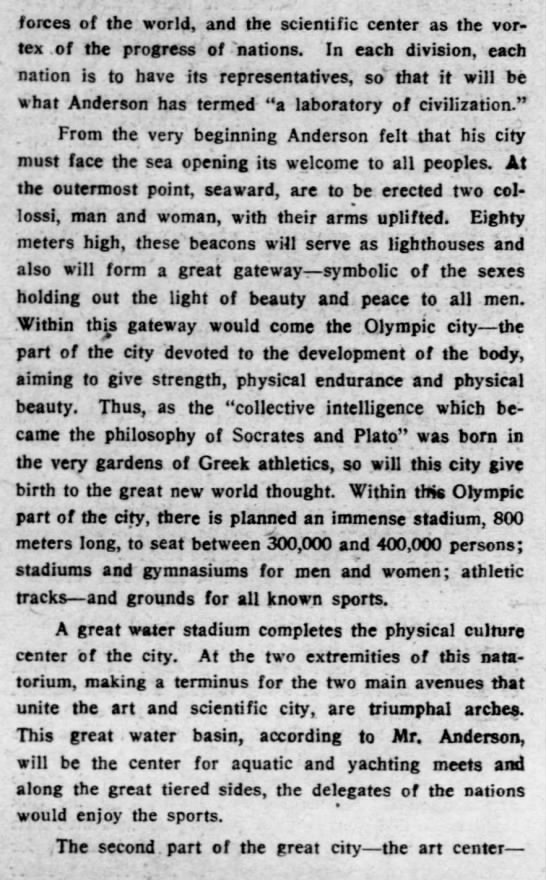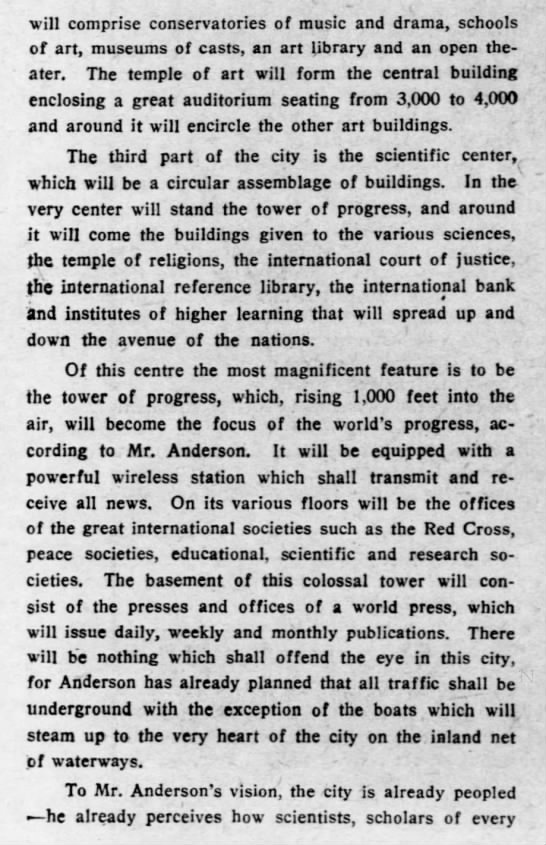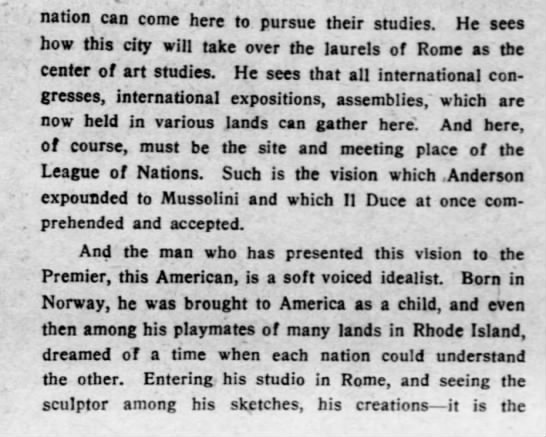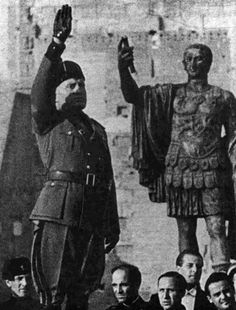 The problem with treating fledgling fascists like jokes is that's what they all seem like, at least initially.
I'm sure Benito Mussolini originally appeared to be a vulgar cartoon too outlandish to be feared, until it was too late, his entire country perverted into something awful before his murderous gaze. One of the least-insane things he did: In 1933, Il Duce ordered all Italian newspapers to push aside current events and dedicate their front pages to articles about Julius Caesar. The message was clear, that Mussolini was a latter-day Caesar and would rule with absolute authority. Tragically, that's how things went, until he found himself hanging from the business end of a meat hook from the roof of an Esso gas station in 1945. The odd decree was covered in an article in the Brooklyn Daily Eagle in September of that year.

Tags: Benito Mussolini, Julius Caesar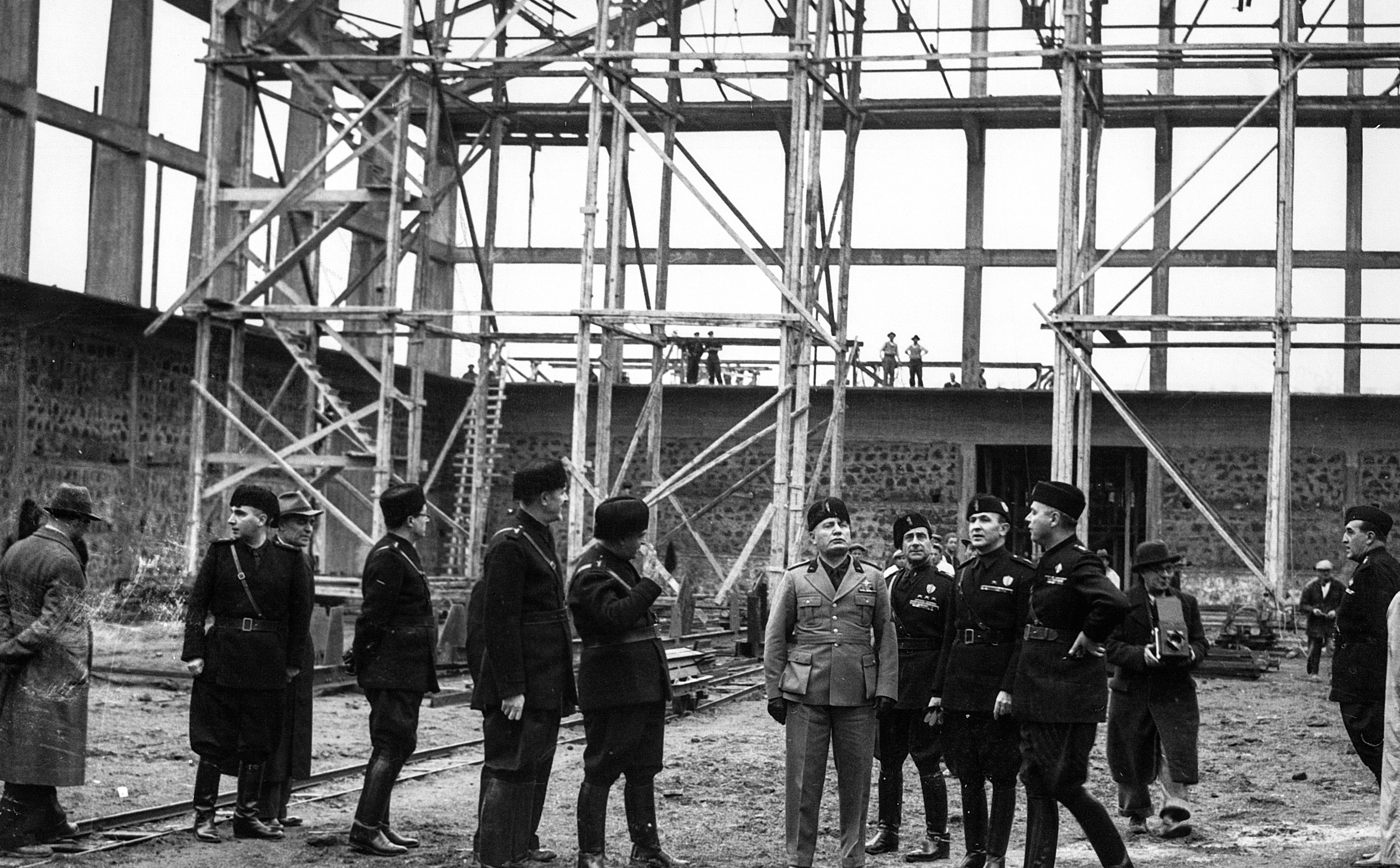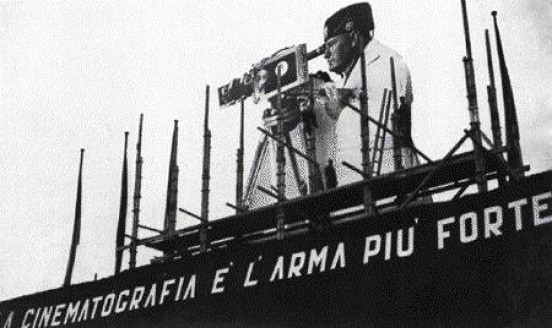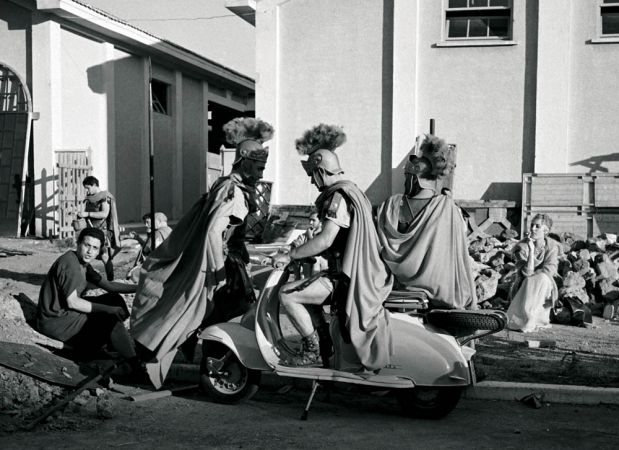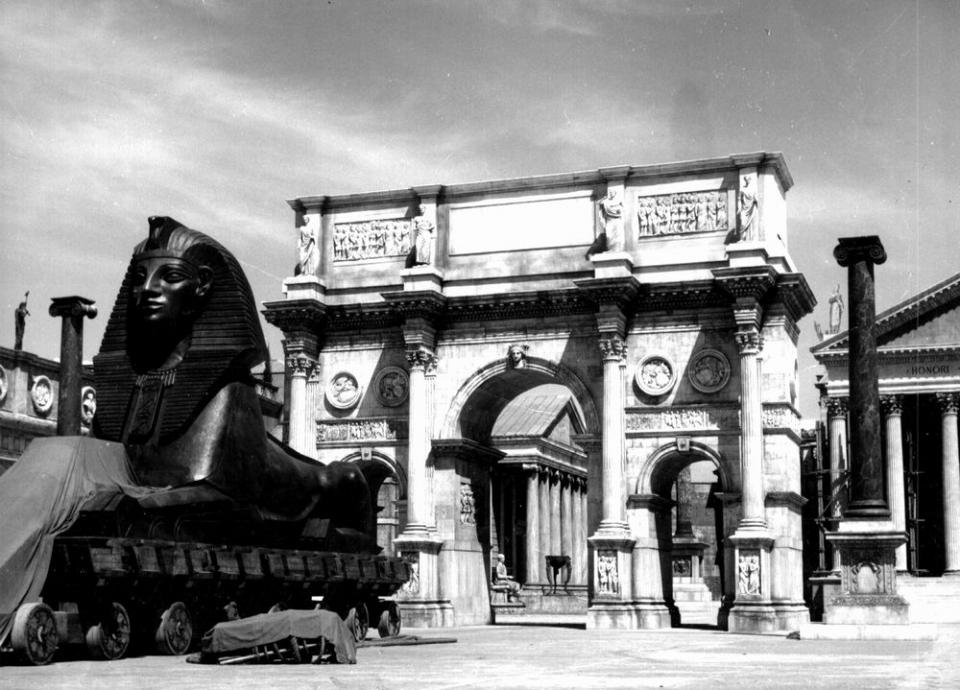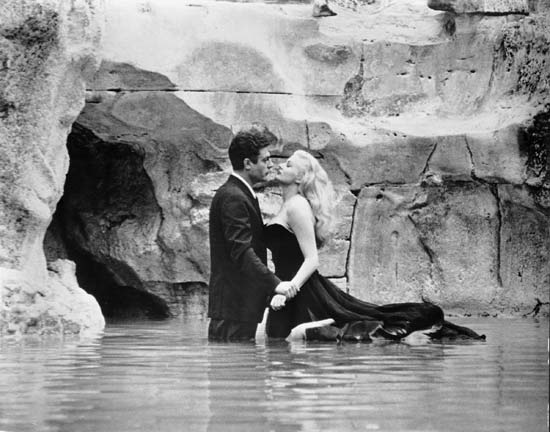 No contemporary authoritarian ruler would think the Internet an ideal tool for propaganda. For all its deficits, it's still too anarchic to be controlled. Kim Jong-un, for one, just blocks it. Cinema in another era, however, offered fascists larger-than-life spin-machine opportunities.
From early on, Benito Mussolini, Italy's vulgar, murderous clown, knew film could be manipulated and controlled in a world of limited home technology. He planned to open a sprawling movie studio in 1937 which was to surpass Hollywood, and like his trains were purported to do, it arrived on time, turning Italy into an insane asylum with a studio system. After Il Duce met the business end of a meat hook atop an Esso gas station and the nation was defeated in WWII, the lots served briefly as a refugee camp. Later, Cinecittà, as it was known, became the backbone of a rebuilt Italy's film industry, acting as the backdrop to American-produced epics like Ben-Hur as well as numerous Federico Fellini projects. 
An article in the April 16, 1936 Brooklyn Daily Eagle covered the massive studio's construction, among other things. An excerpt from it is embedded below.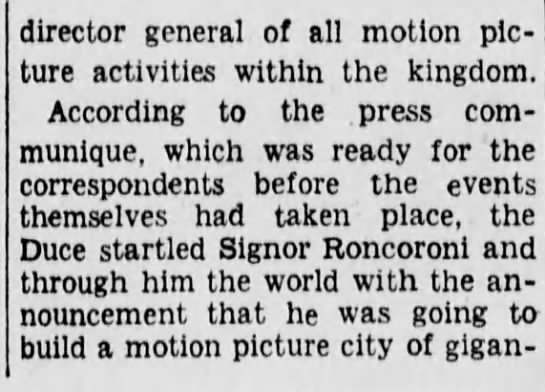 Tags: Benito Mussolini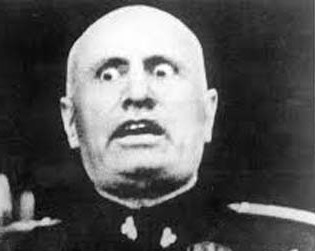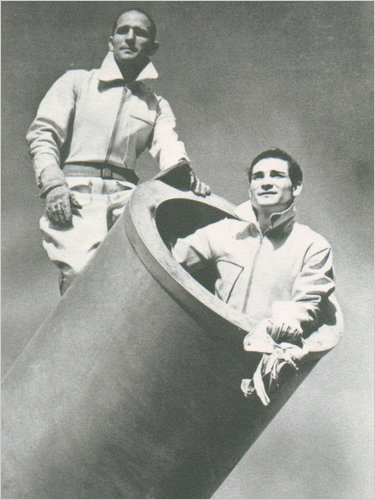 No matter how patriotic a human cannonball may have been, it's difficult to imagine much good would have come to that person if he or she accepted Benito Mussolini's invitation to serve their country in the Italo-Ethiopian War. Il Duce's odd request was recorded in an article in the August 22, 1935 Brooklyn Daily Eagle.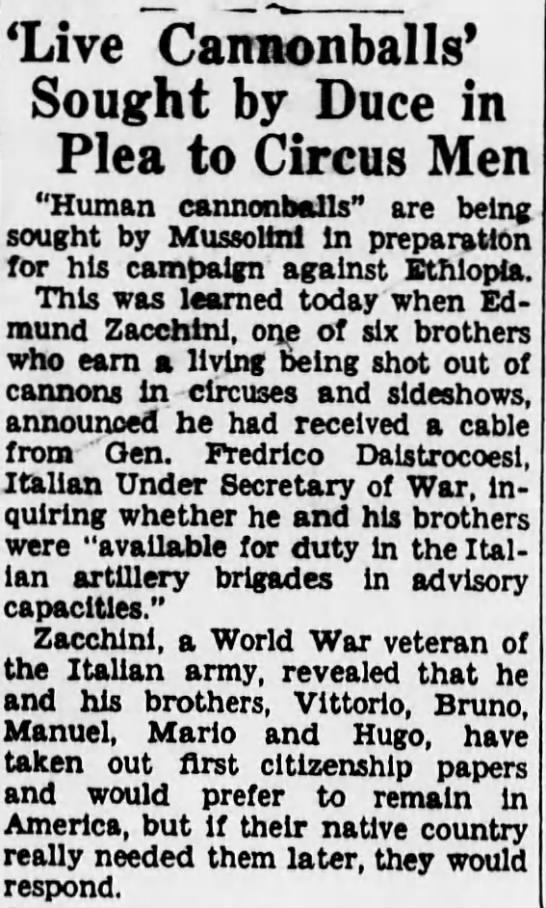 Tags: Benito Mussolini, Edmund Zacchini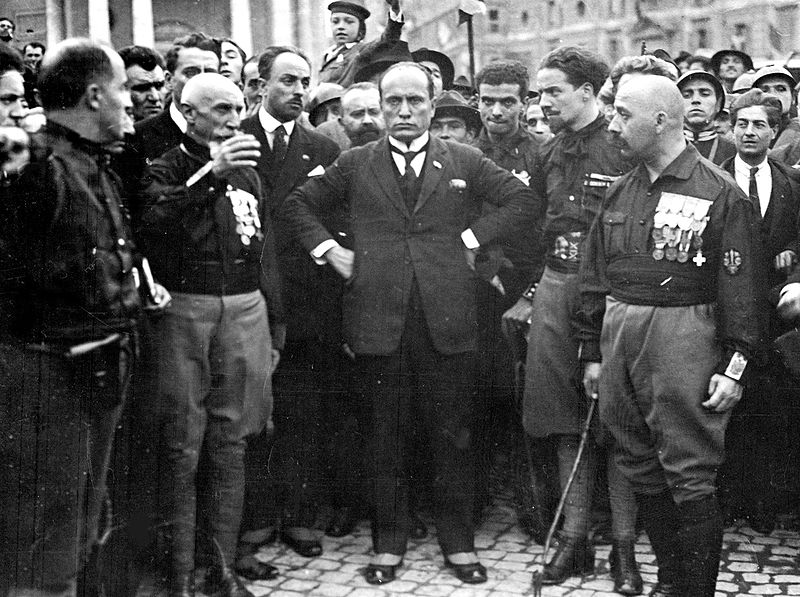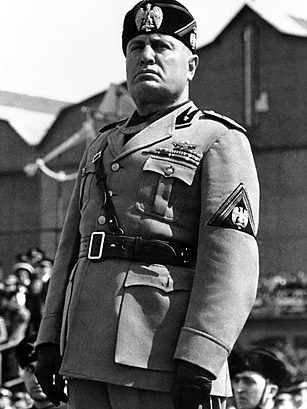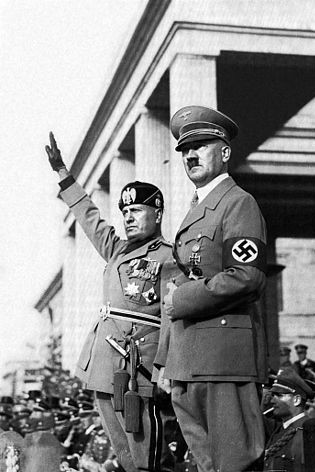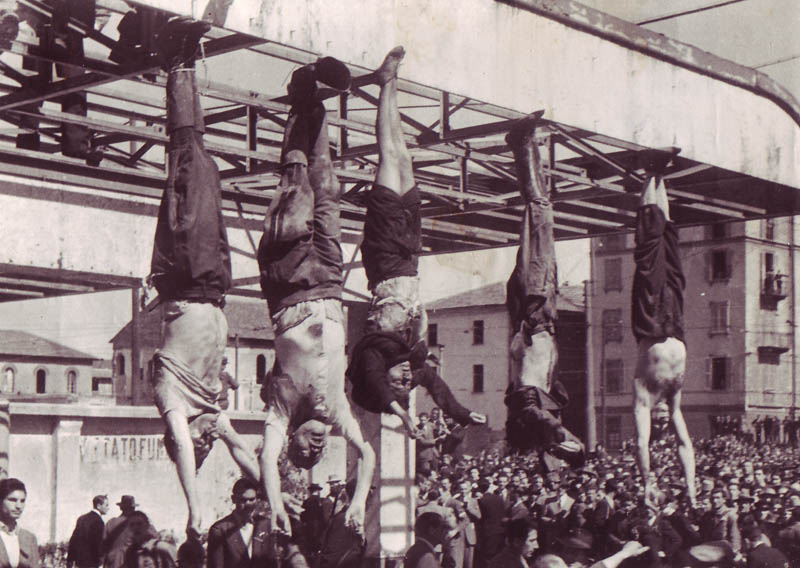 At the time of his death in 1945, Italian dictator Benito Mussolini's approval ratings were not at their highest.
Il Duce was executed by a firing squad and hung upside down from the roof of an Esso gas station for bringing ruin to the nation during World War II, his corpse later lowered into a pile with 16 other dead Fascists, where it could be further brutalized by an outraged citizenry. In an article in the May 30, 1945 Brooklyn Daily Eagle, Mussolini's astounding end was described in gory detail.


Tags: Benito Mussolini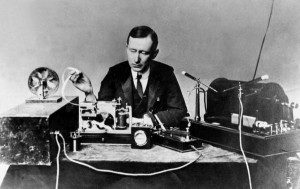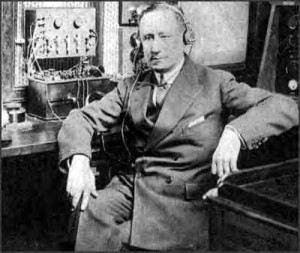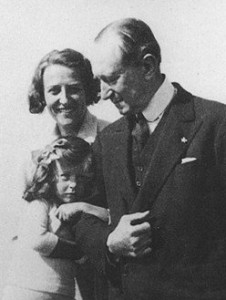 Guglielmo Marconi may or may not have been the very first to create the wireless, as he's often credited, but he was certainly a passionate supporter of Fascist madman Benito Mussolini, and that wasn't the inventor's only strange idea. The text of the announcement of Marconi's death from the July 20, 1937 Brooklyn Daily Eagle:
Rome–The Marquis Guglielmo Marconi, who invented wireless when he was only 21, died suddenly at 3:45 a.m. today (10:45 p.m. Monday, E.D.T.) at the ancient palace in downtown Rome where he lived and worked.

The 63-year-old conqueror of the ether died of heart paralysis. His widow, the Countess Cristina Bezzi-Scali, was at his bedside. She had been called back from the seaside resort of Viareggio when he began to feel ill yesterday.

Their daughter, Elettra Elena, whose godmother is Queen Elena, remained at the resort and will not return to Rome until time for the state funeral. Today is her eighth birthday.

Duce Pays Respects

Premier Mussolini, whose ardent supporter Marconi had been, was notified of the death immediately. He dispatched a telegram of condolences and later went to Marconi's home in the Via Condotti and paid his respects beside the body.•
Tags: Benito Mussolini, Countess Cristina Bezzi-Scali, Guglielmo Marconi, Maria Elettra Elena
I don't know that a whole lot of fact-checking went into the September 29, 1926 edition of the Brooklyn Daily Eagle. In that issue, ship captain Edward Harper told tales of cannibalism in Somalia to reporter E.K. Titus, which were seemingly published verbatim. The opening:
"Guardaful is a bad place to be a lighthouse-keeper. The holder of this post may be flesh and bones one day and mince meat the next. 
'Every now and then, when we pass this light, just outside the Arabian Gulf, we notice that the light is not burning. This means that the lighthouse-keeper and his two aides have just been eaten up,' explained Edward Harper, famous old bos'n of the S.S. Sandown Castle of the Barber line, which docked at the foot of Pioneer St. yesterday.
'Italy owns this outpost, and I'm telling you it's a tough job to navigate past it, when the lighthouse keeper has been consumed, and there is no one to keep the glimmer going. It gets harder and harder every year for Italy to find anyone to go out there. I think they'll soon have to assign a regular garrison to the place to keep the light going.
'Guess even Mussolini can't keep the cannibals on the straight and narrow path in Guardaful. In all my experiences of 40 years sailing the seas I have never run into a place where the cannibals are so thick. 
Zulus Know How to Live.
But my boy, if you want to have a good life, you ought to become a citizen of Zululand. Guess you would have to black your face up with a little charcoal before they would take you into their commonwealth and make you a chieftain. But they sure know how to live.
'Don't get the Zulus mixed up with the cannibals. They are altogether different. Where the Zulus excel is in knowing how to have a large number of wives.
Wives cost $75 to $150.
'Wives in Zululand cost from $75 to $150, depending on how large they are. The larger and stronger, the more expensive they come. When a Zulu has bought four wives he is made a sort of chieftain and is given some land for his own and his worries are finished.
'A Zulu, working as a longshoreman, can earn five shillings or $1.25 a day. This is about five times as much as they could earn ordinarily on shore. They don't figure in dollars though, but in bullocks. For $10 they can buy a bullock. For six bullocks they can buy a wife if they're not particular. If they want a nice, big, strong wife it costs them 12 bullocks. And with four wives they can retire."
Tags: Benito Mussolini, E.K. Titus, Edward Harper